Back in Business
An In-Depth Look Into Three Local Businesses
Stoughton, Wisc. is a town that readers may feel they know all too well. The past 18 months have caused many students, teachers, and families to grow tired of the same old people, the same old fast food joints, the same old high school, and the same old Main Street in their same old town. While it may seem as though every single nook and cranny has been explored, sometimes you will stumble upon a gem…or three.
November will mark the three-year anniversary of the opening of Dune Gift and Home, owned and operated by Stoughton High School alumna Cire Rosenbaum-Cross.
Rosenbaum-Cross opened Dune Gift and Home in November of 2018 in hopes that she would be able to bring a new energy and resurgence to Stoughton's Main Street.
"I think I want to give our community someplace that they can shop and feel good about what they're buying, and know that the products that we carry are safe and [eco-friendly] [and that] people are paid fair wages," Rosenbaum-Cross says.
Dune Gift and Home's values are centered around making sure that there is a little something for every price range and that the materials and goods are ethically sourced, safe, and clean. Rosenbaum-Cross has additional requirements regarding the sourcing of the products that she sells in her store.
"Everything in the store is either handmade, vintage, [or] fair trade. A majority of [the] makers and companies that we buy from are women owned. Those are kind of our main missions," Rosenbaum-Cross says.
When her schedule allows, Rosenbaum-Cross likes to spend some of her time making jewelry for her store. Having a background in jewelry making, Rosenbaum-Cross was able to transition into owning a storefront rather smoothly in comparison to those without any experience.
"I started my jewelry business in 2011," Rosenbaum Rosenbaum-Cross says. "I did that full time until I opened this, so I knew how to run a business, but a retail establishment and having staff […] was all new to me."
At the start of Dune Gift and Home's journey, Rosenbaum-Cross had never owned a store. Making the switch from simply owning a business to owning a storefront along with it was difficult, but nothing that she couldn't bear. In the future, Rosenbaum-Cross hopes to be able to inspire and educate other hopeful business owners about what she learned in her process.
"I think my number one goal as a business owner would be to grow […] and teach people what I've learned," Rosenbaum-Cross says. "I didn't know what I was doing when I opened a store; I just decided to do it, so I've learned a lot along the way, and if I could help someone start their own business [and not have] to go through all the bumps and stuff that I went through, I think that would be my number one goal."
Since Rosenbaum-Cross was very young, she always dreamed that one day she would own her own retail establishment, and when her in-laws bought and renovated a building on Main Street, that dream started to become reality.
"That was just like always a dream, though. I never thought it could be an actual thing. So they renovated this whole thing. My mother in law was like, 'Why don't you just rent the whole first floor? You could just sell your jewelry out of the front, make jewelry in the back,'" Rosenbaum-Cross says. " I kind of started devising a plan."
Since the beginning of Dune, Rosenbaum-Cross has kept her plate full. Between juggling starting up a business and raising a newborn, she always had something on her to-do list.
"Dune happened literally between nap times with a newborn, moving a studio, and renovating," Rosenbaum-Cross says. "I reached out to a lot of makers to see if they would send me things on consignment first because I didn't have a budget to buy products. So I was like, 'I will sell my jewelry and then I'll sell some other handmade stuff to complement it,' and then it just kind of snowballed."
Rosenbaum-Cross is ecstatic that she has been given the opportunity to live out her dream, and she hopes that others will be able to do the same. She offers a piece of advice to those that hope to become business owners some day.
"My […] personal mantra is fortune favors the brave," Rosenbaum-Cross says. "Always try because you don't know unless you try. […] Be realistic, but don't be afraid to dream and have big goals. I just say go for it, because now is the time to be an entrepreneur."
Growing up in Stoughton, Rosenbaum-Cross developed a soft spot for the small town and those who inhabit it. She hopes that through her shop, she will be able to bring out the beauty that she sees in the town.
"There's always just been this like, artsy, fun, vibrant community on Main Street, but it's, it's always waxed and waned. It's like not every shop has always been full at one time, and there'll be like a little Renaissance and then it'll kind of dwindle, and so I was like, let's just start a new Renaissance. Let's […] get like Main Street hopping again," Rosenbaum-Cross says. "I was hoping that I could be like the flagship for that. Just breathe some new light into Stoughton. So it was kind of my little love letter to Stoughton."
Located a mere block away, owner and operator of ARDU Crystal & Sage, Christine McCredie says her biggest goal as a business owner is to bring beauty into other people's lives.
"I really enjoy just making people feel good and feel happy. I've been a small business owner for almost twelve years now […] and that's always brought me joy, knowing that items are being purchased as gifts [and bringing] beauty into somebody's life."
Stepping foot into ARDU, a small rock shop located in the studio above Wendigo, on Main Street here in Stoughton, one is met with the earthy smell of sage and shelves of brightly-lit crystals. Though the space is small, it's brightly-lit and open, and is home to varieties of hand-picked rocks, crystals, and even jewelry.
"Somehow my love of rocks and crystals from my childhood turned into this. I'm a rock hound, I like to get out there and look for cool rocks and collect cool rocks and sometimes polish them and make them into jewelry. I'm the type to stop and look at rocks that you find in a parking lot […] and sometimes you find fossils and interesting stuff. You develop an eye [for it]," McCredie says.
Most of the crystals sold at ARDU are not of McCredie's own finding, though, and are sourced from people around the United States, China, Africa, and Pakistan. Her suppliers send her videos and she orders based on what she thinks patrons would like best, rather than ordering different types of rocks and crystals in bulk.
"I try to get unique [crystals and rocks] that really appeal to me. It's all hand-picked, I know what I'm getting. […] I really like to pick and choose and hope that other people see the beauty that I see in the individual pieces," McCredie says.
In addition to the traditional crystals and polished rocks, McCredie also sells them in other forms.
"I also try to do a nice mixture of carvings and towers, spheres as well as specimens for mineral collectors and people who enjoy the more natural looks of stones," McCredie says.
As McCredie stated, one of her number one goals as a business owner is to share the joy that she finds in her interests with others; this includes the environment that she creates in the shop itself.
"I want [my space] to feel calming and welcoming–kind of an oasis," McCredie says.
Though McCredie did not have any business experience when she began her journey 11 years ago, she did do a lot of research.
"The most helpful advice that I could give is, before even starting your business, to research and learn all you can about being a small business owner and what it takes, because it does take a certain personality," McCredie says.
According to McCredie, the best part about being a small business owner is the impact her store has in other people's lives.
"I think that goes back to bringing people joy […] and I'm not necessarily a metaphysical-type person, but I do think that setting intentions is just good practice in life. I have what is called a singing bowl […] and I set my intentions by ringing it and making it sing every day when I come in, and one of my intentions for the shop is that it brings joy and people can see the beauty that nature has given us," McCredie says.
McCredie credits the start of her business to her desire to be a stay-at-home mom for her son, and mentioned that her business started when she found things she enjoyed and was able to do while at home.
"It's been a lot of fun. I've learned a lot, and it's changed who I am tremendously." McCredie says of the whole experience.
No more than a two minute walk away is Stoughton's own Wildwood Cafe. Located fittingly enough on Forrest Street, Wildwood boasts an extensive breakfast and lunch menu. The cafe, described by co-owner Stephanie Baughn as a "specialty coffee shop at heart," is warm and welcoming, bringing its unique, woodsy aesthetic to downtown Stoughton.
"It's kind of been a long-term dream," Baughn says about owning a business. "As an eighteen-year-old, after visiting coffee shops in Washington, D.C., and then when I went away to college in North Carolina, that's really my first coffee shop experience because where I grew up was so rural, and the small towns that I had access to didn't have anything like what I experienced in the cities. It was such a novel idea. I'm a voracious reader, I loved that I could go and get a wonderful drink and sit and feel like I was in a cozy living room that wasn't mine, I could take my time and read and enjoy my beverage."
Baughn's husband Ryan has a background in specialty coffee, and combined with her baking skills and some old family recipes, it made perfect sense for them to start their own business.
"It was always kind of a dream, but something we never thought would happen. I think that we saw other people doing it really well with what we felt were very pure motives, with a similar desire to be of service to the community. Back when we lived in Seattle, there was a couple that left one coffee shop that we were regulars at and started their own, and it was just wonderful. They were a business but they were also involved in outreach in the community, and it just felt like a second home in a lot of ways. I know we're not alone in feeling that way, so that was really inspiring to see."
Along with offering hospitality and kindness to all of their customers, Baughn says that another one of her main goals when starting the business with her husband was to create a space that welcomed everyone.
"[We wanted it to be] a conduit for people connecting in the community and having conversations […] to foster community and be a part of the growth of a sense of connection for everybody," Baughn says.
And connect they have. Baughn says one of her favorite parts of owning the business is all the people she's met and friendships she's made.
"I wish I had known that any of the hard things that we've gone through would be totally worth it for all of the incredible, amazing people that we've met and the friendships that have been made and the camaraderie within our staff. It's been such a gift to us," Baughn says. "That was always important to us, but no more so than last year, and there were days when we were really stressed and heavy-hearted and feeling kind of despairing about the state of things, and I would run into somebody, a regular customer. And that five-minute interaction […] it was just so meaningful, and really kept us going through hard times."
During the beginning of the pandemic, Wildwood was not open for inside dining, which led Baughn to do some quick thinking and add some new products to the cafe's docket.
"At that point from this time early September through January, I got the idea of, 'we're not going to be open in-person anytime soon, but we've got all this space, what if we kind of make it a specialty grocery and bring in a lot of our favorite products?'' Baughn says.
The idea was to get other people to fall in love with some of the Baughns' favorite things. Though the sale of specialty products has since been scaled back, there will always be a few staples available for purchase inside the cafe, like Baughn's favorite candles and Wisconsin maple syrup.
Being essentially confined to the limits of our own small town for the past 18 months might have left you feeling antsy to explore that of the cities around you. However, we must not forget that adventure may not be any further than your own backyard, or in this case, your local Main Street.
About the Contributors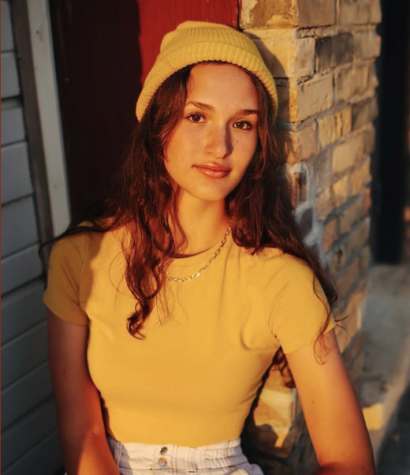 Anja Royko, Editor-in-Chief & Cover Story Editor
Senior Anja Royko is the Norse Stars Editor-in-Chief and Cover Story Editor. Anja enjoys how Norse Star allows her to shine a light on underrepresented...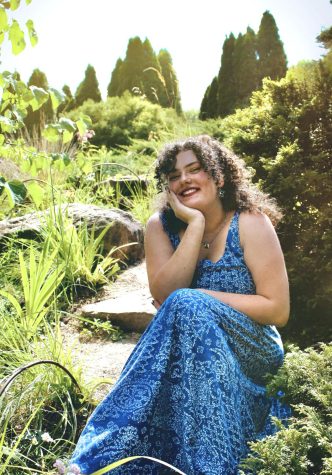 Delaney Gauthier, Opinions & News Editor
Senior Delaney Gautheir is the Norse Star's Opinions and News editor. She appreciates the opportunities and friendships she has received from being on...