Dancing in a Virtual World
November 24, 2020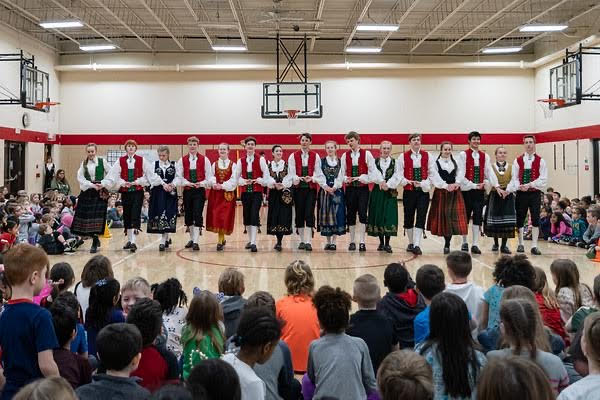 The of the most important aspects of Stoughton's heritage is the yearly Syttende Mai festival. One of the most popular attractions of the event is Stoughton High School's Norweigan dancers. The dancers put on a thrilling performance for their audience. Their performances are filled with tricks and flips, beautiful dances, and even include comedy. All of the restrictions put in place due to COVID-19 have led to the cancellations of team practices, performances, and most importantly, it has taken away valuable time that the dancers cherish with each other.
In a normal year, the dancers would practice every day, typically before school. In the week prior to the start of the school year, the dancers would spend up to six hours a day practicing in preparation for their fall performances. In total, the dancers would learn 48 dances, but due to the current circumstances, things are a lot different.
Landon Lynch, a junior dancer, discussed some of the challenges the dancers have faced thus far. "[It's] a lot of self-teaching or self memorization. The instructions have been a lot harder to manage when you are figuring things out in the dances yourself,¨ Lynch says.
Staci Heimsoth has been the head director of the dancers since 2011 and has had many talented and exciting groups come through ever since. Since the dancers started virtually this year, Heimsoth has had to get creative to find ways to teach dances and routines. The dancers would meet on Google Meet once a week on Tuesdays to talk and communicate about how things were going.
"The Dancers were given dances to watch on our YouTube channel of past dancers dancing each dance, and I made some instructional videos to also help instruct them," Heimsoth says.
On Nov. 2nd, the dancers were able to start in-person practices. ¨With fewer dancers at each practice, they get more one on one help from me and I feel like I'll get to know them even better because of it. I can't wait until we can dance with partners and we can put these dances that we've been working on together for real,¨ Heimsoth says.
Hannah Thompson and Isaac Knutson, both junior dancers, discussed their favorite part about being a Norwegian Dancer. ¨My favorite part of Norwegian Dancers is the group atmosphere and performing for elementary schools. Seeing them being so engaged and excited to watch is so much fun," Thompson says. Knutson agreed, saying his favorite is, "Definitely the elementary school performances." Emma Sperle, a senior dancer, has been apart of the group since her junior year. In an interview, she mentioned that her interest in becoming a Norwegian dancer sparked from her family.
"My family is very Norwegian – I love the culture," she said. She acknowledged that this year has definitely been much more difficult for the group. "The toughest part is doing the dances alone and the fact that we don't have official partners yet," Sperle says.
 "I can't wait until we can dance with partners and we can put these dances that we've been working on together for real." -Staci Heimsoth, Head Director of the Stoughton Norwegian Dancer
Eagan Olson, a senior dancer, shared a story on just how impactful the dancers are. On a dancer tour his sophomore year that included destinations of Phoenix, Ariz., and Las Vegas, the dancers performed 13 times over five days.
"Everyone we met was so incredibly excited that we traveled there to perform for them. Some had even seen the group perform before and traveled a distance to see us perform again. It was this tour and Syttende Mai that I understood the impact that our group has on Scandinavian communities all over," Olson says. traveled there to perform for them. Some had even seen the group perform before and traveled a distance to see us perform again. It was this tour and Syttende Mai that I understood the impact that our group has on Scandinavian communities all over."