Your privilege is showing
Black lives still matter despite drastic decline in publicity
Burnout is understandable. Wanting to ignore issues that don't pertain to you is normal, especially when they're discouraging and heart-wrenching. However, when it comes to the livelihood of your peers, colleagues, strangers, friends, or even family, wanting equality isn't something you should allow yourself to burnout from. 
Earlier this year, it seemed like the awareness of inequality in our world had a renaissance. Protests erupted across dozens of countries throughout May and June. Countless petitions were signed, local officials were contacted, civilians took the time to stand up alongside one another and demand action, and social media was flooded with information and resources for people to learn.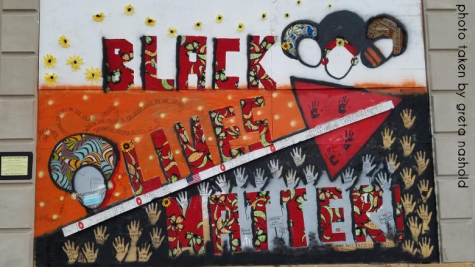 As time went on and damage to infrastructure declined, the media stopped covering the Black Lives Matter (BLM) movement and the demand for immediate change simmered down. It seemed as if the movement only resurfaced when another innocent life was taken, except there was a different response from the people each time. 
A lot of people had grown tired of hearing about another death at the hands of cops – they were tired of hearing about the injustices of (ironically) the criminal justice system, of learning about implicit bias and contacting representatives. And yes, hearing about each weeks' brutal death is painful for anyone… yet it continues to happen, year after year, and has happened for hundreds of years. 
If your life isn't directly affected by a systemically racist society on the daily, such constant buzz could grow irritating. Why listen to depressing news when you've never been afraid during an encounter with the police? Why worry about an issue that doesn't affect you everyday? Why devote so much energy into signing petitions and advocating for others when you have so much else to do? 
However, this is when it's most important to continue the fight. A true ally won't step down when everyone else is silent, and those who do experience racism every day don't have the privilege of ignoring the situation to begin with. Choosing to fight and protest only when it seems "trendy" allows everyone to see that you're only in it for yourself – that alone is like wearing a suit lined with privilege. 
The truest test of allyship happens on the smallest level. Although your social media feed might be back to normal, or the news might not cover daily injustices, they're still happening. Just last week, it was announced that Minneapolis police officer, Derek Chauvin, who murdered George Floyd in May, is now allowed to live outside of Minnesota while he awaits his trial. Before that, the officers who murdered Breonna Taylor in Louisville, Kentucky, weren't charged for Breonna's death, but rather for the bullets that missed her. 
As a white person, I don't think about how systemic racism affects my ability to succeed in life. But I know that it hurts family and friends everyday, and for that, I am determined to do something to help them… even if that means simply sitting down and listening. 
The only way for things to truly change is if we continue to recognize that we cannot succeed as a society until everyone has the same opportunities as everyone else. So yes, it's understandable that you may be exhausted from your new understanding of inequality, but you haven't had to deal with it everyday for your entire life. For that reason, it's your job to help, to advocate for change, and continue to speak up… even if you're standing alone. 
*Editorial policy: Any column, editorial, or letter to the editor expresses the opinion of the author and not necessarily the entire staff. The staff editorial does not necessarily reflect the views of the entire staff. The Norse Star is a public forum written and produced by the students at Stoughton High School, and they are solely responsible for its content. Students, staff, faculty, and members of the community are welcome to submit letters to the editor of 300 words or less.