Rapid COVID testing available at UW Madison
Ensuring testing is more accessible to the community has been a key focus, and UW Madison has received 80,000 BinaxNOW tests from the UW System, which has distributed 250,000 tests throughout UW campuses. To help make testing more accessible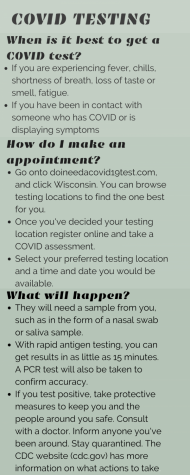 in the community, UW-Madison started conducting free rapid testing for area residents five years or older starting Nov. 12.
This testing is occurring at the Nielsen Tennis Stadium, located at 1000 Highland Ave in Madison. Testing is by appointment, and community members can register on doineedacovid19test.com. Many safety measures are currently being taken, such as required masks, social distancing, and routine disinfection.
Testing will go until at least Dec. 23. At this time, it is uncertain whether they will continue rapid testing at this location in 2021.
Dr. Ailam Lim, a parent of an SHS Student who works at UW Madison's Veterinary Diagnostic Laboratory, speaks about how COVID has impacted her work. Before COVID, Lim was primarily testing animal samples, but as UW-Madison was planning for students to return to campus this year, her lab became focused on campus COVID testing. In an interview, Lim explained the process of COVID rapid testing. First, they must obtain a sample, here in the form of a nasal swab. From that specific amount of sample on the swab, certain proteins that would be in the virus can be detected.
Rapid Antigen testing can show you results in as little as 15 minutes. This is more accessible than other forms of testing and gives people peace of mind quickly.
The one issue with rapid testing is there is more of an opportunity for false negatives. False negatives happen when someone has COVID but the test does not pick it up. This usually occurs with people who have just contracted the virus, and the amount of virus is too little to be detected in the testing process.
This is why a PCR test, short for Polymerase Chain Reaction test, is also conducted. A PCR test has mostly the same chemical process, but goes an extra step to confirm results.
Lim also explains the second part of PCR testing. "So the PCR process is like a cloning process. We try to amplify that virus gene. One copy of the gene, you wouldn't see it, but then it's multiplied because of the primer and probe. So, what happens is, this process is called Polymerase chain reaction. If you amplify it right, there will be a lot of copies, and then you have this equipment that can detect it. So when that shows as a positive, that means that person has COVID, and then if it's negative, we give you a negative[result]."
If you think you have COVID, there are numerous places to get tested. Don't wait around and risk getting those around you sick. Take action as soon as possible.