Paving the Way for Women in Science
February 11 marked the International Day of Women and Girls in Science. This day was meant to celebrate the strong, passionate women blazing trails in scientific fields all over the world. As well as recognizing these women at the forefront of their fields, the day is also meant to acknowledge the women and girls in our community who inspire us every day. 
A familiar face here at SHS, science teacher Amy Hermanson, says she's incredibly passionate about helping her students, especially young women, learn about the impact they can make in science-related fields. 
"I don't leave [the International Day of Women and Girls in Science] as a day. You need to know there are women in science, and they blazed a trail long before any of us came into play. Stoughton is unique – it's almost all females in the science department. I hope that the girls who come through here see that women are capable and strong, and they can be smart, and they can be proud of the fact that they're smart. They can put ideas out there and be validated for their thought process." Hermanson says.
She also commented on her experience as a woman in science. 
"People assume that it's all equitable now. Going through college, I didn't have female professors. I would have liked to, so I could identify with them. Being able to do that – you never know when you're going to see yourself."
Hermanson's experiences while studying sciences in college are enough to inspire anyone to look into the field. She recounted a story about tagging bear cubs up in the "boondocks" of Wisconsin.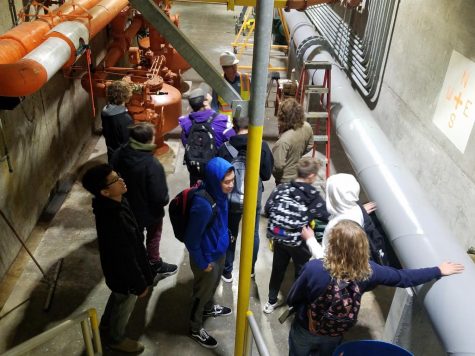 "I had to crawl into blackbear dens face-first and pull out blackbear cubs. You pull them out, weigh them, measure them, check their teeth, check their gender, and tag their ears. I remember the first den I crawled into, I was so nervous–I was just petrified. But after that, I was ready to go. To get to do that and know it's an experience most other people will never get to have is pretty cool."
Senior Amy Schlicht is also passionate about science – particularly, medicine. She plans to study for a Diploma in Laryngology and Otology and become an osteopathic physician. 
"I had debilitating migraines. In my sophomore year, it got to the point where I was having them too many times a week, so I went and saw this doctor. She performed craniosacral therapy, and it was a total change. I went from having migraines three times a week to once a month," Schlicht says. 
Schlicht says she wants to have that kind of impact on other people. 
"I think it's awesome to encourage women to go into the science field, especially since traditionally it's been predominantly men. I'd like to get my younger cousins more into science too."
Hermanson shares similar sentiments. 
"I hope I'm being a good role model. I hope I'm encouraging students to always try. That's all you can ever ask, is to try."