Ever After: The ACT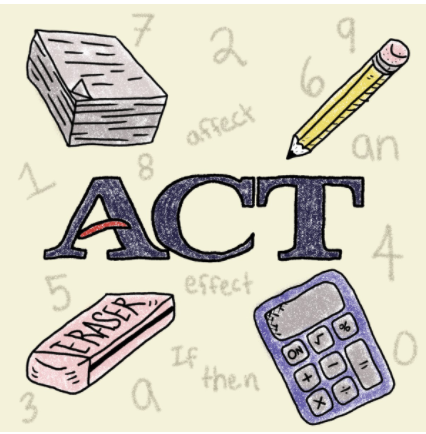 For SHS juniors, this month was full of excitement and stress. Four juniors volunteered to be interviewed before and after taking one of the most talked-about and important standardized tests in their high school life, the ACT.
Q: What are your initial thoughts on having to take the ACT?
"It's really scary." -Maddie Housley (11)
"[I'm] scared, but [at] the same time, I guess [I'm] somewhat excited, because there's going to be change. There's going to be new things appearing in [my] life after [I] do this particular thing. So, I guess that's what I was thinking about when it came to the ACT, that the ACT [is] not the only hill, but there's going to be more things coming at me after I finish my schooling." – David Stracener (11)
"I'm mostly scared. It's got kind of a bad reputation and I'm kind of freaking. But I think that the fact that college isn't over-playing it as highly as they used to, or most of them aren't even taking the ACT score into consideration, is a lot of stress taken from me, and pretty much every other junior I've talked to. So I'm not as scared of it as I was this time last year, but I'm definitely still nervous." -Emma Farley (11)
"It's so stupid. I think the ACT is so dumb, and it just doesn't prove anything, so even if I got a killer score on it, I wouldn't be very proud of it because I just know that it's only showing how you got through the test, it's not showing that you knew the knowledge on it or the material on it." -Brooke Thrall (11)
Q: Do you think your education has prepared you for the ACT?
"I feel like we haven't even been close to prepared. I mean, some of my teachers have thrown some practice in there a couple of times, but I feel like I have no idea what I'm doing." -Maddie Housley (11)
"I really think that my education will help me get me through this test, not only get me through the test, [but] my education up to this point has been magnificent throughout. It's a really good education to those who desire to learn more. I think overall that I've had a pretty good education in relation to being prepared for these tests." -David Stracener (11)
"I think the education system, for the rest of it, is kind of doing the best they can, but there's only so much they can do. No part of school is going to prepare you for a test where you have a minute to answer a huge question–the test is just so unrealistically really difficult." -Brooke Thrall (11)
Q: Do you think the ACT is a fair assessment of a student's academic performance?
"Not at all. These tests are timed and it's hard for students to do something like that under pressure because they have a shorter time to take the test. It's not showing how smart we are." -Maddie Housley (11)
"No. Going back to what I said earlier, no matter how thorough or well thought-out the ACT is, no matter how much preparation a kid does for the ACT, I still don't think that a school test can fully encapsulate all of a student's independent intelligence." -Emma Farley (11)
"Absolutely not at all. Well, a lot of it has to do with money. If you're actually going to prepare for it, it's so expensive. [There are] very few free resources out there and the tutoring is expensive. […]The book is like, 70 bucks. I think it's so expensive, and then the retakes are available to kids with money but the kids that don't have $95 for a section just can't retake it, so they get one shot, when so many other kids can do as many retakes as they want. It's just so ridiculously unfair. And all of the prep materials teach you how to get through the test, and not the actual information on there. So it's obvious that it's not testing how smart you are, it's testing your test taking skills." -Brooke Thrall (11)
After taking the ACT, the juniors were interviewed one last time to get their last thoughts.
Q: During our first interview, I asked you how you felt before taking the ACT, so now I'm going to ask, how do you feel now that it's over?
"I'm so glad it's over. To be honest, it wasn't that bad, but it just felt so long. The hardest part now is probably waiting for the test score. That takes two months. Now, I'm so glad it's over." -Maddie Housley (11)
"I guess I feel relieved, you know. It's finally the weight off my shoulders." -David Stracener (11)
"I feel mostly relieved that it's over. There's a lot of stress that was just taken off my shoulders. I've mostly just been feeling really glad that it's over and that I don't have to do that again, hopefully." -Emma Farley (11)
"I'm very relieved and I'm just happy that I don't have to think about it. I think that's pretty much it. I don't have any strong feelings about it, I'm just over it." -Brooke Thrall (11)
Q: Are you confident with how you did, or do you wish for anything to have changed? If so, which things?
"I think the easiest [for me] were English, math, writing, reading, and science, though, at the tail end of it, it was just getting down to [where] I was feeling tired. But yeah, I think I did pretty well." -Maddie Housley (11)
"I am quite confident with how I performed, but I do wish that the section [times] had been a little bit longer because I ended up not completing the last three questions. Yeah, I just wish it was a bit longer for the math test but I was pretty confident with it overall." -David Stracener (11)
"I wish that we had prepped more for it in school because I don't feel too confident about my score itself. I feel a little bit better knowing that colleges aren't really taking the score into consideration and they're waiving it. But I don't know, I still didn't feel too prepared walking in to take the test initially." -Emma Farley (11)
"I think I did okay. I think if I were to go back, I could have done better. I definitely could have approached [the questions] differently. But yeah, when you're just so tight on time, you don't even think about it. You're just trying to answer every question." -Brooke Thrall (11)