Hitting the Slopes
In a state with cold, snowy weather, some stay inside next to the fire, but for others, it's a chance to get out and hit the slopes. 
For senior Nolan Carpenter, the minute the snow falls is a chance to grab his friends and his skis to kick-start the ski season. 
"We do a lot of different things. We spend a lot of time in the terrain park doing the jumps and rails. Every once in a while, [we] go tree skiing or down a black diamond," Carpenter says. 
Going off the bigger jumps at the parks is one of his favorite things to do. 
"I do a 360 with a tail grab, so it'd be like, reaching back with my right hand grabbing my right ski at the very tip of the tail and pulling it so your skis cross," Carpenter says.
With the amount of experience Carpenter has gained, he and his friends have gotten to the point where it doesn't matter the level of difficulty of the hill or jump, they're just looking to have fun. 
This year, Carpenter and seniors Eagan Olson and Patrick Wozniak built rails in Carpenter's garage to set up at Sandhill. 
"[We make] jumps with [our] backyard shovels and [ski] after school. It's just a lot easier to drive down the street than it is to […] drive the forty-five minutes to Tyrol," Carpenter explains. 
Flying through the air comes with a little risk taking, but Carpenter is willing to take that risk for the thrill. 
Carpenter understands how addicting the adrenaline rush of doing ticks and flying down a hill can be, but urges anyone who wants to try skiing to know their limitations. 
 "We were at Devil's head and it [was] my first time landing a 360 on skis. I tried and nailed it the first time, and then the second time I fell really hard," Carpenter says.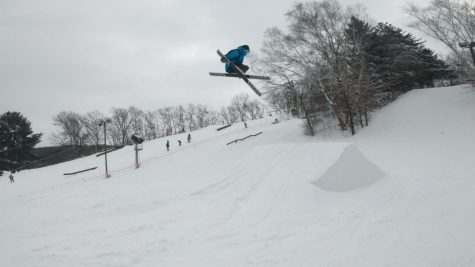 Freshmen Jon Hull agrees that you should be cautious when learning how to ski or snowboard. 
"You should take lessons. Don't try to teach yourself. Try to stay in an area you know […] and have a few friends to go with," Hull says. 
Hull comes from a family mostly of snowboarders with his mom being the only skier. He started snowboarding eight years ago and loves to go with his family. He recently had the opportunity to snowboard on hills in Utah, but locally he enjoys going to Tyrol Basin. 
For Hull, he's setting goals to learn jumps and practice sliding on rails and boxes. 
"I think it's a great way to get out and be active while also having a lot of fun. I like to set goals for myself, to get better, and it's always something that I can look forward to," Hull says. 
Skiing and snowboarding can be a slow learning process at first, but as you keep hitting the slopes, you will be able to have more fun with it. 
Hull says, "Stick with it. If it's […] not that fun at first, keep trying [and] you'll get better. It's one of those things you just gotta keep trying and [it] will be more fun once you get better."