Diving Back In
Seniors on the SHS girls swim team discuss returning to the pool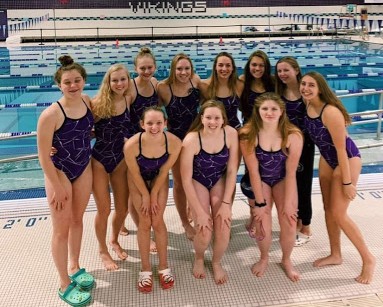 Anja Royko, Sports & Entertainment Editor
March 25, 2021
Under normal circumstances, SHS's girls swim team participates in practices and competes during the fall. However, due to COVID-19, all fall sports had to be postponed until spring of 2021. While the season may look different from those in the past, many members of the team are grateful for the opportunity to get back into the pool.
Senior varsity swim team member, Savy Borroughs, has been on the swim team since her freshman year. While she is very excited to be able to safely compete and practice with her fellow swimmers, the restrictions in place make it difficult to build relationships with her teammates.
"In previous years, we have been able to have all twenty to thirty girls on the team in the pool at one time. This year, we have one to two people per lane swimming, so about half the team practices at one time, and then the second half practices after," Borroughs says. "It's also different in the sense that it makes it difficult to build friendships with other swimmers because we are divided, so hopefully next season everyone will be able to practice together."
While only half of the team is allowed to practice together at one time, the entire team is allowed to gather together during meets. Senior varsity swimmer, Evelyn Schaefer, described the changes that had to be made in meets due to COVID restrictions.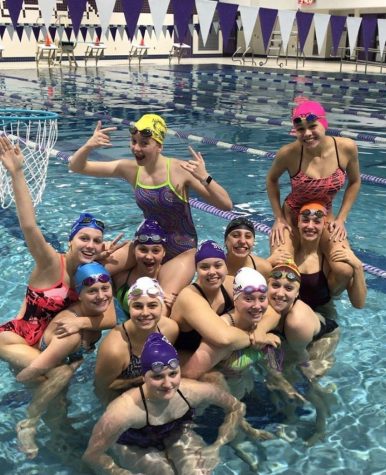 "Even though we are allowed to bring everyone on the team to every single meet now, all of our meets have been [between two or three teams]," Schaefer says.
Along with a restricted amount of teams allowed to compete, the friends and families of the swimmers are not able to attend the meets. However, some schools offer an alternative to attending in person.
"One of the biggest differences this year is that friends and family can't come and watch. It means the world to have my parents, siblings, grandparents, and friends sitting up in the stands cheering on the team," Borroughs says. "However, schools that offer livestream allow for my relatives to watch from wherever, which is pretty neat."
While it may not have been the season they expected, it was the season they needed. Borroughs and Schaefer are very grateful for the opportunity to participate in their final high school season. 
Borroughs closed the interview by encouraging everyone to join the swim team. 
"You only get one high school experience, so don't be afraid to try new things and have fun," she says.