Breaking the Barriers Behind the Curriculum
Emma Farley, a junior at SHS, is the creator of an up-and-coming petition. With over 100 signatures so far, her petition "Improve Wisconsin's Health Curriculum" calls for the modernization of health classes in middle and high schools across the state. 
The petition mentions the necessity of including topics such as "…contraceptive methods, how to practice safe sex as an LGBTQ+ or disabled individual, menstrual health and equity, pronouns and genders commonly used or identified as in the LGBTQ+ community, resources to use for optimal sexual health and safety, and more," in standard health curriculums.
Farley says, "My hope is to, at least, update the guidelines for [the] Stoughton School District curriculum. Of course, I would be ecstatic if this extended statewide because I do want there to be an update [on] the guidelines on what health teachers have to teach in their classes, instead of a lot of it just being up in the air." 
In her journey to renovate the health curriculum at SASD, Farley has worked with a wide variety of organizations, health experts, and curriculum coordinators. 
Farley is a Youth Advocacy Fellow at PATCH, or Providers and Teens Communicating for Health, a program consisting of a group of youth and adults that advocate for adolescent health and youth inclusion in programs and policies relating to healthcare. 
Part of her involvement in PATCH includes intensive local advocacy work and creating a project to better her community, which has taken the form of her petition and efforts to change the district health curriculum. 
Farley has worked with an organization through Planned Parenthood in Madison and the co-founders of the curriculum "My Sexual Health: My Future." In addition, she has worked with SASD Director of Curriculum & Instruction Kate Ahlgren, Wisconsin curriculum coordinators, and teachers at River Bluff Middle School and SHS. 
Currently, Farley meets monthly with Ahlgren and health teachers at RBMS and SHS to discuss future plans surrounding the health curriculum. Kelly Tway, a health teacher at SHS, has been one of the teachers participating in these meetings. 
In an email, Tway says, "[W]e are in the beginning stages of reviewing the K-12 human growth and development curriculum/manual. Each program's curriculum is generally reviewed on a cycle (every few years)." 
At the moment, these meetings have focused on comparing Stoughton's present K-12 human growth and development curriculum with applicable state standards and recommendations, as well as discussing any potential changes for the curriculum in the future. 
"First, making sure ALL of my students feel safe, included, supported, welcome, and respected is my number one priority. I am responsible for promoting a positive and inclusive learning environment, and fully support any changes that need to be made in order for this to happen!" Tways says. 
Tway is also outspoken about how the current health curriculum is a work in progress, and how she supports continual changes to the curriculum in order for it to be as relevant to students and the "real world" as it can be. 
Tway says, "I fully support an update to current state/national standards! I feel grateful that our school/district is supportive in making updates/improvements! Generally, if there are topics [that are not] covered, it is often due to running out of time in the semester […]". 
Regarding the process of updating curriculums, Ahlgren says, "Every summer our school board has the opportunity to approve [the Wisconsin state standards], so they review those standards and decide whether or not those standards provide enough of a playbook for teachers to operate under as they develop how they will bring those standards to life."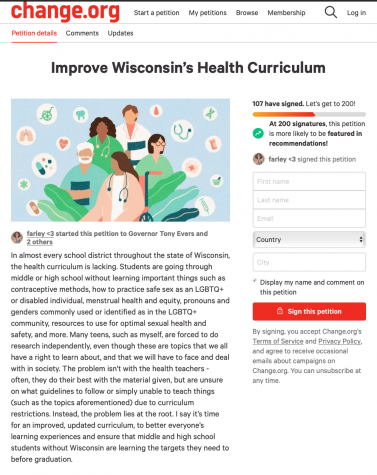 She continues, "This year we have decided to take a closer look at our health curriculum. What that really means is looking at our closer look at our Wisconsin state standards and then also considering what the statutory requirements are for health education, and also what our values are as a school district." 
Ahlgren goes on to describe how these values are influenced by district teachers' professional judgement about the relevance of current and potential future standards, reading professional literature, being deeply engaged in the wider health community, and, very critically, from student voice. 
Ahlgren says, "I think there are some opportunities that we want to take to garner student voice, both through advocacy [as] Farley has engaged in but also through outreach on our part. So, what are the ways we can seek out that student voice. That might look like surveys, but it also could look like those conversations we have with students. Those types of feedback loops between teachers and students are very important and often informal–purposeful, yet informal." 
In terms of where students interested in having their opinion heard concerning district curriculum should begin, Ahlgren says, "A very good first start is students connecting with teachers who really well understand the curriculum; they interact with the curriculum every day […] I think [a] hallmark of our teachers here at the Stoughton Area School District is that deep desire to continue to always strive to be as meaningful as possible and as relevant as possible." 
In addition to attending these meetings with district staff, Farley is in the process of creating a report analyzing the current curriculum to present to the school board, along with an appeal to begin changing the entire curriculum. 
At the moment, Farley is compiling information she has accrued from her interactions with teachers, health experts, and curriculum coordinators to add to her report. The goal of the report is to "grade" the current health curriculum for the district and the guidelines for these classes at the state level. 
Farley says, "I don't want to let my biases impact and lead how I present [information] to statewide officials or even just citywide officials. So for the most part I've just been trying to compile a[n] average set of data for what people think needs the most improvement in our community, and Dr. Ahlgren and the health teachers have been really, really helpful in doing that." 
Despite the daunting task, Farley says, "I'm trying to not let that fear and anxiety stop me because I know that this is a change that needs to be made." 




 


About the Contributor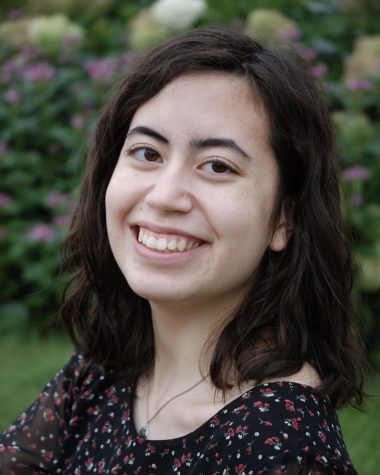 Anna Lee, Business Manager and Staff Writer
As a senior, Anna is the Business Manager and a Staff Writer on The Norse Star. When Anna is not writing for the Norse Star, she is volunteering her time...