Tasteful Tacos
During the COVID-19 pandemic, it has been hard to safely go out to eat with one another. As restrictions ease up and restaurants take appropriate safety measures, going out to eat is becoming a possibility again.
Fortunately, Bartaco, located at 464 N Midvale Blvd, Madison, Wis. offers outdoor seating, contactless ordering and paying, and makes sure to fully sanitize in between each customer.
Bartaco has a friendly atmosphere and would be a great place for a dinner date. Knowing this, fellow Norse Star staffers, Anja Royko, Greta Nashold and I, ventured to Hilldale Mall for the first food review in over a year.
Upon arrival, I was able to join the waitlist through the Bartaco app in hopes to limit our wait time at the restaurant, knowing the restaurant has a tendency to be busy on Friday nights.
After I joined the waitlist, I checked us in at the front desk to secure our spot and waited a short time for a text saying our table was ready.
As we walked to our table, we noticed the lighting hanging from the roof and heaters by every table. The aesthetic gave off a Nashville, beachy feel, but it wasn't tacky.
Our table was small and fit only the three of us. There were forks and chopsticks in paper bags in a can on the side of the table, along with a card to put up when you need assistance.
Our table had a beautiful view of the mall courtyard during golden hour where we could people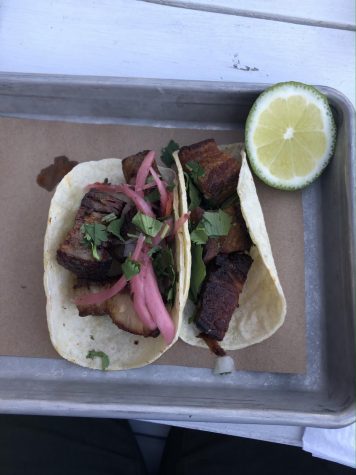 watch while waiting for meals.
When placing an order, there was a QR code on the end of the table that we scanned with our phones to order our food and beverages.
The ordering process was a tab-style system. We added our food items to our cart, but we paid digitally at the end. This made it easy for items to be added to the cart and delivered to the table before the meal was complete.
We were slightly confused on if our orders were placed, but shortly after we ordered, our food and drinks began to come out.
Despite being named for a taco restaurant, the menu had a variety of options. There was a non-taco and a rice bowl section, including a variety of soups, salads, plantains, and corn fritters. There was dessert as well.
Each item had an image of what it looked like, a short description, and a comment box to ask for any accommodations.
I opted for two glazed pork tacos. The tacos were street style and were about the size of your palm. The pork was tender and had a sweet glaze topped with cilantro and dilled onions.
Anja ordered the baja fish, portobello queso fresco, mojo pork carnitas tacos, and plantains.Greta ordered a kids quesadilla and two sesame ribeye tacos.
The tacos were placed on a metal tray with a brown piece of paper. The display and taste was good, but we did find the food to be a little pricey for the portion sizes.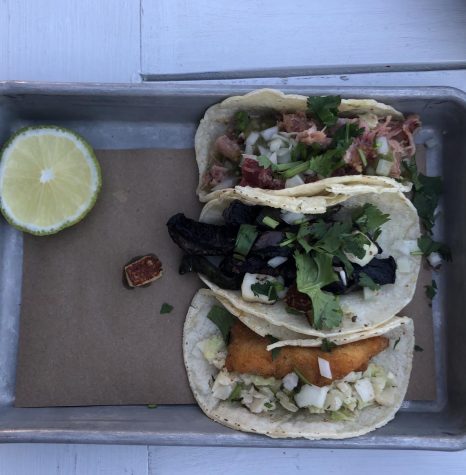 During the meal, one member of our party accidentally dropped a taco on the ground, but the Bartaco staff kindly and quickly cleaned up the spill and offered to replace the taco with no charge.
After the main course, we each opted for a dessert. The menu had options to choose from, like gelato, key lime pie, churros, and tres leches. I got the key lime pie–it came in a jar with whipped cream topped off with lime zest. The tart custard, complemented with a crunch at the bottom from the gram cracker crust, brought a delicious finish to the meal.
Greta got the tres leches, which she claims was "utterly delicious". Anja got churros, which came with a side of dark chocolate sauce as well.
My meal ranged around 14 dollars for two tacos and dessert, somewhat pricey for the amount of food you get, but tasteful nonetheless. For those looking for a semi-formal dinner date or a nice night out with friends, I would highly encourage you to take a trip to Bartaco.