A Work in Progess
I started writing my senior column earlier in the year, so I thought the title was appropriate. 
Honestly, I've found everything that life has brought me so far has been a work in progress in itself. 
That late homework assignment–a work in progress. 
Being as talented as Sean McGlynn–a work in progress. 
Figuring out who I am and what I'm doing, you guessed it, a work in progress. 
Now I don't have time or the space to write my entire memoir, but I'll share what I've got so far. 
From the get-go, I've had a disbelief in homework and a dread of going to school, but with time I came to appreciate the opportunities high school has given me, as well as the people I have met along the way. 
I would've never imagined being involved in anything to do with public speaking. Yet my inability to say "no" to Ms. Phillips handing me a signup sheet got me into forensics. Although being hesitant, by saying yes, forensics taught me that when I'm prepared, I have enough confidence to push past the anxiety of performance. 
With that being said, in order to be prepared, you also need to put in the effort. 
When you work towards something and put in the time and effort, the payoff feels two times greater. 
Choir has taught me just that.
My vocal ability has never been the best, but it has given me something to work for. 
Failing to get on the Head Table in Madrigals twice made me realize one, I need to care and put time into something if I want to do it, and two, it's okay to ask for help sometimes. 
My decision to take voice lessons has boosted my confidence in my singing and also socially in the choir. Sure, I still don't know what I'm doing, but now I feel I can fake it till I make it. 
From being very timid and afraid someone would hear me sing a pitch to having my own solo on stage with a [small] audience, is beyond belief for me.  
  Finally achieving my biggest goal of getting on the Head Table means far more than words can describe. I owe a huge thank you to Mr. Casey and Natalie for teaching and supporting me along the way. I could not have done it without you. 
I've never been the best at anything I've done, especially when it came to sports. I've hopped from sport to sport and none of them have seemed to really stick with me, except for running. I've run throughout my life, but I picked it up again for my last two years in high school. Running cross country is the one sport I find myself going back to. I compete for myself and set new goals to achieve faster times and hit longer distances. I don't need to be the best to be best for me. 
In middle school, I didn't find band to be the most enjoyable. Then I got to high school and made the switch from trumpet to saxophone and was under the direction of Dan Schmidt.
From my talented saxophone section, pep band, dreadful Viking Marching Band, and finally symphonic band, I came to love band so much that I decided to go into teaching it. I will be forever grateful for all the memories and skills the band has given me throughout these years. It gave me a community and an excellent role model to look up to for a teacher. 
A few honorable mentions and thank you's to Norse Star for giving me a voice, Henry Reineke for the fun times in San Francisco, Jon for being my best friend, and you the audience for taking the time to read what I've had to say. 
As I'm closing the chapter of high school, I'm excited for what is to come next in college and beyond. 
As Connor Franta said, "I'm just a small-town kid trying to figure out my place in the big wide world." 
 No matter what I do or where I go, I will always be a work in progress.
About the Contributor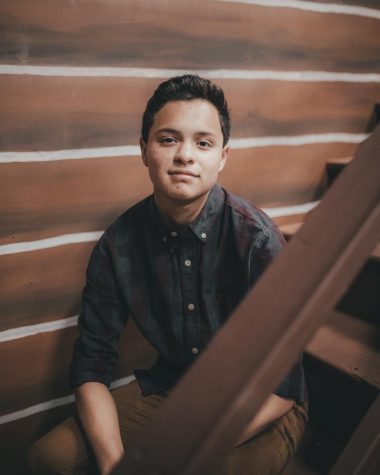 Zack DeGroff, Staff Writer
As a senior, Zack is a Staff Writer on The Norse Star. You can catch him in the music wing playing his saxophone in the Symphonic band, singing in Concert...