A Bowl Lot of Fun
Located only a brief thirty minutes away in a small building on State Street in Madison, customers enter into a whole different culture from what we're used to experiencing here in Wisconsin. Poke It Up is a Hawaiin-style poke restaurant where the menu has much to offer, including building your own bowls, seaweed wrap burritos, and sushi.
When you walk in the front door, menus line the table to the right. The double-sided menu includes a build-your-own section along with in-house specials.
The build-your-own bowl begins by asking the base of your bowl. Options include sushi rice/salad, sushi rice, brown rice/salad, brown rice, and a salad.
Further down the list, you're asked which protein you'd like to include. Choices range from spicy tuna, salmon, and ahi tuna to crab meat, shrimp, chicken, white tuna, and yellowtail.
Toppings are seemingly unlimited, with foods that aren't commonly seen elsewhere. A brief list includes edamame, jalapenos, tofu, red onion, tempura flakes, and many, many more.
Following the toppings comes the sauce. The variety of options include spicy aioli, eel sauce, wasabi aioli, ginger aioli, poke sauce and others.
If you're not feeling so adventurous, the menu also offers some in-house creations. These include the California-style bowl, the tropical island bowl, the Hawaii green bowls–all made with variations of rice, meat, sauce and toppings.
The Norse Star seniors ventured to Poke It Up on a brisk Friday afternoon as one of the final activities for soon-to-be graduates. Each senior designed their own bowl. I ordered a bowl with white rice, salmon, edamame, tofu, avocado and poke sauce. I chose a small bowl and it was filled to the brim–it filled me up very quickly.
Being on the corner of heavily popular streets, hundreds of students and families walk by every day, not yet exposed to the whole new culture of food inside the small restaurant.
Inside, you'll see a buffet filled with all the different ingredients is behind a window of glass to maintain COVID-19 precautions, where employees wait to help you decide what to order.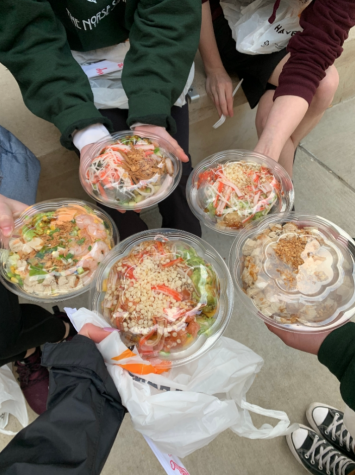 After the other Norse Star seniors and I placed our orders, our bowls were delivered to us shortly despite arriving in quite a large group. The workers there were very kind to our group as well.
Indoor seating was not allowed due to COVID-19 restrictions. Masks were required in the store and guests and employees were following these rules.
After The Norse Star seniors were in and out of the restaurant quickly, we walked down State Street and found an alley where we could all enjoy our bowls safely. Coincidentally, we encountered former Norse Star writer, Mitch Osterhaus, who we were able to catch up and laugh with.
Overall, Poke It Up was a satisfactory experience. The bowls were delicious, the customer service was great, and the COVID-19 precautions were very safe as well.
My dish was very sweet yet filling, with the combination of mango and rice and variety of protein and vegetables. Norse Star senior Greta Nashold describes her bowl of edamame, avocado, chicken and shrimp, and other vegetables as green and zesty.
To anyone looking to spice up their boring dinner of mac and cheese and chicken tenders, Poke It Up is a great place to broaden your horizons and experience something new.