The Future of Collins Field
An artificial turf field, new press box, handicap-friendly amenities, and more have all been plans thrown at Stoughton High School's athletic facility. However, the high price that comes with such upgrades has been caught through the team effort of Stoughton's Businesses, clubs, alumni, and supporters. Together, the Stoughton community has raised over 2 million dollars for such renovations, leaving only roughly $50,000 left to raise for the field, known as "phase one" of the project.
One Stoughton club that has worked tirelessly with this project is the Stoughton Sports Boosters Club. Led by Booster President Steve Lyons, the club has led fundraising events and raised thousands of dollars to help the idea of The Collins Field Project become a reality.
"Our mission is really to help […] provide athletic equipment and athletic opportunities for student athletes," Lyons says.
And help they have. Mr. Lyons's predecessor, Elise McLaury, was the one to reach out to the alumni family that donated an extra one million dollars to the project. Keith and Tammy Anderson are Stoughton High School sweethearts and supporters. Their one million dollar donation will be going towards what Mr. Lyons calls "phase two and three" of the Collins Field Project. This includes a new and improved press box and amenities specialized for those that are handicapped. What started as an artificial turf addition has turned into something much more.
"I believe Collins Field in the renovations, not only with the field, but with the press box, the handicap seating, and a host of other things that will go into this project will be a legacy project," Lyons says.
The field renovation alone will make a significant impact. First, athletics and activities that use the field will have to find alternative areas to play on during the project's renovation.
The Collins Field project is set to start June 1, 2022 and to be completed by September 30, 2022.
After this, according to the Boosters, the field will be open to an estimated 30-40 additional events per year, attracting more spectators than ever to events never seen before on the field. This includes national band competitions and more.
"It's a long-term, very grand plan, but a positive one, and the support from boosters, individuals, families, and the business community has been overwhelming," Lyons says.
About the Contributor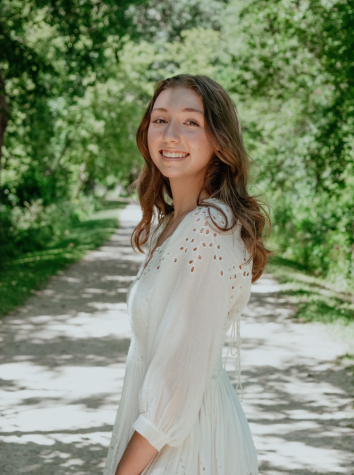 Lauren Amstadt, Associate Editor-in-Chief, Arts and Entertainment Editor, & Business Manager
Lauren is a senior and has been on staff for two years. Lauren is also involved in swim, track, and student senate. After high school, Lauren plans to...