Who is Ms. Ross?
Ms. Ross finishes writing the second cursive S on her new classroom's chalkboard in sync with the bell. Ding, ding, ding. "Hello students, my name is Ms. Ross and"- she begins, as she scans the faces of Appleton West's students with a smile. She then stops short on one kid's face and wonders why he looks so familiar. Long lost relative? No. Dog sitter? No. Kid I arrested only months ago? Yes!
Along with being Stoughton High School's new business teacher and Norse Star's first Who Is? feature, Ann Ross is an experienced leader of the marketing and business club DECA and a retired police officer and detective. She received her undergraduate degree at University of Wisconsin-Stout in marketing education and her master's degree in organizational leadership through Marian University. She first began her career in law enforcement, hoping to move up ranks to lieutenant overtime; this was, until fate took her another way.
"I was offered an opportunity to get into teaching […] at the same school with my father at Appleton West […] and at that moment, my dad was experiencing serious medical issues, and he was eventually diagnosed as terminally ill and I really thought 'this is what I'm supposed to be doing'," Ross says.
Appleton West High School was Ross's first school district that she taught at, and Stoughton is now her fourth and hopefully final one, she shares. Each teaching job was slightly different for her, environment, location, and class-wise. Although, all in all, she remained a business and marketing teacher who loves her students.
"People will say, 'How can you teach high school kids?' And I'm like, you have no idea what you're missing. It's every day they make me laugh," Ross says.
At SHS, Ross can find herself laughing with students in room 202, where she teaches business law, personal finance, sports and entertainment marketing, as well as intro to business, accounting, and marketing classes. Although new to teaching in the 608, she has plenty of knowledge and confidence with how she likes to run her classroom from her previous jobs, such as those she had in law enforcement.
"If you're going to be a good cop, you have to understand that this is our world, not mine. This is the same in the classroom. If you want to be an effective teacher, a good teacher that makes a difference, you have to understand this is our classroom, not mine. I don't make the rules. There shouldn't be rules per se. It's common sense, or consequence," Ross says.
Along with this, the new business teacher shares her hopes for her classes and the students within them.
"My number one goal is [that] I never want my students to walk in this room dreading class, afraid of any assessment […] I want my kids to be excited about coming to class. This is a safe place for all students," Ross says. "Secondly, I'm always trying to make whatever we're doing applicable to real life situations. Instead of giving a worksheet with pretend stuff, I will call a company."
Not only does Ross bring in real life situations from companies to help her students learn, but she remembers her own life experiences to help herself teach. When COVID-19 came down on the world 18 months ago, Ross faced the battle of breast cancer. She had to work through both hardships at the same time, but Ross says she is grateful for those challenges because it changed the way she teaches and reacts now.
"I used to be very uptight and regimented, and I have become a lot more empathetic, and it's easier for me to have grace with people-to understand that we all are going through challenges, and maybe it's not excuses so much as trying to understand the why behind when somebody doesn't make it to school, doesn't get an assignment, or doesn't return an email. I've just become more patient," Ross says.
Through every curve and block in Ross's road of life, she has been able to find her passion of teaching and pursue it at Stoughton High School. Now for your sake, let's hope she doesn't recognize your face and wonder why when she sees you in class or around town.
About the Contributor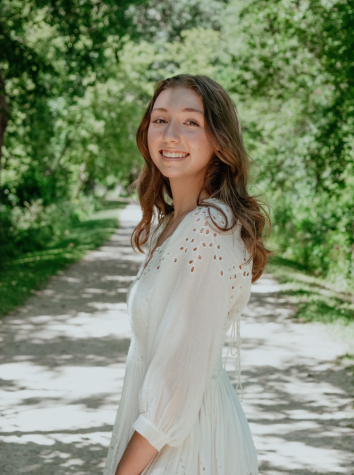 Lauren Amstadt, Associate Editor-in-Chief, Arts and Entertainment Editor, & Business Manager
Lauren is a senior and has been on staff for two years. Lauren is also involved in swim, track, and student senate. After high school, Lauren plans to...