Over 90 Years of Student Voices
For over 90 years, "The Norse Star" has been a publication at Stoughton High School. Throughout those 90 years, the current events and specific controversies that "The Norse Star" covered may have changed, but the dedication to providing a strong student voice has remained consistent.
From sorting through past issues in room 1020 to retrieving scanned articles at the Stoughton public library, similar topics, issues, and themes began to show up in "The Norse Star," even though the issues themselves were decades apart.
Few people know that "The Norse Star" was initially named "The High School Parrot." The paper was founded in 1925 in Stoughton High School. However, a temporary four-year hiatus was placed on the paper until 1929, when it came back in full force.
A quote from a page dedicated to the newspaper in Stoughton High School's 1930 yearbook reads, "In 1925 Stoughton High School had a school paper of which it was very proud. It was a newsy, independent publication, fittingly christened 'The Parrot.' It was guaranteed by an enthusiastic staff to 'hear all, see all, and tell all.' Unfortunately, The Parrot's existence was of short duration. It never survived to gladden the hearts of Stoughton High School students in 1926, 1927, and 1928, but this year a new newspaper was organized. We feel sure that the members of the former staff would not condemn us for our choice of a name for the paper. After all, could any name suggest itself more readily to our reverent minds than that of the deceased noble bird, The Parrot? We think not."
Before "The Parrot" was published at school, it was a column published in the Stoughton Courier Hub. Originally, the paper was published biweekly and cost only a nickel an issue. In 1942, the staff reformatted the paper to have larger text. Small changes like these are what made "The Norse Star" into the paper that it is today.
Former SHS student and Marine Steve Grady provided "The Norse Star" with two issues from 1942. He received these newspapers from a former Norse Star member who has since passed.
Although Grady himself was not on staff, he reminisces about his high school days and the lives of the very first Norse Star staff members, mentioning war veterans, former teachers, authors, and friends. Some former members he mentions are Clarence (a World War II veteran), Betsy Amundsen (a social worker), and Duane Thorsen (a published author).
"There [are] so many interesting people from Stoughton that came in this era," Grady says. "I met Duane at a funeral, of all places, and he found out that I was interested in the Paul Kraby murder and he told me he wrote two books."
Thorsen's book about the Kraby murder is called "The Chalk Line."
Unfortunately, some of the very first issues of "The Norse Star" were not kept and seem to be lost to the sands of time. The earliest scanned issue found was from 1934, and the earliest physical copy of the paper available was from 1942. Though there's not much information to find about the first issues of "The Norse Star," the available history is rich.
David Wallner is a former adviser of "The High School Parrot" who oversaw the class for more than 30 years, from 1976 to 2010. As adviser, he made many changes to the outdated systems of "The Norse Star" that the paper still relies on.
Wallner was responsible for changing the name from "The Parrot" to "The Norse Star," with input from his students, of course.
"When I started, the paper was called 'The Parrot,' […] and the students and I thought the name sucked. […] If you parrot, you you mimic something. . It's a verb. We said 'We're going to get rid of that name, start the paper all over, [and give it] a new look and a new edge,'" Wallner says. "We got together and threw names around. We agreed on 'The Norse Star,' a take off Norwegian and The North Star, of course."
Wallner was also responsible for developing the policy that is still in place today. Wallner describes the process of meeting with the administration for that change.
"I sat down with the principal and said '[…]Let's get you off the hook. Let's create a policy that defines what can and cannot be published,' and so we met with students, yearbook adviser, and local newspaper editor at the [Stoughton Courier] Hub, and in six months we came up with a policy," Wallner recounts. "One of the key [parts of the policy] was that there would be no censorship. Students had the right to cover controversial issues, [the paper is] open forum, and it laid down responsibilities for me and the administration."
This policy promises freedom of press and lack of prior review, meaning that the school's administration is prohibited from reviewing the paper prior to its publishing, vetoing certain articles. It has only been slightly changed since then, allowing Norse Star students to explore controversial figures and topics and learn the responsibilities of covering those subjects. One example, Wallner explains, occurred during the eighties, when the staff decided to run a specific ad.
"Our staff was running an editorial about a gay support group at the university. […] Then parents came in that year, […] and they were outraged. […] AIDS, homosexuality, and [being] transgender were pretty difficult [topics to cover because] a lot of people get very touchy, and they decided to boycott 'The Norse Star'. They went around and got the names of about 15 local businesses, many of them who were advertising with us to say, 'We're not going to support 'The Norse Star' financially because of this ad,'" Wallner explains.
However, Wallner says this did not scare the staff. They kept on running the ad, and although they suffered financially at first, things eventually went back to normal. Their values had been made clear to the community though.
"The staff showed all kinds of courage and said, 'We are an independent organization. If you want to pressure us, that's your choice, […] but we're gonna do what we think is right,'" Wallner recounts.
Stoughton auto repairman Joe Conant from Conant Automotive was a member of "The Norse Star" when he was in high school…sort of. From 1987 to 1989, under the former printing adviser Mr. McKenzie (affectionately called "Mac" by his students), Conant was on the vocational printing staff, a group that no longer exists.
For the last six years "The Norse Star" has been printing with the Main Street business Inkworks, but before that, copies of the paper were printed at SHS in the room currently occupied by the FabLab. Conant says the process for printing was not too different from the way we do it now.
"We had a camera. We actually had to get film developed, but it wasn't […] instantaneous. We had computers, we did a lot on the Macintosh," Conant says. As stated by Conant, the printing staff used to develop every picture used in the paper by hand.
"We used to have a developing booth […] we'd go into the darkroom and we'd develop the plates, and that would go on the printing press," Conant says. "The [editorial] staff would set up the layout. They'd have all the pages laid out in front of them, […] and we'd actually fold [the papers] because we had a machine that would fold."
As well as printing out issues of "The Norse Star" every month, the printing staff did small jobs on the side. Conant says they completed printing jobs for area businesses and even printed logos on items such as notepads for the school.
"[Printing] was really cool because it was a two hour class, and it was generally in the afternoon, so […] we get our work done, and it's just like a job. You can just leave. We had a lot more freedom. School seems like it was forever ago, but it wasn't. You got your job done, you did it right, you talked to Mac for a while, and Mac was a really cool teacher. He was really cool. He'd come in there with pop, with food. […] People would skip and come in to talk to you. It was really laid-back and cool," Conant says.
Besides being on the printing staff, Conant was once even the subject of a feature article in 1989 when he was restoring a car.
"I still have the car today. They did a story about me and my passion, and I guess my passion carried over into opening my own shop," Conant says.
Conant says that seeing "The Norse Star" discuss difficult topics is not a new phenomenon. Many issues of "The Norse Star" in the 1980s dealt with complex topics, like abortion, immigration, women's rights, and suicide. Though these conversations may have lessened in controversiality over the years, they are still important issues that are discussed today, especially in "The Norse Star."
"['The Norse Star' is] a really cool paper because they tackle a lot of stuff. It's kind of funny, I've still got a couple of copies that I find every once in a while, [and] the stuff that we talked about is basically the same stuff you guys talk about. The same problems, the same concerns. Everything is the same, nothing's changed," Conant says.
Alexa Nelson, who was head artist and a staff writer of "The Norse Star" during the 2017-2018 school year, speaks on how the environment of Norse Star allowed her to be creative in a way that impacted her future life choices.
"Norse Star was where I discovered I really liked, and was good at, creating cover graphics and doing page layouts. That translated into me deciding to major in art with an emphasis in graphic design," Nelson says. "'The Norse Star' gave me a lot of skills that I still use today, such as collaboration, knowledge of Adobe Photoshop and InDesign, and how to work under time constraints and meet deadlines."
Another former adviser of "The Norse Star," Jon Netzler, reflects on his time at SHS as he experiences journalism in a new way. Netzler was involved with "The Norse Star" from 2013 to 2016, eventually moving on to teach journalism abroad in Saudi Arabia. While teaching abroad in a country with stricter censorship laws, Netzler has become highly aware of the importance of free press and the type of policy "The Norse Star" has.
"One major drawback to doing journalism here in Saudi Arabia at my private international school is [that] we're not doing journalism here, and that's almost worse than doing nothing at all. […] We're not seeking the truth and reporting it. […] Everything we're trying to do is PR to a certain extent, and […] it's unfortunate," Netzler says.
This year is the first year Netzler won't be teaching a journalism class in Saudi Arabia since 2012 due to his elective journalism class being cut this year. Netzler strongly believes that journalism classes are one of the most applicable forms of education.
"Are the students doing important work? If the answer is yes, they're doing good learning. […] If they can match the vocabulary on a test that's great but what is it all leading up to? What's the important thing that they're involved in? What's the big important project that actually has real value? "The Norse Star" is that," Netzler says.
Former Editor-in-Chief Megan Mowery attributes her career choice and future to her experience on "The Norse Star." Mowery was on staff from 2013 to 2015, and was Editor-in-Chief during her 2014-2015 school year.
"Norse Star […] helped prepare me for my current career—it convinced me to pursue a journalism degree in college and to join my college magazine, all which led to me currently working for a magazine publishing company as a senior editor. I truly wouldn't have done any of it without Norse Star," Mowery says.
The grateful voices throughout our reporting of those involved with "The Norse Star" over the years demonstrate the legacy of the staff and students from 1925 who developed a high school paper on generations of Stoughton community members.
"The Norse Star" has served as both a voice for Stoughton High School as well as a tool for students to explore the responsibilities of journalism.
Times change, writers change, advisers change, and even the paper's name has changed, but it's clear to see that "The Norse Star" has immortalized those student voices for over 90 years.
About the Contributors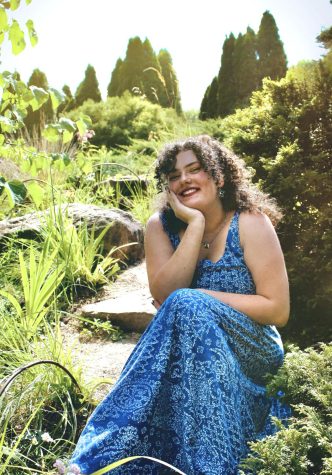 Delaney Gauthier, Opinions & News Editor
Senior Delaney Gautheir is the Norse Star's Opinions and News editor. She appreciates the opportunities and friendships she has received from being on...