Homecoming Highlights
Homecoming is a long-standing tradition at Stoughton High School, and this year did not disappoint. The festivities, organized by Student Senate, were met with enthusiasm from the student body and staff along with lots of participation. This year's dress-up themes were decades day, dynamic duos, tie-dye, tourist day, and Viking pride. Activities occurred during lunch, along with a pep rally Friday at the end of the school day in preparation for the football game and dance.
Stoughton's students did not disappoint with theme days for Homecoming this year. Many took the opportunity to go all out, likely because of a severe lack of homecoming activities last year due to COVID-19.
Monday was decades day, the Freshmen representing the 2000's, the Sophomores the 1970's, the Juniors the 1990's. Seniors had career day on Monday. Many Seniors showed up in career costumes ranging from farmers to nurses and much more. Many Homecoming events took place during lunch as well, all organized by Student Senate.
On Monday students said goodbye to summer with the last taste of summer drinks sold at the shack. Tuesday's homecoming dress-up theme was Dynamic Duos. Many pairs of students dressed up as iconic duos from films, books, television, and more. Many Seniors partook in Toga Tuesday and adorned white sheets inspired by the clothing of Ancient Rome. Tuesday's lunchtime event was what would you do for a Klondike bar? Students were pushed to see what they would do for a Klondike bar. Students did a variety of things, such as jumping jacks, hopping on one foot, spewing out random facts, and more.
Wednesday's Homecoming dress-up theme was tie-dye, creating a wave of colors in the hallways of Stoughton High School. Students wore everything tie-dye ranging from shirts, socks, headbands, and more. Seniors took the name seniors to heart on Wednesday as many showed up dressed like senior citizens. Many of the participating Seniors wore wigs and strutted the hallways.
Students at Stoughton on Thursday dressed like tourists for Homecoming. A sea of Hawaiian shirts, leis, and fanny packs hit the hallways. The Seniors honored their favorite fictional characters on Thursday by dressing up as superheroes. Colorful masks (other than the disposable kind), capes, and tights were some of the impressive items Seniors incorporated into their costumes.
Students went all out on Friday, the final dress-up day of the week, and followed the same theme to show their school spirit. Many students showed their Viking pride and showed up in a dizzying amount of shades of purple. All students followed the same theme for Friday to come together and show their support for the pep rally and football game. Spirits were high on Friday in anticipation of the upcoming football game. Students partook in a game of Vikings trivia during lunch.
The first pep rally of the 2021-22 school year was filled with enthusiasm and lots of cheering. Students filed into the bleachers outside the school by the football field to show their school spirit. The Stoughton cheerleaders and Dance Team fostered all the excitement by performing. The Stoughton Dance Team performed their annual dance with the football players, earning lots of liveliness from the crowd.
A lack of enthusiasm was definitely not the reason Stoughton lost to Fort Atkinson at the Friday football game. Many students attended the football game to show their school spirit. The score was 34-28 in favor of Fort Atkinson, although Stoughton didn't give Fort Atkinson an easy fight.
The annual Homecoming dance wrapped up all of the Homecoming festivities. From 7-9 PM students danced and ended Homecoming on an upbeat note. The dance was held outside on the track around the football field to help reduce the spread of COVID-19. Student Senate's planning throughout the week did not disappoint, especially their accommodations at the dance.
COVID-19 clearly did not slow down anyone's Homecoming spirits this year. Stoughton High School students experienced their first Homecoming post online learning, the underclassmen experiencing their first in-person Homecoming ever. This year's homecoming was definitely a year to remember!
About the Contributor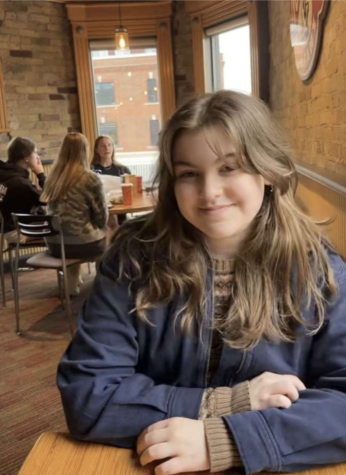 Madeline Monthie, Features Editor
Madeline is a junior and this is her second year on staff. She is also involved with key club and student senate. In her free time, she enjoys reading,...