Downtown Halloween Event Returns
Each year, on the Saturday before Halloween, the Stoughton city Chamber of Commerce organizes a downtown Stoughton event celebrating Halloween. This year, the event takes place Saturday, Oct. 30. The trick-or-treating event is a part of another event called Destination Stoughton: a Norwegian Weekend of Fun. Destination Stoughton: a Norwegian Weekend of Fun involves many Norwegian activities such as rosemaling and lefse and is sponsored by the Sons of Norway.
Many activities will be taking place this year including a performance from the Norwegian dancers, trick-or-treating along Main street, and a costume contest. Children aged 0-12 and their families are invited to celebrate and express their Halloween spirit and enthusiasm.
Children dressed up in colorful costumes are expected to flood Stoughton's downtown area, candy pails in hand. Stoughton children will be given the chance to compete in a costume contest and explore the stores downtown, all while receiving candy and enjoying the crisp, Fall weather. While others may opt for a more scary Halloween activity, this event is meant for the whole family. The event will follow the Dane County mask mandate currently in place. This means that everyone ages two and older will be required to wear face masks in any enclosed area (and no, costume Halloween masks don't count). Much of this event will also be taking place outside, which will help reduce the spread of COVID-19.
The festivities take place along Main Street from Fifth Street to Page Street. The route has grown this year.
"Generally it's been businesses along Main Street from Fifth Street to Page Street [participating in the event]," says Stoughton's Events and Visitor Services Manager, Callie LaPoint, through email. "There [have] been some new businesses reaching the side streets along Forrest Street and Division Street, so we're excited to see the route grow [this year]." The downtown Stoughton trick-or-treating event is open to any business wishing to be involved. Participating businesses will have a sign displayed to welcome the trick-or-treaters. "Businesses also have the opportunity to sit outside and greet the children along the route, or invite them inside to explore their shop," LaPoint says. The Police Dispatch, along with the Stoughton Library, are also open during the event for the trick-or-treaters to traverse.
The festivities will begin at 1 p.m. at the Stoughton Community Building. The Norwegian Dancers, an iconic celebration of Norwegian heritage in Stoughton, will be holding a costume contest where they will be the judges. Children can participate by showing off their Halloween costumes. The Norwegian Dancers will also be performing at 2 p.m. The actual trick-or-treating will take place from 3 p.m. to 5 p.m. The downtown Stoughton trick-or-treating is a part of Destination Stoughton: A Norwegian Weekend of Fun, an annual event run by the Stoughton city Chamber of Commerce. "The entire weekend is called Destination Stoughton," says Staci Heimsoth, head director of the Norwegian Dancers.
The weekend takes place from Oct. 29-31 and has many other activities than just the downtown trick-or-treating event, such as rosemaling on display, lefse classes, and more.
"There are other Norwegian themed activities going on as well [during Destination Stoughton: A Norwegian Weekend of Fun.] It's centered around the state rosemaling exhibit," Heimsoth says on Destination Stoughton: a Norwegian Weekend of Fun.
"We've been involved in Destination Stoughton since it began," Heimsoth says about the Norwegian Dancers' participation. "After a few years of doing our performance in the Community Building and knowing that kids were downtown trick-or-treating, I approached the Chamber and asked if we could join forces for the costume contest as a way to get the Dancers more involved in the Community."
Even though the event did not take place last year, this year it is expected to return better than ever. With the costume contest, performance from the Norwegian dancers, the trick-or-treating down Main Street, and the Norwegian cultural traditions occuring, it will certainly be a day to remember.
About the Contributor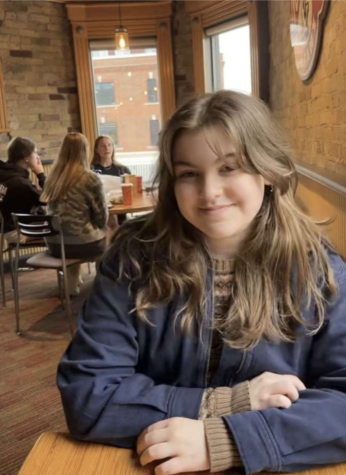 Madeline Monthie, Features Editor
Madeline is a junior and this is her second year on staff. She is also involved with key club and student senate. In her free time, she enjoys reading,...