Weighing In With The Wrestling Team
It's common knowledge that Stoughton has a decorated history of success in the high school wrestling program. With over 50 individual state champions, the SHS wrestling team holds the state-wide record, and the team hopes to build on that success in the upcoming season.
Senior John Harman looks forward to his final season on the team. He joined the wrestling team his sophomore year in order to train for football.
"At first it was because I had a few friends who were on the team already. I'm a football player. That's my favorite sport, so I wanted to train my body for the football season. That was my thought when I first joined, but then it turned into so much more. It turned into a team, and I'm enjoying the sport of wrestling rather than just using it as a mode to get better at other sports," Harman says.
Harman says that wrestling has had an unexpected impact on his life.
"Wrestling has impacted me in a huge way when it comes to my work ethic and being disciplined, because being a wrestler, it takes a lot of commitment. Monday [and] Wednesday mornings you're waking up really early in the morning, you're conditioning for an hour, and then you have practice after school every day," Harman says. "[There's] probably a meet or two during the week and then tournaments on the weekend, so it's […] not for everybody. But if you find that you can be disciplined, it's a really great experience."
A goal that Harman shares with his teammates for the upcoming wrestling season is to win the team state title, an accolade the team is frequently in contention for.
Two-time state champion and senior Nicolar Rivera feels the same way. One of his personal goals for the season is to win the team state title and to get more people involved with the wrestling team. After he suffered a loss during the last wrestling season, Rivera says he wants to have a comeback of sorts. "So last year, I beat this kid, and I thought I could beat him again, but when I wrestled him out of state, I wrestled him a weight class up. I wasn't cutting any weight, he was 132, there was a 3-pound weight allowance. I weighed in at 129 […] I lost my first two matches ever in high school," Rivera says.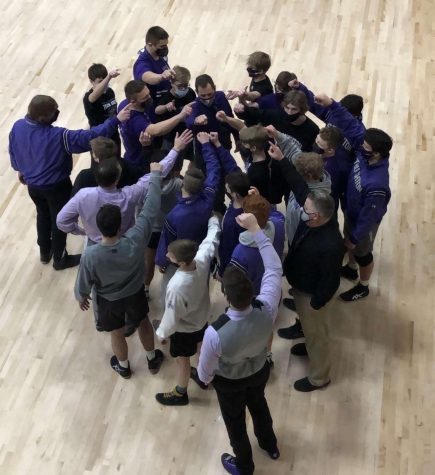 Rivera says the impact wrestling has had on his life has been monumental, and that he wouldn't be the same person he is today without the sport (and the 13 years of his life spent dedicated to it). He echoes Harman's statement about wrestling being hard work.
"[Being a wrestler is] just looking forward to a hard practice at the end of the day. We do drilling, like practice our moves, live wrestling, that's like practice matches, and then conditioning at the end," Rivera says.
Sophomore Cole Sarbacker has also been wrestling for upwards of a decade, though this is only his second year wrestling for SHS. "Last year was my first year wrestling on varsity. I've kind of been around the program my whole life, just always living in Stoughton and watching all the duels when I was in elementary and middle school," Sarbacker says.
A notable moment in Sarbacker's wrestling career with SHS happened last year, when the team went to the individual state finals.
"We had a pretty good squad of a lot of seniors, and I was [one of] the only underclassmen that made it to state, but it was a pretty cool opportunity because we had quite a few guys in the state finals that year. I'd say that was pretty fun," Sarbacker says.
The pandemic hit the wrestling team hard at the start of last year's wrestling season, and the team faced challenges that came along with strict COVID-19 guidelines that made it difficult to compete. However, the team has hope for the future.
Co-head Coach Bob Empey, who was also a high school wrestler, has been with the Stoughton wrestling team since 1997, alongside Dan Spilde.
"I think it's every coach's desire to […] share the experiences they had with the sport when they were young, to share that experience with others, but make it better. To be part of the journey of a student athlete as they go through school," Empey says.
As for what's in store for eager wrestling fans in the upcoming season, Harman says that while the team is coming off of a difficult season due to the pandemic, good things are ahead. Rivera and Sarbacker agree.
"We're a school that's in Dane County, so we've had a lot tighter restrictions than many other schools, so it may be a little more difficult for us to get into our groove, but I know wrestling fans are really supportive of our program and they know we have a wonderful coaching staff and they're going to put us in the best position possible to succeed," Harman says.
Empey is looking forward to the upcoming wrestling season and everything that's in store for Stoughton's team of wrestlers, as well as the avid supporters of the wrestling program, and says the team has been very fortunate to have the opportunities they did.
"Enjoy the opportunities that didn't exist last year, to come and support one another. Attend, that's the biggest thing. We all wished we could last year, and now we can, so attend. I'm speaking for all sports: enjoy it. There was a time where we didn't," Empey says. "We know there's gonna be bumps along the road, but help each other out. Be kind. Say hello [to people]. We didn't get to do that last year."
About the Contributor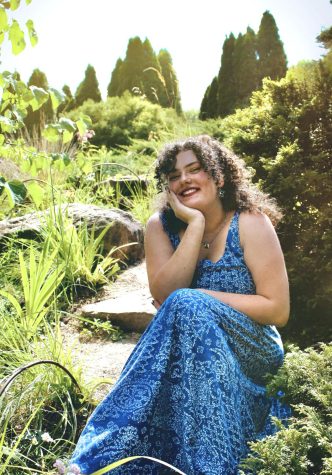 Delaney Gauthier, Opinions & News Editor
Senior Delaney Gautheir is the Norse Star's Opinions and News editor. She appreciates the opportunities and friendships she has received from being on...