Whiskers & Wardrobes
The holiday season is upon us and with the holidays comes colder weather. What does that mean? It's time to break out that winter wardrobe! Dust off those scarves, hats, gloves, heavy jackets, and sweaters―especially the ugly ones. Don't deny it, we all have them―it's a holiday staple, a wardrobe essential, if you will.
Regardless of the circumstances presented to you, almost every holiday gathering calls for an ugly sweater. It's the only time of year where blinking lights sewn into your clothing and visually unpleasant color combinations are socially acceptable. Though it is all in good fun, we humans are not the only ones who can appreciate a good sweater, ugly or not.
There are plenty of options for pets to hop in on the "ugly" clothing fun. Ugly sweaters come in pet sizes too, but when something with a face as cute as these wears an "ugly" sweater, is it really ugly?
Sweaters, booties, ties, collars, and jingle bells on everything―there are so many festive accessory options for your pets. The Norse Star staff shares how their four-legged family members are getting into the holiday spirit. We have it all from sweaters to… wait, is that Santa?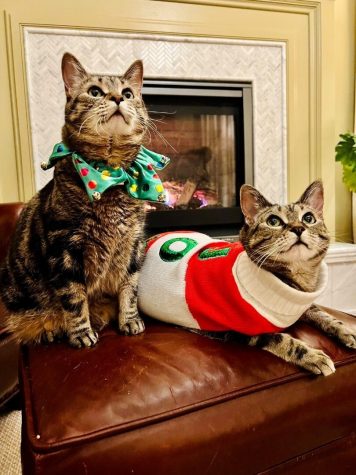 Coco (right) and Nico (left), an iconic sister duo, are bringing the heat this holiday season. Nico's festive necktie is professional and sophisticated, while Coco's joy sweater could put a smile on even the Grinch's face. What's on their Christmas list this year? Treats… and cardboard boxes.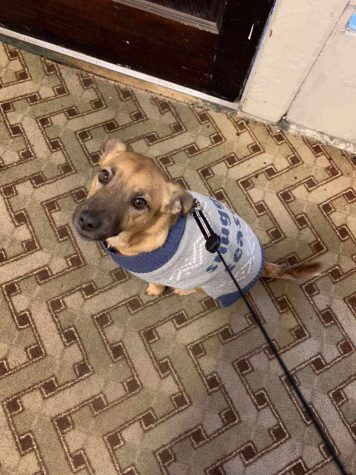 POV: You are the mistletoe. Winston, an esteemed gentleman, waits in his dapper blue and gray sweater to comfort all you lonely mistletoe-goers this holiday season. After all, who needs romance when you have Winston? These puppy's snuggles are free for the taking … on one condition, do you have treats?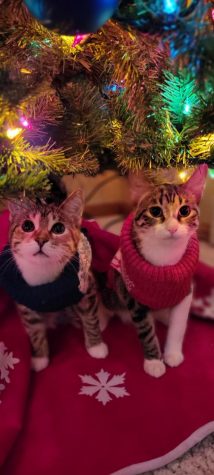 Sisters Maisy (left) and Adelaide (right) show off their first-Christmas fits. Maisy rocks a blue and white snowflake moment, while Adelaide sports a classic red and white color combination decorated with festive reindeer. (With pockets on the back!) They both pose graciously under the Christmas tree to make it clear that they are the gifts this year. Just look at those faces, what else could you wish for?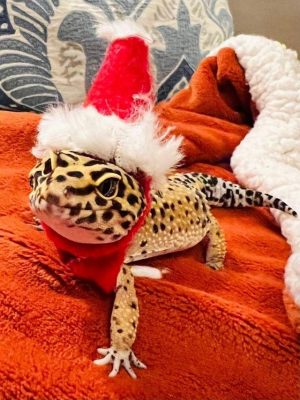 Bean is not your typical mall Santa. This Santa doesn't need a suit, as it would hide his eye-catching coloration. His sassy pose and pristine hat say it all, he is the king of the holidays. Bean, we all are dying to know, who's your tailor?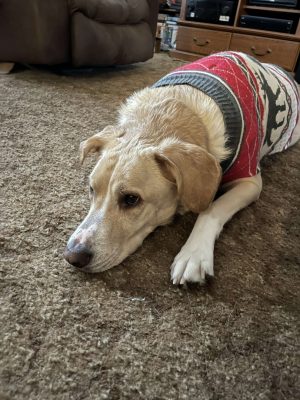 Belle is the embodiment of holiday relaxation. She has been doing the most this year, after all, looking that precious is exhausting. Yet, despite that, those big eyes still say "pet me!" There's absolutely no doubt this pup sits at the top spot on the nice list.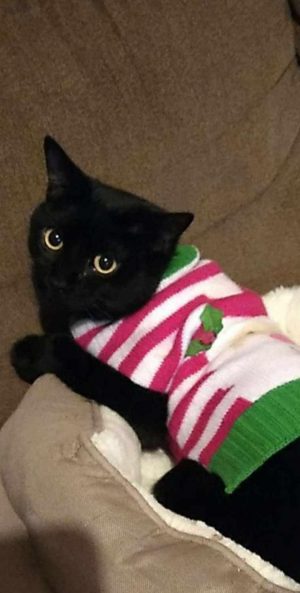 Sophie is full of holiday cheer this season! All cozied up in that festive sweater, just look at that warm smile and inviting body language! Holiday cheer practically seeps from every whisker … no? Hey, I tried.
About the Contributor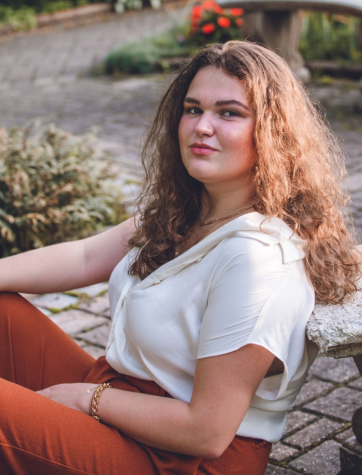 Madison Luick, Cover Story & Opinions Editor
Madison is a senior and this is her second year on staff. Madison is also in symphony and chamber orchestra, as well as symphonic band, jazz band, and...