Onsager Moves On
After 11 years as the Stoughton Area School District Superintendent, Tim Onsager plans to retire this coming February. However, his path to success began long before his position here in Stoughton.
Onsager grew up in South Milwaukee, a suburb of Milwaukee, and was involved in many activities as a highschooler. After four years of choir, calculus, and AP English, Onsager went on to UW Milwaukee initially to study engineering. After the first semester, Onsager says that he knew that engineering was not for him.
"People said if you're good at math, go become an engineer, [but] I wasn't really finding anything that I liked," Onsager says.
After discussing with college advisors, Onsager was offered a class that would later alter his career.
"I had a college advisor who said, 'Why don't you take this class? […] We visited schools and saw what happened in schools, and so I was hooked," Onsager says. "I went and visited schools, I was volunteering in classrooms, and it was just kind of the realization. This is what I'm meant to do. This is what I enjoy. Interacting with people, no two days are the same."
Onsager went on to change his major to secondary education and transferred to UW La Crosse. Onsager got his first job as a teacher at Three Lakes School District teaching math and computer science. He also took on the role of coach for football, basketball, and track, became the student council advisor, and was named National Honors Society advisor.
"In a small school, you wear many hats. [I did] kind of whatever they needed me to do," Onsager says.
From there, Onsager moved to the Reedsburg School District and worked as a math teacher and a girls varsity basketball coach. After this, Onsager returned to school to receive his masters in education at Winona State. He got his first administrative job as assistant principal in the West Bend School District. Then, in 1999, he took a job as the high school principal in Juneau where, alongside being principal, he was also the director of technology, director of transportation, and a longtime substitute for the middle school principal.
In 2002, Onsager became the Deforest High School Principal. While in his position, he enrolled at Edgewood College to earn his doctorate degree alongside his superintendent license. Simultaneously, the position of district administrator in Stoughton opened up.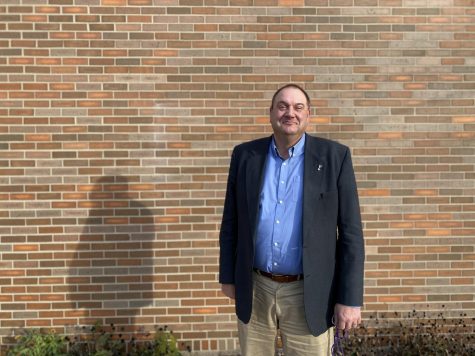 "I did my research and looked at where Stoughton was located, looked at the community, and looked at the school system and decided I would like to be part of Stoughton, so I applied," Onsager says.
Onsager has now lived in Stoughton for the past eleven years and five months, raising two kids who have since graduated from SHS. When asked about his decision to retire after being a lifelong learner, Onsager explained how difficult the decision was.
"I won't go into all the personal reasons, but it seemed like the right time […] You always look at where you're at and the opportunities and where's next. They tell me I'm probably the longest serving superintendent in the history of Stoughton, and it was time to kind of step back and let some other people take the reins and retire," Onsager says. "I've seen some of my colleagues in other districts who stayed too long, and I wanted to go out on my terms when I'm on top—when I still have a passion. I didn't want to be sitting in this chair dreading coming to work. I wanted to be able to [leave] while it's still exciting, while I still enjoy the job. To me, it seemed like the right time to figure out what I want to do when I grow up."
Currently, Onsager does not have any concrete idea of what will happen after his retirement.
"I'm going to take some time. It's been a long time since I've been able to not have to do anything," Onsager says. "Part of being a superintendent, you're on call all day everyday. I get calls at night, I've had people knock on my door on Christmas Eve. Especially when you live in a small town, you go to the grocery store, and I'll have people talk to me, so you're on all the time."
Onsager believes that SASD's future is golden.
"The future looks bright. I think there's a lot of different opportunities. The school board and administration are talking about how we add experiences for our students. We're talking about making sure our students are career and college ready. Making sure that you have what you need to be successful in the world that you inherit."
Onsager continues, "[The] kindergarten class right now is the class of 2035, and so what's 2035 going to look like? What skills are you going to need to be successful? How do we redesign a school system to meet those? Because school systems are slow to change, and we want to make sure we're meeting [students'] needs, not what we should have been doing years and years ago."
Onsager says, "Stoughton is at a golden opportunity of being able to look at itself, being able to look at the world around. I've always thought education should be a regional resource and instead of us competing against each other. Why aren't we combining our resources to give the best opportunities for the students?"