Helping Hands
Three Local Frontline Workers Share Why They Decide to Help their Communities
When the whole world comes to a screeching halt, many may find themselves asking the question, "well what do we do now?" And in the current state of the Pandemic, the answer is often nothing. While a majority of the population was stuck at home, it was difficult to imagine what it might have been like out on the frontlines, helping people. For a significant period of time most jobs were unable to continue in hopes of slowing the virus' spread.
However, for select individuals, their professions were not slowed due to the presence of the pandemic. Their services were crucial to the survival of our species and sometimes directly contributed to eradicating the virus. It's up to the brave, selfless individuals that volunteer their time and efforts to ensure that the rest of the population can continue to live their normal (or as close to normal as possible) lives.
Emergency Medicine Physician
Dr. Andrew Dean Describes His Work as a Medical Professional
Andrew Dean from southern Wisconsin has been an Emergency Medicine Physician for the past nine years. Since attending medical school at the Medical College of Wisconsin in Milwaukee, Dean has gone on to work at a number of hospitals in the Midwest. He currently works in the emergency rooms at the Stoughton Hospital and Beloit Memorial Hospital.
Some doctors choose to pursue medicine because it runs in their family. Others realize their calling when they are saved from a life-threatening illness in their youth.
For Dean, there was no life-threatening illness or epiphany. There was no specific moment that made him realize that healthcare was the path for him, but he always knew that it was something he wanted to pursue.
"I didn't come from a family of doctors or anything like that. It just sort of seemed like a good fit for the types of things I liked in life, and it just kind of kept working out," Dean says.
Finding a great deal of enjoyment in both science and the company of other people, Dean decided that medicine was the path for him. As the stars aligned and all of the pieces of Dean's life fell into place, he was able to build his career as an Emergency Medicine Physician.
"I like working with people. I like taking care of people. The science behind it is interesting, so it all kind of merged," Dean says. "It was one of those things that I always kind of thought I wanted to do, and then I just kept taking the next step, and it kept working out, and it kept being enjoyable, so I just kept doing it."
Dean explains that the role of his profession is to evaluate patients that come into the ER and help them with their urgent medical issues.
"I'm the doctor that works in the ER, so if you come into the ER and have any concerns, I'm the one who takes care of you and evaluates you."
In this particular medical field, it is not necessary for these doctors to have their own office or clinic. They work exclusively in the ER with the patients that are in need of emergency care.
While a majority of the United States population was told that they were "safer at home," Dean was unable to sit back and relax at home. Those infected with the virus directly depended on him and the tasks that he would fulfill.
"When COVID hit, I couldn't just sit in my office and do Zoom work," Dean says.
While Dean's job is crucial to the well-being of the individuals checking in and out of the ER every day, he finds that his schedule can be fairly inconsistent and the number of hours that he actually works is surprisingly low.
"The pure number of hours I work isn't crazy. In a month, I work 130 to 140 hours clinically, but those can be any time any day of the week, so those can be day shifts, those can be evening shifts, night shifts, holidays, [or] weekends," Dean says. "Week to week my schedule varies."
In addition to the schedule itself being rather variable, Dean explains that shifts are always unpredictable.
"Most days or average days, I probably take care of between 10 and 15 patients in an 8 hour shift on average. It can be busier than that. It can be slower than that," Dean says. "We see the whole range of medical issues. It can be splinters or sprained ankles, to heart attacks and strokes and all of that stuff. We take care of it all."
There is a definite increase in risk of contracting the virus for those working in direct contact with individuals that are known or likely to be carrying the virus. However, these individuals – and those with unrelated health issues – may still need care in order to make a full recovery.
Throughout the course of the pandemic, hospitals all over the country have made many adjustments in their policies and practices in an effort to reduce the risks that healthcare workers have to face and patients fall victim to. Dean describes the changes that he has encountered during the pandemic.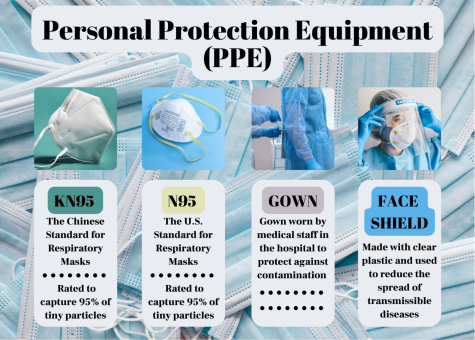 "We wear masks the whole shift. When we think we are dealing with someone we either know has COVID or we're worried they may have COVID, we wear more involved PPE, so we wear the N95 mask with a face shield and a gown," Dean says. "Most of the time – prior to COVID – I would almost never wear a mask. You only wore a gown if you thought you were going to get something on you, not because you were necessarily worried about getting sick."
At the start, these types of practices seemed rather foreign to those working in healthcare.
"It certainly initially really slowed us down because we weren't used to [wearing so much PPE]," Dean says. "Prior to COVID, we – for the most part – weren't worried that the patients were going to get us sick."
Even with all of these difficulties, traumatic injuries, and occasionally late hours, Dean says that he does not regret pursuing his career.
However, he adds, "It does have its moments."
"You hear people talk about stories with patients and all that kind of stuff and honestly that stuff is manageable," Dean says. "I had to work Christmas […] afternoon this year, and I've got two littler kids. That was really hard on them. They didn't really like Dad going to work on Christmas, and it doesn't happen every year, but it stinks. […] It stinks missing soccer games and basketball games and that kind of stuff."
Dean explains that even though being a doctor isn't easy, he can't imagine himself doing anything else.
"I wouldn't want to do anything else. I really wouldn't. I really do love it," Dean says. 

Pharmacy Technician
SHS Senior Samantha Nelson Offers Insight Into Her Job at Walgreens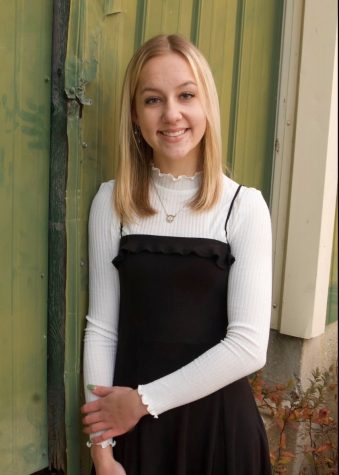 From filling and selling medications to checking in and scheduling vaccinations, Senior Samatha Nelson does it all for the customers at Stoughton's Walgreens. Nelson has worked there for almost two years, first as a cashier, and now as a pharmacy technician since August 2021.
A lot has changed since Nelson first started, especially due to Walgreens' involvement in COVID-19 vaccinations. While Nelson is not certified to do the actual vaccination, she still sees all of the action first hand and gets involved to the best of her ability during her nine to five Sunday shift.
"We have to give vaccines every 15 minutes, so it's crazy busy. Someone has to dedicate their entire shift just to giving vaccines," Nelson says. "You just need to be there for them to give the information they need and run the tests for them." Nelson also assists the pharmacists at Walgreens by telling customers a brief description of the medication they are receiving, but any further details or information has to be given by the pharmacists themselves.
"Pharmacists look at everyone's profiles and make sure no one's abusing their medications. They're like the backbone of the pharmacy," Nelson says.
While Nelson admires the hard work of the pharmacists at her job, she isn't quite sure what she wants to pursue after graduation. She is overall looking to work in the healthcare field and thinking about attending the University of Madison Wisconsin with a major in biochemistry. This is one of the reasons Nelson wanted to work as a pharmacy technician because she feels it will greatly benefit her in the future she is working towards.
"I just get trained as I go and when a new situation comes up that I don't know, I have someone help me and I learn it as it comes up," Nelson says. "I definitely learn new stuff every time I go [to work], which is a little nerve-wracking at first."
Nelson has been able to adapt to her quick-paced job by believing in herself and knowing it's okay to mess up every once in a while.
"It is really scary at first but you really just need to stick with it. Don't be afraid to ask questions," Nelson says. "You're not going to get better unless you try."
The coworkers Nelson works side-by-side with as well as the customers she meets also motivate her to push past the obstacles that come with being a pharmacy technician.
"I really like working in customer service and making people happy, especially because medications can be really expensive and insurance can be really confusing," Nelson says.
Nelson herself admits she sometimes struggles with understanding how insurance works and why certain medications are so expensive.
She, like all other pharmacy technicians, had to take classes before going back into the pharmacy, but otherwise, it's just on-the-job training. One upside Nelson has taken away from her occasional confusion is that she can understand her customers better, even those who are not the nicest to her.
"It shocks me sometimes how much people have to pay for their medications and it makes me really sad," Nelson says. "I try my best to think about how it is really stressful getting medications and paying really high costs for them. I try to understand where [the customers] are coming from and try to help them."
Before realizing her love for helping others in the healthcare field, Nelson took the job of a pharmacy technician at Walgreens because that's what her sister did.
She soon found out that she much preferred the atmosphere in the pharmacy compared to the one up front as a cashier.
However, sometimes Nelson does miss being a cashier because it was easier for her to come to after a stressful day at school. Overall though, she finds her work in the pharmacy "more rewarding than stressful."
It is the hard work and sacrifices made by Nelson, and all other pharmaceutical workers, that has allowed Stoughton to safely and efficiently vaccinate more people than ever before.
Nelson's constant dedication to helping others is not only rewarding to herself but to all of those she has assisted over the months.
Emergency Medical Service Driver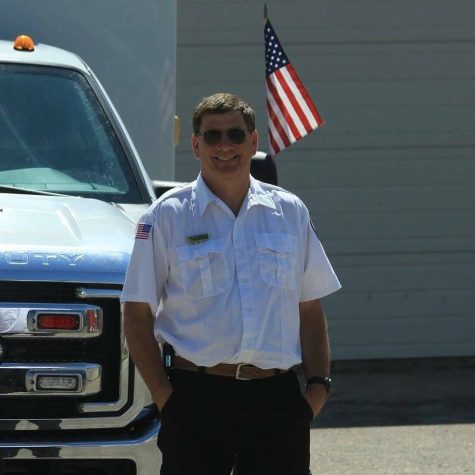 Bob Christofferson Shares His Experiences as a Volunteer EMS Driver
Over a decade ago, Bob Christofferson joked about the differences between the Semi truck he drove and driving an ambulance during a CPR training class. Never did he expect that his lighthearted remarks would earn him a volunteer emergency medical service driver application. Even more shocking to him was that he filled it out and took the position.
Christofferson has been a volunteer EMS driver in Stoughton for almost 11 years and has never regretted the choice. As a driver, he takes on the responsibility of reaching those in need and transp- orting them to where they need to go. He is also in charge of transporting all equipment needed for patient care. In the ambulance, he works with two others, called a Crew Chief and an EMT. The Crew Chief oversees all operations, while the EMT does the assessment.
"Most people don't realize the commitment EMS volunteers have to make to keep the ambulance ready," Christofferson says. "You need three people, 24 hours a day, seven days a week."
For Christofferson, his week as a EMS driver includes working on Mondays. He also works on the weekends if it's his crew's turn in the five-week weekend rotation. Besides being an EMS driver, Christofferson works full time for Atlas Logistics, a company that deals with the transportation of goods. Additionally, he voluntarily takes pictures at Stoughton athletic events. He first started taking pictures of just his daughter's sporting events when she was in high school, but a year later it turned into something much larger.
"I started putting them [the pictures] on the Sports Boosters' Facebook page," Christofferson says. "I take anywhere between 400 to 800 [pictures] on average per game and it can take up to two to three hours to go through them."
Christofferson enjoys taking pictures in his free time, but he especially cherishes his work as an EMS driver because he gets to be a part of a crew that helps others. However, he, like all other members of Stoughton Area EMS, had to get CPR certified and Emergency Vehicle Operator trained before this rewarding experience was possible. From Christoffers- on's first training session to now, he has volunteered to help people through terrible weather, a deadly pandemic, and many more obstacles, and yet he continues to give back.
"Helping people leaves you with a great feeling […] you learn that there are a lot of special people out there," Christofferson says. 


Wrapping it Up
Whether they are distributing medication, providing emergency medical care to those in need, or transporting those individuals to a place where they can receive said care, it goes without saying that the efforts these individuals put in to make society a happier, healthier, and safer place (sometimes at the expense of their own safety) do not go unnoticed. Their attention and care to those in need is especially important during such uncertain times. It is because of them that the world is able to keep moving forward even when it seems like everything is falling apart. Somehow, every single time, they manage to glue our society back together, just by lending a helping hand.
About the Contributors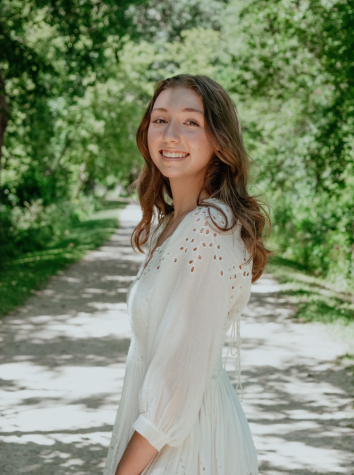 Lauren Amstadt, Associate Editor-in-Chief, Arts and Entertainment Editor, & Business Manager
Lauren is a senior and has been on staff for two years. Lauren is also involved in swim, track, and student senate. After high school, Lauren plans to...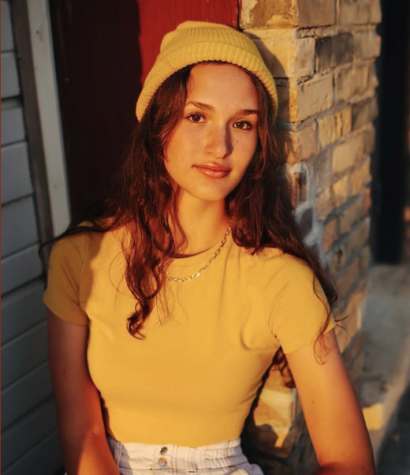 Anja Royko, Editor-in-Chief & Cover Story Editor
Senior Anja Royko is the Norse Stars Editor-in-Chief and Cover Story Editor. Anja enjoys how Norse Star allows her to shine a light on underrepresented...