Cafe Hollander Food Review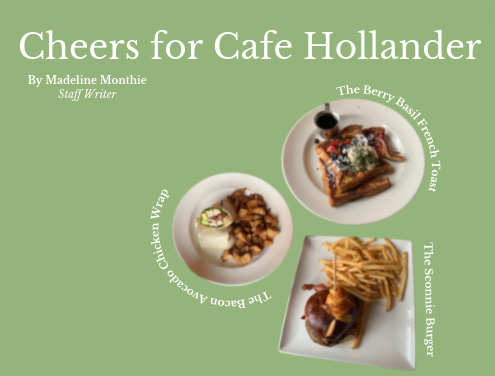 Amongst the other bustling shops and restaurants in Hilldale, Madison's iconic outdoor mall, stands Cafe Hollander. The European-inspired cafe serves breakfast, brunch, lunch, and dinner. The impressive two-story building is hard to miss. Three members of the Norse Star staff decided to make the half-hour drive to Cafe Hollander, a decision they did not come to regret.
The Norse Star staff members were shown to their table, which was in a room full of not only tables and chairs but also plants, pillows, and string lights, giving the restaurant a cozy, homey atmosphere. The entire restaurant was decorated with intricate designs modeling those of Belgium, the restaurant's main style inspiration, with hints of other European countries. The restaurant possesses high-ceilings and a grand staircase leading to the upstairs, which contains a garage door style window that is able to be opened during warmer weather. Bicycles wrapped in fake leaf garlands and twinkle lights hung from the ceilings, adding to the overall aesthetic environment of the restaurant.
After admiring the decorations, the Norse Star Staff had a chance to glance at the impressive menu. The menu consisted of restaurant-specific burgers, brunch items-such as breakfast dishes and pastries, fresh wraps, salads, and more. While we eyed over the menu, a waiter appeared to take our drink orders.
After much deliberation, we finally managed to decide on which drinks to order: a soda, orange juice, and Cafe Hollander's White Peony Rishi Tea, which came with its own pitcher to pour at the consumer's pace. All drinks were highly satisfactory. Due to a high volume of customers during our time at Cafe Hollander, the service was understandably a bit slow.
After we finished our drinks we reviewed the menu and picked out an appetizer: Cafe Hollander's frites cone. A frite is the French word for fries. The restaurant's frites cone was a metal cone lined with paper filled to the brim with frites. Two sauces accompany the order of a frites cone. The decision was tough as Cafe Hollander offers eleven different kinds of frites sauces, but we finally were able to narrow our choices down to two sauces: a simple honey mustard and an adventurous blackened garlic ranch aioli. The honey mustard was simple and not too overpowering, honey being the most noticeable ingredient. On the other hand, the blackened garlic ranch aioli's unique taste was tangy and perfect paired with the salty frites.
One staff member then ordered the bacon avocado chicken wrap. It contained grilled chicken, avocado, bacon, roasted tomatoes, organic arugula, and blackened garlic ranch aioli compacted into a flour tortilla with a side of breakfast potatoes. It was described as delicious but a bit pricey. Another staff member ordered the berry basil french toast. The dish was topped with blueberries, strawberries, blackberries, mascarpone cream cheese, raspberry jam, basil, and an optional side of syrup. It was described as sweet and resembling ice cream. Lastly, another staff member ordered the Sconnie Burger. It was a hamburger with pickles, bacon, Wisconsin-aged cheddar cheese, and bier cheese aioli on a pretzel bun which arrived with a skewer full of cheese curds sticking through the middle of the hamburger. It was described as enjoyable and the staff member noted that the pretzel bun did not overpower the burger.
Although Cafe Hollander is a significant drive away from Stoughton, its unique atmosphere and quality food is worth it. The only complaint towards Cafe Hollander was the somewhat high prices. Overall, the Norse Star staff gives Cafe Hollander four and a half frites cones out of five.

About the Contributor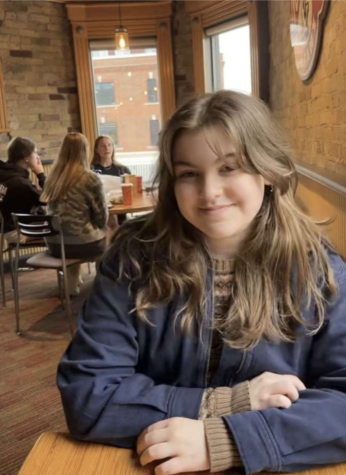 Madeline Monthie, Features Editor
Madeline is a junior and this is her second year on staff. She is also involved with key club and student senate. In her free time, she enjoys reading,...