Steve Pope Recognized for Hard Work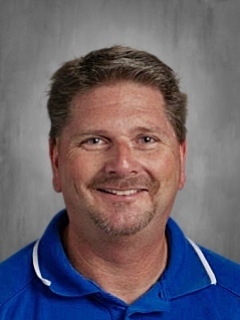 Ava Parr, Associate Editor-in-Chief & Features Editor
March 25, 2022
When walking through SHS, it can be easy to overlook the privileges of having a clean school. Organized classrooms, a hygienic cafeteria, and uncluttered hallways provide safe and quality learning experiences for students.
During the height of the pandemic, sanitation became even more crucial than ever before in order to slow down the spread of COVID-19. Although it is impossible for anything to be spotless — especially a high school — the custodial staff puts an immense amount of effort into maintaining a sanitary and safe environment at SHS.
One member in particular was recently recognized for his outstand- ing work and leadership within the school. Steve Pope, head day custodian at SHS, has been awarded Southwest Wiscon- sin's Custodian and Maintenance Professional of the Year award during Wisconsin Association of School Business Officials 2022 Facilities Management Conference on Feb. 15. Pope has been working at SHS for 18 years, starting out with working nights and working himself up to the position he is at today. As head day custodian, Pope explains that he doesn't see himself as a "boss" over the other custodians, but focuses more on helping them go in the right direction. Pope attributes the award that he received to everyone on his staff.
"It takes a whole team. It's not an individual person. Any of our custodians up here could get that award. It's a team effort. It's not just a one person show," Pope says.
It's an award he appreciates, but wasn't specifically looking for when doing his job. To him, it becomes more of a representation of how people in the community see him.
"It's nice to know that people appreciate you. I'm not […] looking for accolades, but it's just nice to know that people appreciate your effort," Pope says.
Pope's profession entails a plethora of responsibilities. He delivers packages, maintains information about facilities and events at SHS, orders supplies, trains people, and even more. Obligations increased as the pandemic started to affect Dane County, with extra sanitation being stressed in order to maintain safety for staff and students. COVID-19 was characterized by its high contraction rate, and objects such as door handles became hotspots for disease. At this time Pope's job became more important than ever.
"[The pandemic] opened eyes to some things. It was more work added to our plates, but it was for a good cause," Pope says. "It was for the better." Through all of the hard work he provides, Pope says he isn't looking for anyone to perceive him differently. "I'm not in it for [respect]. I'm just here to do my job the best I can every day," Pope says.
Many at SHS do respect and appreciate all that Pope does. Lisa Schneeberger, a science teacher at SHS, talks about her gratitude for Pope.
"[Pope] is just one of the most positive people. I know he has bad days, but you'd never know he has a bad day because if you need something, there's never a no," Schneeberger says. "He finds a way to make things work, regardless of what else is going on in his day. As far as his responsibilities as a custodian, he's just always, 'Yep, I'll be there. I'll get that done.' […] He's just a very positive, helpful, dependable person."
Through Pope's 18 years of working as a custodian at SHS, he spent his days living by some simple ideologies.
"My philosophy is I treat people the way I want to be treated," Pope says. "And if you can help them, you help them."
At the end of the day, all of those messes at SHS don't just disappear. There are many people who dedicate a lot of time and energy making sure that the staff and students at SHS can learn in safe conditions. One outstanding exam- ple of this is Pope's dedication and humility put forward towards all that he does. Although you may not be able to nominate these custodians for an award, the next time you see one of them in the hallways, moments like these can be a time to remember all they do for SHS.