Dance into Norwegian Culture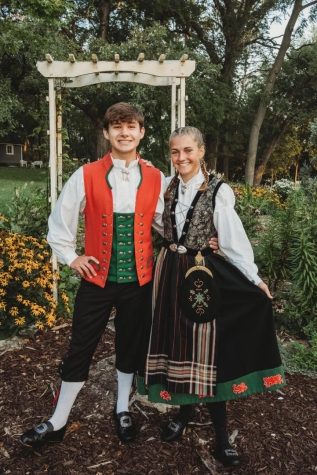 The piano music came to a halt as the last dance of the performance was finished. SHS's Norwegian Dancers smiled and waved at the clapping crowd as sweat dripped down their faces after dancing for close to an hour. However, the group soon forgot what it felt like to be warm as they stepped outside of the school building and into the negative 15-degree January weather. An even bigger chill ran through them when they found out their bus wouldn't start due to the cold, and they would have to ride another one to their next performance that had all of its windows down.
This is only one of the adventures the 2022 Norwegian Dancers have been through this year. With practices Monday to Wednesday from 6:45 a.m. to 8 a.m. and shows one to two times a week, the group is kept busy.
"At practice we go through step-by-step how to do each dance. We'll begin with going through the steps, and by now we try to perfect it and get all the loose ends tied up," first year dancer Tristen Barton says.
As a second year dancer and third year pianist, Sara Gille has been able to guide such "rookies," a name given to new members.
"It's a lot of helping [new dancers] feel comfortable because each year the group gets really close because you're doing something that is so vulnerable," Gille says. "The biggest thing is making the new people feel welcome […] and making sure they don't feel dumb for not knowing how to do something because it's very difficult."
One of the most challenging parts of being a Norwegian Dancer is having to memorize the 52 dances that will be performed over the course of the year.
"When we go to a performance, us dancers don't have any idea what our director will call. [The director] will call out a dance and we have to perform it," Barton says.
For Gille and other members with the role of keyboardist and dancer, memorization is especially important as they must know how to both play and dance to the music. These multitasking members each get to dance for ten songs and play the music for ten other ones.
"My first year I had a very hard time going away from the binder of music. I was constantly worried about messing up and not remembering even though I had most of it [memorized]," Gille says. "Now, I trust myself. That's the biggest thing, just being more confident in my playing abilities."
Barton has also evolved through his year as a dancer through the lessons that team bonding has taught him.
"If someone doesn't have their equipment ready, or if they're having troubles with something, you got to help them out. […] It's a team effort—it's like a sport," Barton says.
The female Norwegian dancers in the group spend extra time bonding through braiding parties. Before each performance, the girls spend about half an hour taking turns braiding one another's hair after getting dressed in their traditional Norwegian bunad dresses.
While they don't get to pick their dresses, almost all of them are thankful for what they receive and keep the same one for years, according to Gille.
"[The bunads] all come from a different part of Norway. Each one is detailed specifically to that part, so it almost tells a story in the bunad," Gille says. "It's cool because you're known by your bunad, so if you perform somewhere your first year, [people] will be like 'Oh my gosh, I remember you.'"
On the other hand, the male Norwegian Dancers wear identical outfits in order to match with any girl they may dance with throughout the performance. Nonetheless, each male and female Norwegian Dancer has a specific partner that was chosen for them by their director through a specific process at the beginning of the year.
"We practice a lot of lifts and we dance with multiple different guys that [the director] thinks would work well. […] The biggest thing is making sure that the dancing together looks good," Gille says.
The Norwegian Dancers typically put on shows at elementary schools and senior homes on Wednesdays and at community spaces on occasional Sundays.
Both Gille and Barton find great joy in performing for these groups. The two also enjoy their less frequent, larger-scale shows such as those during the Norse Afternoon of Fun in February and Syttende Mai in May.
"What made me want to become a Norwegian Dancer is the joy that you can bring to all the little kids. […] At the senior homes, they appreciate us going there and giving them the excitement that they don't normally get," Barton says.
Gille shares this same sentiment and urges others to join Norwegian Dancers due to her experience of the hard work paying off.
"Every second of practice that we've put in, all of the hours of braiding hair, learning music and dances, and putting the bunad on is so worth it for the reactions that you will get performing," Gille says.
About the Contributor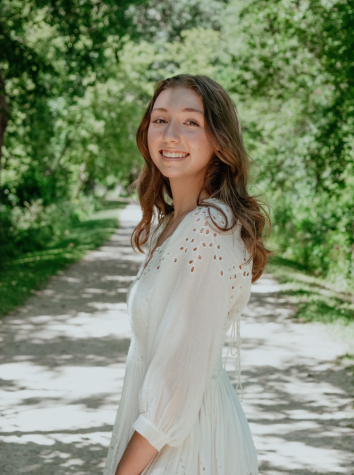 Lauren Amstadt, Associate Editor-in-Chief, Arts and Entertainment Editor, & Business Manager
Lauren is a senior and has been on staff for two years. Lauren is also involved in swim, track, and student senate. After high school, Lauren plans to...