No Cons for Ahan
You're hungry, but as you scroll, looking for restaurants in Madison on Google Maps, nothing looks good. You've had Mexican food two times this week already. You don't like Thai food. To you, seafood is boring and bland. Just as you begin to give up and prepare yourself for the four minute drive to McDonald's, an unfamiliar word catches your eye: Laotian. Upon further inspection, you realize that it's the adjective connected to the country of Laos, a small southeast Asian country nestled between Thailand and Vietnam. This restaurant is called Ahan, and reading through their online menu, you realize that this is right up your alley.
Three Norse Star members decided to make the drive to this relatively small restaurant, placed in a tiny neighborhood located at 2262 Winnebago Street in Madison. Upon entry, we immediately noticed the comfortably placed plants, the perfectly dimmed lights, and the casual but charming seating arrangements. The staff members also observed the convenient outdoor seating area for warmer weather.
Ordering food had a unique spin on it, as we ordered and paid for all of our food at the front counter before eating. This made it much more convenient for us upon finishing our meal, as we could simply leave without waiting for the bill.
The menu had many options, from salads to noodle dishes, so making a choice took a bit of thought. The staff ordered drunken noodles with pork, green curry with tofu, and the Nam Khao salad. We also ordered the summer rolls and the egg rolls. Additionally, two staff members ordered sweetened Thai iced tea with boba pearls.
The staff member who ordered the drunken noodles absolutely adored the generous mix of vegetables and spices. She also undoubtedly enjoyed the summer rolls.
Another staff member, who ordered the green curry with tofu, expressed her approval of the fresh vegetables in her dish. She also admired the spice, describing how "some curries can be kind of bland, but this one was really flavorful." She also appreciated the generous portion sizes, resulting in leftovers for days.
The staff member who ordered the Nam Khao salad, made with Panang curry sausage, crispy fried rice, and various vegetables, loved how the ingredients were "savory, fresh, and spicy." She also made sure to add how nice the staff was, bringing water at the appropriate time and being helpful and enthusiastic when she asked for one of her dishes to-go.
After eating, two staff members walked to the other section of the restaurant, where an open mic was happening. As a woman sang folk music up on stage, we noticed the clean, organized bar and the expertly placed tables faced towards the impressively maintained stage.
Ahan, first suggested to a staff member by a peer, can certainly be expected to be suggested by all three staff members as a unique and delicious restaurant to others. Reasonably priced and in a convenient location, Ahan is definitely worth the 23-minute drive. With a unified vote, Ahan restaurant has earned five summer rolls out of five from the Norse Star, so check it out the next time you're in the area! 
About the Contributor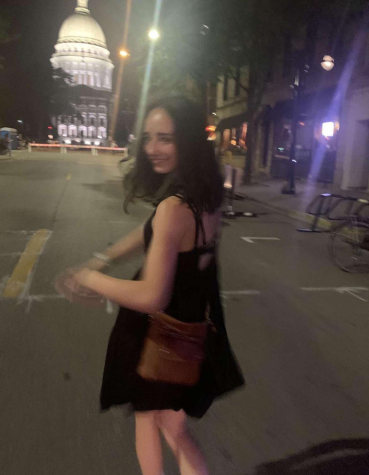 Mylah Hall, Sports Editor
Mylah is a junior and she joined at semester last year. She is also involved with Track and Viking Marching Band. In her free time, she enjoys practicing...