Something to Care About
My freshman year, I made fun of Norse Star members who were distributing to my class. Next year, my senior year, I am going to be The Norse Star's editor-in-chief.
I don't really know what happened either.
I can't particularly remember why I joined the Norse Star staff. Maybe it was to look "good" for colleges, or because my mom told me I should join a club. Whatever it was, I doubt it was anything substantial. What I do remember though, is why I began to truly care about Norse Star.
What motivated me to put more effort into Norse Star was seeing the effort other staff members put into the publication. There wasn't always acknowledgement for this hard work, but that didn't prevent them from caring. I wanted the senior members to feel secure about The Norse Star's fate when they graduated. I also wished for any future members of the Norse Star to feel like there was someone there for them. So I tried my hardest in order to be the best staff member that I could possibly be.
From learning how to edit articles to assuming the role of editor-in-chief when the editor-in-chief wasn't available, the role of associate editor-in-chief was an opportunity I am immensely grateful for. It allowed me to mature substantially when it came to my place on the Norse Star staff. Every single associate editor-in-chief has a different perspective when it comes to their position. I was able to use my experience in that position this year in order to prepare myself for what the role of editor-in-chief will require of me. A role that I know has a lot of responsibilities.
I've been lucky enough to get a glimpse into what the position entails through the current editor-in-chief, Anja Royko, someone I look up to both figuratively and literally. Her passion for The Norse Star has motivated me to become the best I can in order for her to trust me with this publication, which I know is so dear to her. Her warmth, humor, and kindness have made us closer in and out of Norse Star.
It's been very hard for me to acknowledge that the seniors I have become so close with on Norse Star are going to graduate so soon. It'll be strange not seeing them everyday during class, sitting next to them during page nights, or going to go get coffee with them after school. The sadness the thought of their absence gives me has solidified the importance of their friendship. Their friendship and guidance is something that I have been lucky to receive, and now, with a new staff, I want to give back. I wish to use my experience on staff to positively impact others, and maybe—if I'm lucky—I can motivate some freshman, with the same mindset I once had, to care about this newspaper.
I have so many aspirations for the Norse Star, and I am so excited for them to come to fruition during my time as editor-in-chief. As the next editor-in-chief, I will expand our online presence in the forms of our website and social media. I aspire to include more creatives in The Norse Star in the form of freelance artists, who can provide art for credit in art classes.
I'm planning to expand our range, impact, and response as far as it can possibly go. Most importantly though, I will work to create an environment where every single member of the Norse Star who has an idea to improve our publication can feel as if they can talk to me and trust me to help bring that concept to life.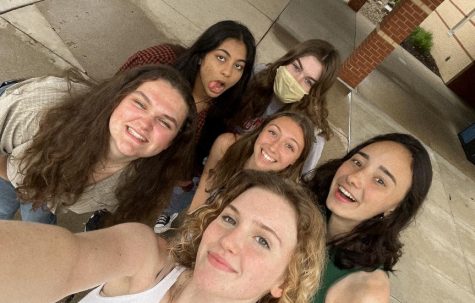 First, I'm going to have to teach 17 staff writers how to use our editing programs. Even through the uncertainty of next year though, I am confident that we will be alright. It's going to be different for sure, but I trust the passion that I, the five new editors, next year's staff writers, and our newspaper's adviser all have. I have seen firsthand how simply caring about something can be the catalyst to creating something special
. Now when I see The Norse Star, I don't just see a school newspaper. I see hours and hours of hard work. I see all the people who have cared so much about this newspaper, those who were a part of it before I was on staff, and those who will work on it once I have graduated. I see some of my closest friends and strongest role models.
And now, as I write this article, preparing for my third year on The Norse Star staff, I see myself.