Seniors with Service
Despite the many changes over the years, from the pandemic to the transition between middle school to high school, and joining or leaving clubs here and there, one continuity in the lives of Seniors Tom Unitan, Laci McPhee, and Leah Huchthausen has been providing for the community through volunteer work.
These seniors have spent close to or over 100 hours volunteering throughout their 4 years in high school, but their history in helping the community goes even further than that. For example, when Unitan was in fourth grade, he and his family started their own charity called Kids for Kids with a couple of other families in town.
"It started off as kids who fundraise for kids going through medical problems or […] parents who have medical problems and need help," Unitan says. "Our first-ever [event] was a garage sale we hosted at our house, and we accepted donations for all items. Our entire front lawn was full, and our garage was [covered] from floor to ceiling with boxes."
For McPhee, she started volunteering with her family in her church by joining their choir. During freshman year, she took a step further by going on a church mission trip to Jamaica, where she helped build a house and take care of others.
"We volunteered and helped out at this orphanage in Montego Bay, and it had a bunch of people that were disabled, and a lot of these kids and adults were left out on the street," McPhee says. "We helped them by taking care [of them], cleaning, and just being there because they didn't have a lot of visitors."
Other than volunteer work with her church, McPhee has done several events with Key Club at the high school, such as ringing bells for the Salvation Army, handing out water at the end of Syttende Mai races, and cleaning up trash on the side of the highways around town. In contrast, Huchthausen has done all of her volunteer work outside of school clubs. She instead helps out with the Stoughton FFA and the Dane County Pork Producers, which keep her schedule busy.
"This week is so crazy because I volunteer at the cheese curd stand this Friday, and I'm showing [sheep] this Saturday, and then I volunteer again Sunday. You just squeeze time in your schedule because [these organizations] have done so much for us," Huchthausen says.
Unitan also keeps busy with volunteer work outside of school clubs, especially with his contribution to Lunches for Vikings every summer since 8th grade. Here, he makes lunches with elderly ladies for anyone in the Stoughton School district who cannot afford food at times. Throughout his years of experience volunteering, Unitan has come to realize that volunteering doesn't have to be a huge project to make a huge footprint in the community.
"I think the most challenging part of volunteering is figuring out where the spot that you're going to make the biggest impact is. With mission trips, a lot of times we would go and do a job that is not as impactful as doing Lunches for Vikings," Unitan says,
Nevertheless, the work done through mission trips is often a once-in-a-lifetime experience for those on both the giving and receiving sides.
"When we were on our last day of building [the house], the mother was in tears because she was not only in poverty, but she was a single parent for her kids," McPhee says. "I think she was overwhelmed with joy and gratefulness."
Huchthausen has had similar experiences of gratefulness during her time volunteering as well.
"We go leaf raking every fall, and once you're done, the ladies come out and are like 'Thank you so much,' and they make us cookies or something; they're so happy," Huchthausen says.
Unfortunately, these moments came to a shattering halt when COVID-19 hit, and many volunteering events had to be canceled. Although for these seniors, even a pandemic couldn't completely crush their helpful spirits.
For McPhee, she stayed with her passion for activism and generosity by joining a zoom panel on mental health awareness. Through this, she was then offered a job at Patch, a nonprofit organization that discusses rights for people and organizations in the community.
"We're talking to [providers] about what rights we're not seeing happen in hospitals and clinics, or we're telling them about our experiences, and how they can help us [..] and then for teens, we're telling them what rights they have," McPhee says.
Unitan, McPhee, and Huchthausen all plan to continue volunteering even after they graduate due to the opportunities they've received in jobs and scholarships, the relationships they've made, and the smiles they've created over the years. They encourage anyone who wants to have similar experiences to join Key Club or to even just reach out to their neighbors or friends and see if they need any help.
"Somebody needs help with something always," Huchthausen says.
Leave a Comment
About the Contributor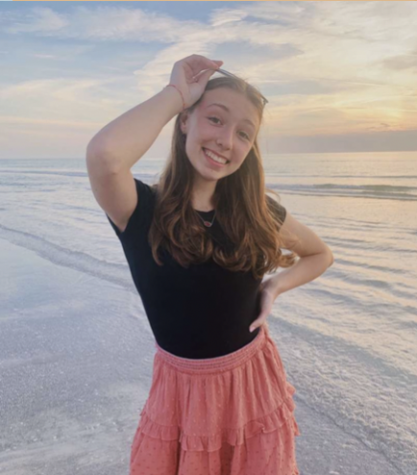 Lauren Amstadt, Staff Writer and Business Manager
Junior Lauren Amstadt is the Norse Stars business manager as well as a staff writer. Laurens favorite part of Norse Star is being able to spread awareness...