Serving at Conference
As the SHS girl's tennis season comes to a conclusion, the team wraps up their regular tournaments and competes in high-stakes competitions. One of these competitions was the Badger Conference Tournament that occurred on Sept. 23 and 24 at the Nielsen Tennis Stadium in Madison, Wisc. Where juniors Lauren Model and Allison Sankbeil earned third place in the doubles conference.
With conference being an opportunity to move forward to the sectionals tournament, perfecting their skills was key. To ensure both girls were ready to compete, they incorporated some extra work into their practice.
"We really focused on the shots and skills we lacked on and made our good shots even better. What I think also helped was the team bonding; we just had […] time to get out all our nerves and have fun," Sankbeil says in an email.
Conference brought new experiences for both Model and Sankbeil, as the tournament took place indoors rather than outdoors.
"One big difference was the courts. During the whole season, we played outside at school courts. They could be run down…, the weather was never predictable, and the sun was always in your eyes. [Playing inside] was incredible," Sankbeil adds.
With no issues to worry about regarding the quality of the courts, the girls could focus on competing. The two-day tournament included multiple matches that determined placement.
"Friday [we played] two matches, and if you lost any of them, you were done. Then on Saturday, [we played the] first match, and if you won, you would go for first, but if you lost, you would go for third, and we lost […] so then we played for third," Model says.
Conference provided Model and Sankbeil the opportunity to show off their skills and teamwork to their Deforest opponents. Model and Sankbeil were able to use their communication skills with one another to win third place.
"Conference was important because it showed how much we have improved," Sankbeil says. "We got placed based on past matches. We were seeded fifth and got third place. That's improvement!"
About the Contributor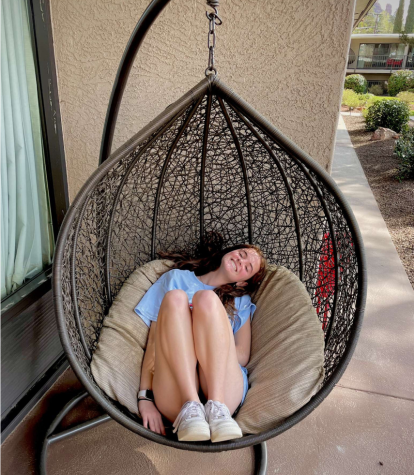 Mary Estelle Bubon, Staff Writer
Mary is a sophomore and this is her first year on staff. She is also involved in cross county and track. Her favorite musicians are Harry Styles and Taylor...