New Year, New Celly
The new school year brings about the latest student section leaders, and this year's seniors are Claire Spilde and Caleb Herbst. Carrying on the torch from last year's section leaders, Catelyn Jaskulke and Adam Slager, our new heads of student section are dedicated to showing their spirit in every way they can.
"I personally love going to sporting events. I love being there, dressing up, showing my support, and getting loud for everyone," Spilde says.
That she does, as she's only missed two football games this season. Every game, both leaders bring enough energy for the entire crowd, and pass it along through chants; two fan favorites being Roller Coaster and Boom-Chicka- Boom.
Creating excitement is Herbst and Spilde's main goal for both football games—which have now come to a close—and girls volleyball games.
"I think it's definitely important to show up to events and to be loud and proud," Herbst says. "Being loud and showing spirit for the school gives the teams more support and confidence."
Whether it's in Stoughton or on the edge of our conference, you can expect to see our section leaders bringing the same energy everywhere they go.
"I go to everything no matter if it's 45 minutes away. […] Sometimes there's a lot less people in the student section, but you'll usually always find me there," Spilde says.
Showing school spirit is not something Spilde or Herbst lack. By setting up clothing themes, encouraging the involvement of every grade in the student section, and in Spilde's words, "tearing their vocal chords at every game," our leaders are pushing to motivate our athletes and put them in an encouraging headspace.
Fall sports are coming to a close and winter sports are almost here. Just because football season is over doesn't mean Spilde and Herbst are done bringing the energy. They plan on bringing the same enthusiasm to the basketball and wrestling seasons.
"I just enjoy bringing my energy in supporting our athletes in our school," Spilde says.
Winter athletes with seasons starting soon, expect to see your leaders in the crowd, cheering you on every step of the way.
About the Contributor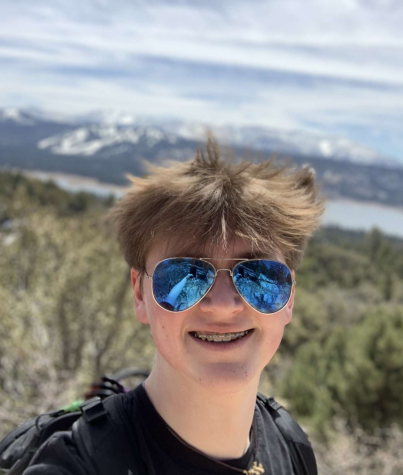 Bode Jensen, Staff Writer
Bode Jensen is a junior and this is his first year on the Norse Star staff.

Outside of Norse Star, he also plays soccer at SHS. In his free time, he...