Scorpio Season
It's November, and we have truly entered Scorpio season. Scorpio is all about passion, excitement, and living life to its fullest. There is nothing superficial about this period of time. Strengthen your relationships, forge new connections, further your hobbies and interests. This is no time for dozing off. This November, keep an eye on the skies for frequent meteor showers, a partial eclipse, and six of the eight planets in retrograde. When a planet goes into retrograde, it appears to move backwards across the sky, but the astrological implications are endless. It's sounding like Halloween isn't the only thing promising to be spooky this month. Let's see what the stars have in store for you…
Disclaimer: I am in no way a professional astrologist. This is all made up for fun!
Aries (March 21 – April 19)
Aries, get ready for your love life to change for the better! Whether that means new romance, or a strengthened relationship with a partner or friend, get ready for a change! Find time for yourself and the special people in your life. With your ruling planet Mars going into retrograde near the end of the month, you are prone to feeling deflated and bored. Maybe pick up a new hobby like stamp collecting or leaf identification!
Taurus (April 20 – May 20)
Taurus, you are feeling confident and I am loving it! This month, break out of your shell and try something new. Maybe it's time to switch up your wardrobe or initiate a conversation with a crush. Whatever you decide to do, it will benefit you. It also may be time for an oil change, so I would check that if I were you. The stars know that car maintenance is especially important for you, Taurus!
Gemini (May 21 – June 20)
Gemini, your ruling planet Mercury has just ended its retrograde, promising smooth sailing through November . It's especially important for you to keep your grades up at this time. Looking for something productive? Do laundry! You can't keep wearing the same clothes all the time. Now is the time for communication. If something has been bothering you, act on it. Mercury is the planet of communication, so don't be afraid to speak your mind!
Cancer (June 21 – July 22)
Cancer, life has not been treating you well recently. You get a bad rap for being sensitive crybabies (which is not true) so use this month to layer on the self-care. Buy those clothes, eat that food, light the candle that your mom hates! Allow your emotions to manifest in beneficial ways. Surround yourself with friends, and ditch the ones who talk behind your back. You know who I'm talking about. Your intuition is strong, Follow it!
Leo (July 23 – August 22)
Leo, try not to get caught up in the drama of this month. Talking about others will not get you anywhere. Focus on yourself. Get to the root of why you use other people's problems to distract yourself from the facets of your life you dislike! People look up to you Leo, so try to be kind, even to the underclassmen. Yes, it's difficult, but if anyone can do it, it's you!
Virgo (August 23 – September 22)
Virgo, you can let your frustration out. You try to please everyone all the time, but it just isn't possible. This month, try to get a good amount of sleep. It's better that you have a late assignment than a drained battery. Also drink water, your skin will thank you! This month you are feeling bold and confident. Don't let rude remarks take this confidence from you!
Libra (September 23 – October 22)
Libra, you are the sign of balance. Find the balance between your social and work life. It may be time to reveal your thoughts to the significant people in your life. Your personality brings people in, but people mistake your shyness for indifference. Show people you care! Try reaching out to a past friend. You will find it immensely rewarding.
Scorpio (October 23 – November 21)
Scorpio, you are feeling great this month, and for good reason. The stars are aligning just for you! However, there is a line between enthusiasm and smugness. You're prone to getting the two confused. You can be your fun loving self, while still being sensitive to those around you! When you see a struggling friend, reach out. It may be your kind words they need!
Sagittarius (November 22 – December 21)
Sagittarius, November will be a beautiful month for you. Drama will try to pull you in, but resist the temptation and focus on yourself. The stars are suggesting your love life will heat up as the temperature drops. Keep your friends close and your crushes closer. This may be time for a big change, whether it's trying out a new personality or chopping off your hair. You won't know if you like it until you try it!
Capricorn (December 22 – January 19)
Capricorn, try to have more fun! Don't overwork yourself. With Mars going retrograde, you are bound to feel sluggish. Try herbal tea or some calming yoga to restrengthen your presence. This month you need to set boundaries that you won't immediately take back. Be strong! Stay away from confrontation. Keeping a cool head will keep you sane this November. It's clear you can stand your ground, but now is not the time.
Aquarius (January 20 – February 18)
Aquarius, this month is promising to be big for you! It's a world of possibilities and you want to do it all. Make plans with your friends, take a walk outside, listen to a new artist! Senior water aerobics might just be the thing for you! Try to soak in the cosmic love being sent to you from the Universe. Breathe in and breathe out. Don't let anger or frustration cloud your judgment. It is not a wise time to look for love; You don't want to settle for anything but the best.
Pisces (February 19 – March 20)
Pisces, stop putting off those conversations you've been meaning to have. Now is not the time for you to be scared of telling others how you feel. When you speak, people listen! They will be more receptive than you expect. Jupiter, the planet of luck, will be blessing you this month, both emotionally and financially, so spend your money! Treat yourself! It all will come back to you soon enough!
Leave a Comment
About the Contributor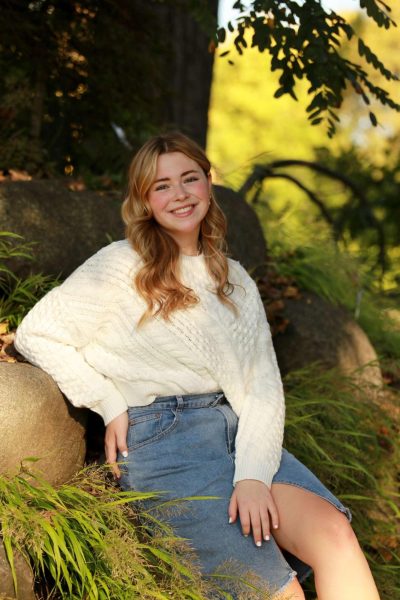 Grace Greenwald, Arts and Entertainment Editor and Distribution Manager
Grace Greenwald is a senior, and this is her second year on staff! She's the arts and entertainment editor and the distribution manager. She joined the...