Overt Space Gallery Stands for Ukraine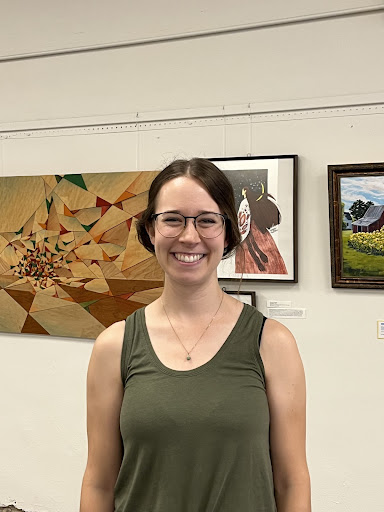 An art exhibit in Stoughton featured both Ukraine and American artists from September 2 to September 24 at the Overt Space Gallery. The exhibition was created to raise relief funds for Ukraine. 
Three organizers and 12 artists helped create the fundraiser. Ky Beskorovayny's home country is Ukraine, and according to August Mcginnity-Wake, he and Mcginnity-Wake were the ones to create the idea for the art show originally. Then, they reached out to their respective friend, Katherine Simdon.
"Katherine handled the lion's share of logistics, Ky connected us with artists in Ukraine to submit work, and I handled press and media efforts," Mcginnnity-Wake said. 
Simdon is the owner of the Overt Space gallery and one of the artists in the show. She was able to create the event. Together, the three of them were able to organize everything within two to three months. 
"I'm excited that we […] have a total of six Ukrainian artists. Four of them still live in Ukraine and sent images over to be printed here. And then two of the artists are from Ukraine that live in Madison now," Simdon says.
The three of them created an artist's call to collect potential artists for the project, and as of September 16, Simdon says they've raised about 4,000 dollars for the cause. Nearly half of the money raised will directly go into the relief fund for Ukraine.
"There are lots of more pressing […] close to home things, but because I know someone who lives in Ukraine, it kind of hits home a little bit more," Simdon says.
There are no immediate plans for exhibits or fundraisers directly after the art show, but it's not entirely off the table for the organizers. 
"I hope to continue helping Ky and his work to assist the war effort however I can. I think we're all going to take a beat now that the art show is over, but I believe we'll have more ideas to come," McGinnity-Wake says.