GSA Returns to Stoughton High School
Stoughton High School's Gender-Sexuality Alliance Club returns this year after an absence during COVID with a new advisor Bethany Veum.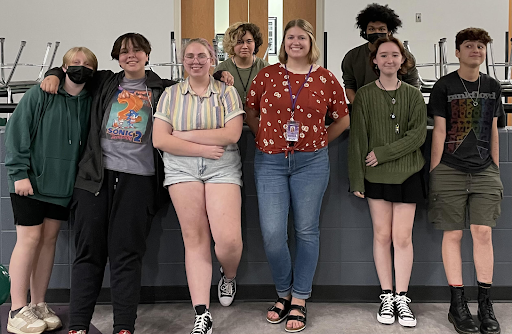 GSA, which stands for Gay-Straight Alliance or Gender-Sexuality Alliance, aims to provide a safe space for students who are members of the LGBTQ+ community while also educating staff and students who are not. 
They will meet weekly at 4 p.m. on Wednesdays in the large cafeteria. 
Veum, who, while not part of the community, describes herself as "definitely an ally" and "want[s] to create a safe, welcoming, fun place for anyone who wanted to join." She took on this position after hearing from her sister that there was no advisor for the club and thought, "'Why not me?'"
Although planning for what this club will do is still early in the works, students, alongside the advisor, have pitched a few ideas, such as informing others through Mindfulness Mondays and promoting LGBTQ+ media. 
Veum says she "want[s] to do anything [that is] with activism." 
One member of the GSA club, Jalyn Roe, described GSA as a "relaxed" and necessary space for students. 
"I think it's important, definitely for [people of color], to have a space where they belong. Also, to raise awareness or talk about any issues or problems that are going on," Roe says.
As more students find the courage and support to come out as LGBTQ+, a group like this can serve as an important place of support. " [I have] never been in a pride-type organization […] I thought it would be a good place to meet new people," Roe says.
As time goes on, Stoughton High School's GSA will explore new projects and find more ways to ensure that SHS is an accepting and supportive community for LGBTQ+ students and staff. 
"I still have a lot to learn, but I'm very inspired to learn more about what we can do […] what I've seen has already helped kids in GSA clubs in the past is definitely very inspiring," Veum says.