Ready, Set, Strike
Numerous sports at SHS began in November. In addition to basketball, swimming, wrestling, and hockey, the less-known Stoughton High school bowling team also started their season. The team competes against other cities around the area, such as Monona Grove, Verona, and Oregon. The team is working especially hard this season, after Connor Steinberg who graduated in 2022, went to state during the 2021-2022 season.
The team consists of four Stoughton students, including freshman Elijah Riley, sophomores Charles Smyth and Colton Toso, and junior Landen Murphy. In addition to the students from Stoughton, two individuals, one from Madison East and one from McFarland, are also on the team.
Rebecca Murphy, the team's coach and iSTEM teacher at SHS, has high expectations for the season, matches, and players.
"I'm looking for leadership and increased consistency from my more experienced players […] and I'm looking for growth and increased consistency from the newer players," Rebecca Murphy says in an email.
With the hopes of making it to state, Landen Murphy and the rest of the team are practicing hard.
"[We practice on] Sundays from five to seven as a team," Landen Murphy says.
During the team's practices at Viking Lanes in Stoughton, they work on many drills to improve and prepare for matches.
"We have the kids isolate different parts of the game, such as working on the release of the bowling ball, so we do something called 'at the line' drill, which is just what it sounds like—the bowlers stand at the foul line and just work on the release," Rebecca Murphy says.
Competitions take place on Monday nights against other teams. Five out of the ten matches they partake in this season have already happened.
"[For matches] after school, we go to the bowling alley […] the first thing we do when we get there is 15 minutes of practice with our team. Our team is on one lane, and the opposing team is on the other lane," Smyth says in an email.
A regular competition is known as a "baker game." Nine rounds take place during this kind of competition.
"[A baker game] is where one bowler bowls the first and sixth frame, another bowls the second and seventh frame, another bowls the third and eighth frame, another bowls the fourth and ninth frame, and finally the last bowler bowls the fifth and tenth frame. The team that wins five games earns a point," Rebecca Murphy says.
The team is supporting and cheering each other on this season during there multiple matches.
"My favorite part of being on the team is talking with my friends and having fun doing something that I enjoy," Smyth says.
About the Contributor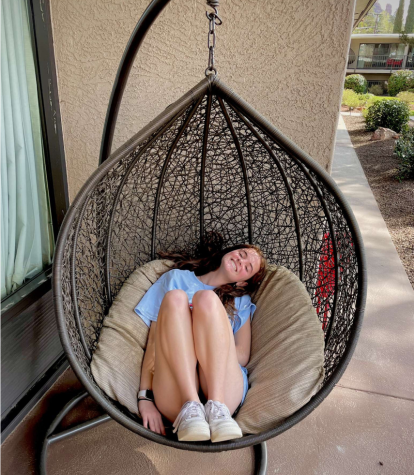 Mary Estelle Bubon, Staff Writer
Mary is a sophomore and this is her first year on staff. She is also involved in cross county and track. Her favorite musicians are Harry Styles and Taylor...