Flowing into 2023 With Stoughton Yoga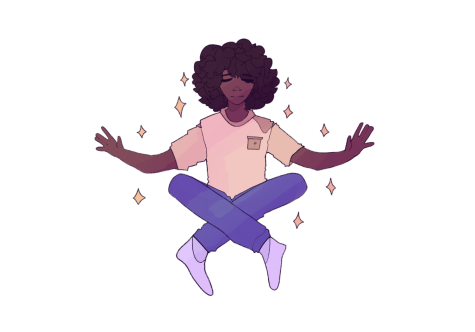 The New Year is a time to try new opportunities, find new hobbies, and explore new ideas. Stoughton has a lot to explore, with many businesses and opportunities for its citizens. Stoughton Yoga is a small studio that allows anyone interested to try yoga and meditation. It is located on 101 Silverado Drive in Stoughton, down below Silverado Studio.
Stoughton Yoga is a small, non-profit organization that offers yoga and meditation classes for people of all skill levels. The founder of this organization, Marlene Widra, speaks more about this.
"[It's] something that belongs to the community. It's really a community center," Widra says. "We want to make sure everyone in Stoughton has access."
Not only is Stoughton Yoga a non-profit, it is also more affordable compared to other yoga studios. With a price of about $8 a class, or $40 for a 5 week scheduled series, and a class that is "pay what you can" on Saturday mornings, it is more accessible to people who want to try yoga, but don't want to spend a lot of money or put in a huge commitment. Classes range from 45 minutes to an hour and a half.
"There's no contract to sign," Widra says. "If you want to sign up, you would just contact the instructor." This can be done through their website, stoughtonyoga.org.
There are many different instructors, with a lot of different kinds of classes from gentle flows, aromatherapy, alignment yoga, and strong yoga. Many of these are five week series, and there are also stand-alone classes that happen during the week, usually in the evening.
Not only are the prices affordable, but if someone cannot meet that price, there is a scholarship available. There is a simple application online on their website for people to fill out if they need it.
"Everybody should have access," Widra says.
One class Stoughton Yoga offers, a slow flow class with Melanie Wulfekuhle, is focused on what feels good for the body. It is slow, nourishing, and gentle, while still working to stretch out tight muscles and strengthen the body. After going to this class, people often feel thoroughly relaxed and connected to their body and breath.
"I think that holding space for people to discover their own wellness, healing breath, whatever it is that they seek on the mat in this space, just having the privilege of being a guide," Wulfekuhle says in response to what she likes about being a yoga instructor.
She teaches two of these classes on Wednesday evenings, and they are a part of a five week series. Both are slow flow, and allow people to relax and move their body in a gentle way.
Another class is a "pay what you can" gentle yoga class on Saturday mornings. From 10:45 a.m.–11:30 a.m., this class is welcome to walk-ins and focuses on gentle movement for the body, while still allowing space for breath and meditation.
Senior Norse Star staff members Lillian LaPointe, Madison Luick, Ava Parr, and Bhoomi Patel attended this class.
"The instructor was lovely and accommodating to everyone's abilities and needs […] the flow from pose to pose was great," Luick says.
"I had a very lovely time at Stoughton Yoga […] The 45 minutes went by so quickly and I left feeling relaxed, and I also felt more present mindful for the rest of the day," Parr says.
Yogis don't have to pay anything for this class but, if they want, they can put money in a donation box that goes towards Stoughton Yoga.
More than just these classes exist. There are slow flow classes Monday and Tuesday nights, strong yoga Tuesday and Sunday nights, a yoga flow class on Thursday, and alignment yoga classes on Thursdays and Fridays. These are all part of the five week series, which people can sign up for online.
These classes are mostly in the evenings, for people who work during the day, but there are also classes during the day for those who have a more flexible schedule.
There are also specialty events, such as Yin-Aroma classes, guided meditations, and mindful Mondays, that aren't part of the weekly schedule. People can sign up for those online as well.
All of the classes available are very accessible. Not only do instructors provide modifications for people to take if they want, there are also many props available, including blocks, bolsters, straps, knee pads, and yoga mats. These props allow for people to do poses with modifications, so they can do a pose without too much strain on their body.
Widra talks about the benefits of yoga, and how good it can be for all people, regardless of age or skill level. It is truly an experience everyone can have.
"You're right here in the present moment with your body, your breath, and your mind. So that's the crux of it," Widra says .
About the Contributor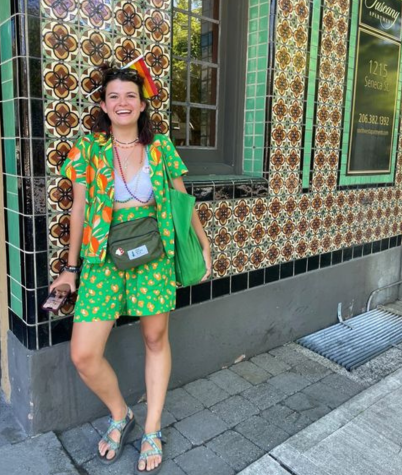 Lilly LaPointe, Staff Writer
Lilly is a senior and this is her first year on staff. She is also involved in cross country, environmental club, and key club. In her free time, she enjoys...