Visiting Von Productions
With only a certain amount of hours in a day it can be difficult to still find time to partake in your hobbies. Jay Johnson, a sophomore at Stoughton High School, is an athlete, Norwegian dancer, and student. However, he still finds time in his daily schedule to partake in one of his favorite hobbies—creating video and photo edits.
Starting in the summer of 2022, Johnson created his Instagram page "Von Productions," named after Johnson's full first name, Jayvon.
"[Von Productions is] a mini business that I do in my free time for sports. I can go and take videos and then make them into a video or people can send me clips they have and I can make it into videos or pictures," Johnson says.
Although Johnson's editing page was only recently created, editing has been one of his hobbies for a while. He wanted to take a bigger step when it came to his edits.
"[I created my page] because I wanted to [edit] a lot more people than just my friends or myself," Johnson says.
To create edits, Johnson must first reach out to individuals he hopes to edit for.
"[Sometimes] I'll get asked to make an edit, or I'll ask people if they [would like one]. I will send them my name and I ask [if they] want to send some pictures for a video," Johnson says.
After he reaches out and receives what he requires to create the edits, he can begin his process. Johnson uses different websites and apps to create his clips depending on the type of photo or video he wants to make.
"For pictures I use Photoshop on my MacBook, and then for videos I use CapCut," Johnson says.
Johnson usually makes edits every other day, and the time it takes to make the edits varies depending on numerous factors, such as if it's a photo or video.
"Pictures [take around] an hour [to make]. Videos are not too hard unless they send blurry videos, so then you're stuck and get frustrated, but videos probably [take] 30 minutes [to make]," Johnson says.
With Johnson being a starter on the varsity basketball team at SHS, most of his edits relate to his sport, but he has begun to branch out and make videos and photos for different sports, including baseball and football.
Aiden Arnett, a freshman at SHS, has received three edits from Johnson relating to baseball. "[I got my edits done] to announce my commitment to the University of Florida [for baseball]," Arnett says. "My experience was phenomenal."
Johnson not only loves to edit, but he also enjoys the people he meets along the way.
"It's really fun interacting with people and seeing how your [videos and edits] get out there," Johnson says.
Many of the edits Johnson has made have related to high school sports, but recently he was able to create photos for two college athletes.
"[My edits] got out to Kamari McGee and Connor Essegian. They both play with the Badgers. So that was pretty cool [to edit for them]," Johnson says.
Johnson has been balancing school and other activities. He has also been putting more edits out there, with the hope that his page will continue to grow.
"[Editing is something] I want to do in college. That's kind of what I want to major in. […] So hopefully [my page] grows because I like [editing]," Johnson says.
Check out Johnson's work at his Instagram, @von.productions1, and DM him with any requests for video or photo edits.
About the Contributor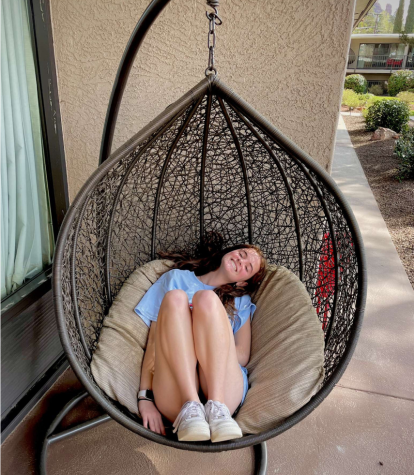 Mary Estelle Bubon, Staff Writer
Mary is a sophomore and this is her first year on staff. She is also involved in cross county and track. Her favorite musicians are Harry Styles and Taylor...