Tasting at La Taguara
After surviving Friday the 13th, four Norse Star staff members headed to La Taguara on a Saturday night. This Venezuelan restaurant is one of a few in Dane County and is located at 3502 E Washington Ave, Madison. It's about a 20–30-minute drive from Stoughton —on the shorter side if, unlike us, you don't drive past the restaurant the first time.
Those eating at La Taguara included Lauren Amstadt, Simon Mehring, Grace Greenwald, and Bode Jensen. Although a small group, they were ready to eat for many.
Upon entering the restaurant, the Norse Star staff were embraced by authentic decorations and mouth-watering smells. Venezuelan flags, traditional outfits, and instruments hung up around the restaurant. The red and yellow walls lifted the Norse Star staff's spirits compared to the darkness outside.
"It's a very homey place. The feeling reminds me of my grandma's kitchen," Mehring says.
When the Norse Star staff arrived in the evening, the restaurant was bustling with activity, but they were able to find an empty table. At La Taguara, you order and pay at the counter, and once your food and drinks are ready, a staff member will bring them out to your table.
The Norse Star members thought long and hard about what they wanted to order, but luckily, the menu was written in Spanish and English, making the process a lot easier. The clerk at the counter was also super friendly and happy to answer any questions.
One order a staff member placed was for freshly made sugar cane lemonade, arroz and caraotas (rice and beans), and El Papi Venezolano (The Sampler), consisting of cheese masa balls, yucca sticks, ground beef mini empanadas, arepitas and tequeños, all served with nata (heavy cream), guasacaca (similar to guacamole), and tartara verde sauce (green salsa). This dish gave an array of authentic Venezuelan foods for one to try. Everything on the plate did have a heavy dough flavor, but everything was much more appetizing when dipped in the sauces.
Mehring ordered passion fruit juice and Pollo en Coco (coconut chicken) with picadillo salad, guasacaca, and crispy plantains. He enjoyed his dish of coconut chicken and rated it a ten out of ten, despite feeling indifferent about its sides.
"It was high-quality meat, and the sauce of the coconut complemented the chicken very well, but the vegetables could have been better," Mehring says.
Greenwald tried the fried plantains, similar to bananas but larger and tougher, on Mehring's plate and, to her, they were delicious and reminded her of breakfast potatoes in texture and taste.
After sampling Mehring's food, Greenwald's Arepas with shredded chicken and white cheese came to the table. She thought the textures and flavors of her meal went really well together. Unfortunately, the staff forgot to bring out Greenwald's chocolate caliente con queso blanco (hot chocolate with Caribbean cheese), but the taste of the drink seemed to make up for the mistake.
"I really liked the hot chocolate with cheese because it's really thick and creamy. To me, you can't taste the cheese, so it's really delicious. [The cheese] adds thickness and creaminess to the drink," Greenwald says.
Jensen, however, had different opinions on the Venezuelan version of this drink.
"The hot chocolate was overruled by the cheese. The thickness and creaminess were good, but I didn't like how you could taste the cheese," Jensen says.
One item on the menu that he did love was the mofongo. This Puerto Rican dish was made with green plantains mashed together with pork, onions, and chicken gravy.
"The mofongo was interesting because it wasn't all one consistency. Sometimes I was eating pork, and then I was eating plantains in the next bite. The chicken broth kept the whole dish very moist," Jensen says.
In all, each of the dishes ordered were served hot and brought to the table in a timely manner. After completing the meals, the Norse Star staff cleaned up the dishes and left feeling very satisfied and full. They exited the restaurant at about 7:30 p.m., and it was even busier than when they got there, with only a few spots available.
Overall, La Taguara gets the Norse Star's stamp of approval and earns four out of five empanadas. It is worth the drive because the menu includes an array of empanadas, arepas, and plantain dishes, foods that can't always be found at Stoughton's local Latin American restaurants due to the differing types of cuisine.
The Norse Star staff had a memorable night immersing themselves in Venezuelan food and culture at La Taguara.
About the Contributor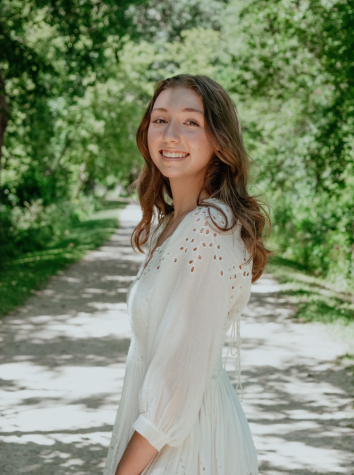 Lauren Amstadt, Associate Editor-in-Chief, Arts and Entertainment Editor, & Business Manager
Lauren is a senior and has been on staff for two years. Lauren is also involved in swim, track, and student senate. After high school, Lauren plans to...