Hockey Seasons Skate to an End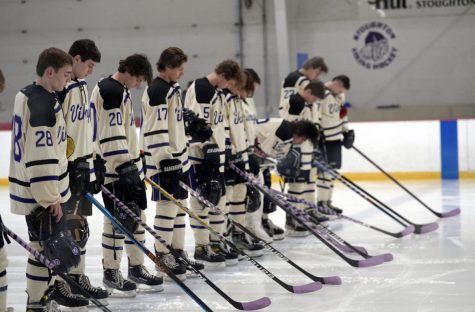 As the winter season comes to an end, students of all ages continue to put on skates and helmets, and grab their sticks to get on the ice to play hockey. Some kids have been lacing up skates and taping sticks since they were little, while others are just starting out in high school. Three students at Stoughton High School have been learning how to put on pads, lace up skates, and hit the ice since they were young. Not only does Stoughton have youth leagues, but they also have a boys high school hockey team, as well as a girls team. Although the girls team is a co-op with many different districts in the area, Sto- ughton has three girls playing this year, who are all seniors. The team is called the Icebergs, and they practice at the Stoughton rink, at the Mandt Center.
Carley O'Neil is a senior at SHS, and she has been playing hockey since she was four years old. She plays for the Icebergs as a forward left wing.
"My goal this season [was] to play my hardest," O'Neil says. "Our team is [a] pretty positive and happy team, so that's good."
The Icebergs' season will end in February after many games, with some wins and some losses. They practice almost every day, with practices often ending at 9:45 p.m. They don't only play games at home at the Mandt Center, but also many away games, traveling all over southern Wisconsin area to play.
One of the biggest challenges this season for the girls was the amount of players.
"We have 13 girls, which is two lines with a couple of backup players, just in case," O'Neil says. "We only have one goalie, so we try our best to keep her healthy and on the ice."
Aven Gruner, a senior at SHS, is the goalie for the Icebergs this season.
Regardless of their low numbers this year, they were able to win four games, as of Feb. 10. During Senior Night, which took place on Feb. 7, they played the Cap City Cougars Co-op team at the Mandt Center, but lost 2-1.
Not only does the girls season end this February, but our Boys Hockey Team does as well. As their season comes to an end, senior Casey Milbauer, an SHS hockey player who has been playing for eight years, reflects on his 2022-2023 season.
"We've had our ups and downs, but the team has really come together as a solid group, and we've got a few good wins," Milbauer says. They, too, have about 13 players, which is on the smaller side. All of them are upperclassmen, with no freshmen or sophomores on the team this year. There was one new player this year, junior Colin Meinholtz.
"It helps being a smaller team sometimes because we're just all really close with each other. […] We can always ask each other questions, and nobody's afraid to talk to each other," Milbauer says.
He also talks about the struggles of having a smaller team.
"Next year, we may end up co-oping with another team due to a lack of players, but that's still up in the air," Milbauer says.
Although the team didn't win every game, Milbauer talks about the influential lessons he has learned from hockey.
"There's a lot [hockey has] taught me. Mostly that family doesn't have to be who you're related to. It can be who you're around every day," Milbauer says.
Stoughton doesn't only have hockey teams, they also have a couple of students who play for different leagues, one all the way in Milwaukee. Luke McPhee is a senior at SHS who plays for the Admirals in Milwaukee. He recently signed on to play hockey in Canada for the Drumheller Dragons, a Junior A Ice Hockey league in Alberta.
Although McPhee hasn't always played for the Stoughton team, he has been playing hockey since he was five. He talks more about why he continues to play hockey.
"I think it's just a fast-paced game, and it's pretty easy to fall in love with," McPhee says.
Although they all play for different teams, they are all Stoughton athletes who work very hard. All of these athletes put in lots of dedication and commitment to hockey. "I would push people to try it out. Try the sport. There's lots of beginners […] the team has been very welcoming to new girls who have joined the team," O'Neil says.
About the Contributor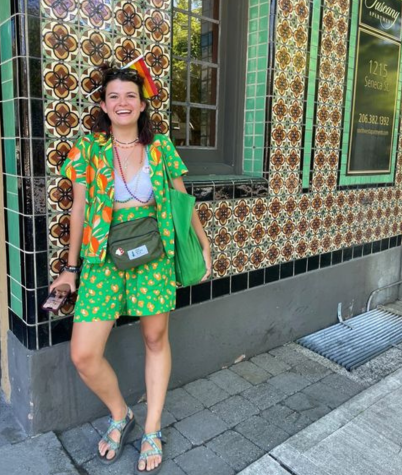 Lilly LaPointe, Staff Writer
Lilly is a senior and this is her first year on staff. She is also involved in cross country, environmental club, and key club. In her free time, she enjoys...