Spirit of Excellence Alive in Stoughton
Stoughton High School was recently awarded the Spirit of Excellence (SoE) regional award for the fifth year in a row. Shortly after winning regionals, Student Senate also won state.
The SoE award is based on academic and athletic success, as well as community involvement. The Student Senate published a portfolio focusing on excellence in leadership, sportsmanship and school spirit, and service to the school and our community.
After two weeks of anticipation, the award was announced on Feb. 14. The 23 students who authored the portfolio have spent the last few months putting it together.
The leaders of Student Senate are adviser Toni Fischer who teaches Social Studies and AP Psych, and co-adviser Tammy Messinger, who's an EL Learning Strategist. For the past several months, they have watched as the writers created the portfolio.
"[Students] would meet during 2+ to write about the different activities, sports, and other awards we've gotten and how we have helped our community," Fischer says. "Dedicating time to work on it outside of school, talking to each activity, and collecting photos are all things they did in that small window of time."
Fischer was awarded the 2022 Regional Adviser Award as head of the Student Senate by playing a significant role in the community and being an influential character in school.
"It was all a surprise to me," Fischer says, as she is still unclear who nominated her. "I was unaware that I was even under consideration."
Although Student Senate has won other regional awards in the past, their 2022 portfolio took home the state award.
"After our portfolio won the regional award, it went through consideration by the Wisconsin Association of Student Councils, as well as other business owners and community members throughout Wisconsin," Fischer says. "This year, there was a representative from the Milwaukee Bucks that came to decide the state award."
Compared to schools that submitted similarly formatted portfolios, it was clear that Stoughton had the edge in involvement.
"When [the committee] contacted us, they said when it came to our region, Stoughton offers so much more to the students than any of the other school districts did," Fischer says. "They were amazed by the list of things students can be involved in at Stoughton. The representative from the Milwaukee Bucks essentially said, 'Why are we discussing this? Stoughton is obviously above and beyond everybody else.'"
As well as receiving welcomed feedback from the Milwaukee representative, on April 5, some contributors to the SoE portfolio will take a field trip to the Milwaukee Bucks Stadium. There, students will get the opportunity to walk down to the center of the court during halftime and receive a recognition speech that touches on their accomplishments and how they earned this award. The portfolio's authors will also be receiving a banner and a traveling trophy—which we last had in 2021.
Each section of the portfolio has specific guidelines that the Spirit of Excellence committee creates.
"[The authors] had to talk about how it impacted the school, how many people it impacts, or if it impacts the community," Fischer says. "There's a lot of research that goes into each separate portion of it. It contains seven sections, each containing four sub-sections."
Totaling seventy pages, the portfolio proves to be very extensive.
While this was Student Senate's fourth time winning the award, Fischer claims it won't be a while until we see the traveling trophy again.
"The thing with the Spirit of Excellence is that you can't win state two years in a row," Fischer says. "They won't allow you. So now that we won it this year, we won't be able to win it again potentially for another two years."
As the deadline for the portfolio submission was approaching, Student Senate appointed senior Evan Loftus to take over as the application coordinator last December. Prior to being the main coordinator, Loftus was a standard contributor.
"The portfolio wasn't organized properly to be finished on time, so I had to step in," says Loftus. "I knew more of what the rubrics were and what they were expecting."
It paid off. Evan, as well as the other writers, secured state victory in a pool of nearly a dozen regional winners.
"I'm very excited to have won," Loftus says. "I felt like I put in a lot of work, especially on a much shorter time crunch. The number of submissions this year compared to last are up as well, […] so it feels good to know that we won the award a year where the pool was full of competitors."
Compared to previous years, Loftus thinks the revival from COVID-19 assisted substantially in their victory.
"[Since COVID-19], participation in athletics and activities has increased, and I believe one thing that definitely helped us was that we had a wide variety of athletics that went to state— some being state winners," Loftus explains. "I believe another crucial contribution is the new Education Through Literacy."
The Education Through Literacy program is run through Beth Anderson and involves students visiting our local elementary schools to assist in reading and writing.
"I believe that's something super unique about Stoughton that I don't think a lot of other places have," Loftus says.
On Thursday, March 16, the efforts of the Student Senate were acknowledged at the pep rally. Bjorn Berg, the Executive Director of the Wisconsin Association of School Boards, gave a congratulatory speech to all SHS clubs, groups, athletics, and student. The award was handed to Student Senate.
About the Contributor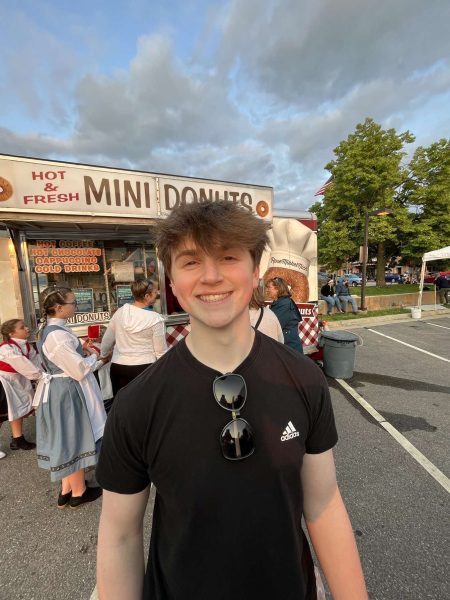 Bode Jensen, News Editor
Bode is a senior, and this is his second year on staff! He's the news editor. He joined to dive into something he was completely unfamiliar with. Outside...