Norse Afternoon
The Norwegian Dancers hosted the Norse Afternoon of Fun on Feb. 5 in the main gym at Stoughton High School. The Norse Afternoon of Fun is a festive show where the Wisconsin community can see the dancers perform traditional Scandinavian Folk Dances.
There is also a bake sale featuring Norwegian and American treats that the Dancers' parents made. One example of these treats was lefse.
The Dancers perfor- med 23 dances to celebrate their 70th anniversary. They announced this year's 2023 Syttende Mai royalty King and Queen, Dan and Cindy McGlynn, and elementary school students, Prince August, and Princess Hazle. People were also able to participate in a large raffle that consisted of 25-30 unique prizes.
According to the Norwegian Dancers' head director, Staci Heimsoth, the Norse Afternoon of Fun was initially called the Norse Evening of fun. On Saturday, Feb. 20, 1965, the founder of the Norwegian Dancers, Jeanne Reek, went to Norway in the summer and came back with new Dancers, which was her way of showcasing them to the community with funny skits and dances.
After that day, it became an annual tradition for years until 1973. When the gymnasium was unavailable that Saturday evening, the Dancers moved their tradition to Sunday afternoon, where it's remained to this day. The Dancers used to put on a Folktale play years ago, but that stopped in 1999 when Reek retired.
Heimsoth has coached the Norwegian Dancers for 12 years. She said what the Norse Afternoon of Fun is genuinely about through an email.
"The Norse Afternoon of Fun […] reminds us that [when] our town was settled by Norwegian immigrants 100 years ago, the most-heard language on Main St. was Norwegian. [The Norse Afternoon of Fun] is a way for the current Dancers to show off their hard work thus far in the year, and then, of course, the fundraiser aspect of it is very important to being a Norwegian Dancer."
With the events of the Norse Afternoon of Fun and Syttende Mai, the Norwegian Dancers raise money for their spring break tour. The Dancers' parent group starts preparations in October. Everyone starts working hard in January leading up to the day of The Norse Afternoon of Fun.
Jack Nielsen, a senior Dancer, has been dancing for three years. He explained what he thought about The Norse Afternoon of Fun experience.
"It's always a pleasure to see the kids [that] I teach at Stoughton Tumblers and other kids from the school district. It's really fun to entertain them and some of the older people like the Kings, Queens, and past Dancers. It's super fun to see them come back and visit," Nielsen says.
The Norse Afternoon of Fun had nearly 1,200 people in the main gym this year. It was close to maximum capacity. Sophomore Katie McCann, a new Dancer this year, experienced the Norse Afternoon of Fun for the first time.
"I enjoyed that there were so many people who came. It was really fun to be able to dance with people from the audience and just have so many people, some who weren't from Stoughton, come and see us," McCann says.
The Norwegian Dancers aren't just Folktale Dancers. They can share the history with others around the community and world while keeping the history alive in Stoughton. Nielsen shares his favorite part of being a Dancer.
"As much as we go on and on about the performances as Dancers, one of the best parts is actually the group because you have this built-in group of friends that you're never going to be without because you have to see them most days of the week, and that's what [will] always make Dancers so fun. You have this core of people that will hang out, will plan parties, will go out to dinner after a performance and [is] a super fun group."
When the time comes to try out for the Norwegian Dancers, it can be scary for some. Another Dancer, senior Paige Swatek, describes what she felt when trying out for the first time.
"I remember I was really afraid to try out because I didn't want to not make it, and I also didn't want to look terrible, but at the end of the day, nobody remembers tryouts that much, and the good will definitely outweigh the bad," Swatek says. She goes onto say, "Little tip: if you know somebody who is a Dancer, contact them, and we can get a person for you to dance with [to] take the stress away."
The Norwegian Dancers will be traveling to Norway this summer after being unable to go because of the pandemic. This will be their first time going in four years.
"It's about becoming best friends with someone you would never have met if it hadn't been for Dancers, brightening people's day, about bringing them joy and hope for the future when we perform, and traveling over spring break to another part of the country […] meeting all kinds of really cool and interesting people. And, of course, it's about celebra- ting our Norwegian ancestry. If you aren't Norwegian when you become a Dancer, you will be by the time you graduate from the group," Heimsoth says.
About the Contributor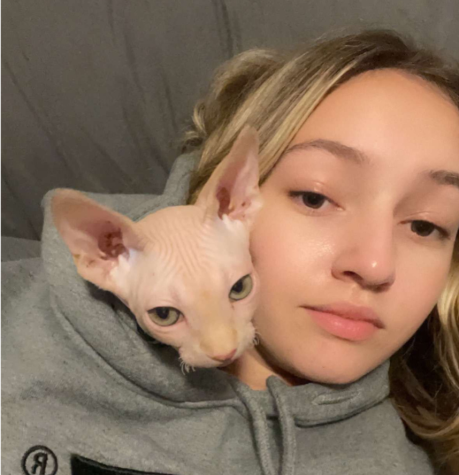 Bella Patrinos, Staff Writer
Bella Patrinos is a junior and this is her first year on Norse Star.

Outside of Norse Star, she is involved with cheerleading and viking marching band....