Summer strength
The summer of 2023 will be full of pumping iron at Stoughton High School. Summer strength and conditioning is just around the corner and starts Monday, June 12. PE teachers and strength & conditioning coach Bobby O'Brien runs the progam. Summer strength is open to any and all SHS and River Bluff students.
"[Summer strength is for] any Stoughton High School student who is looking for a challenging, fun [and] exciting environment. […] It's a time where you have maybe a little bit more energy and a little bit more freedom and […] pushes you toward your goals," O'Brien says.
Summer strength is on Mondays, Tuesdays, and Thursdays from Jun. 12 to Aug. 10. The program is sorted into seven different times and groups based on sports and separate personal commitments.
"We have different sessions to try to group students evenly […] Some of them are open where it's just anybody that it works for their schedule [and] some of them are defined by certain sports," O'Brien says.
These groups consist of the "early bird" open session, girls and boys cross country and swim, football, all girls sports, all boys sports, middle school girls and boys, and the late open session. Not only is summer strength a fun and social activity, it is also used to better our athletes in their off-seasons and, for some, their fall sports.
"Typically, the biggest areas where athletes improve is in speed and injury resistance. We see a really noticeable improvement in sprinting speed both in changing direction and linear speed from athletes who take to participate in summer strength versus those who don't. We also see a noticeable decline in fall sport injury from athletes who participate in summer strength over those who do not," O'Brien says.
If improvement in speed and injury resistance wasn't already great, O'Briend says there are even more benefits to the program.
"There's major improvement in overall body strength, there is improvement in knowledge of training techniques, and our weight room environment. There's improvement in pain tolerance or discomfort tolerance, students are much more likely to challenge themselves after summertime because we do a lot of super challenging things in a fun environment where they're excited to go attack them, friendships are improved, [and] new friendships are made," O'Brien says.
Ian Westerberg, a past summer strength attendee who is a junior this year, had similar comments about his experience with the program.
"My favorite part of summer strength is to be able to run ten-flys every week and see how the times keep progressing. […] Summer strength definitely helped me as an athlete because it was consistent, and we were able to come in and have a workout designed for us to get better," Westerberg says in an email.
For anyone who has not taken any form of strength class, ten flies are a form of sprint that times your acceleration phase, also known as your max speed. For those wondering what summer strength's environment is like, Coach O'Brien describes it as a motivating family.
"When you get there, people who care about you will point out the areas that you need to improve […] because it's easy to get better at the things that we're already good at, but it's really hard to do improve things that are weaknesses for us, and that is the value of an accountable environment," O'Brien says.
Not only is summer strength physically beneficial, it is also socially and emotionally helpful, as well.
"It''s easy to get disconnected from your goals, ambitions and your friends and things like that over the summer. It gives you an opportunity to stay connected and an opportunity to pursue your goals whether it's athletically or fitness-wise, or even socially, to be more social and to be more engaged with the people around you. [Summer Strength] adds consistency to your life, which is super healthy," O'Brien says.
According to O'Brien, Summer is a great time to start new commitments and work harder towards your goals.
Lastly, one thing Coach O'Brien wants anyone interested in summer strength to know is, "We're very intentional about educating kids on why we do what we do. My hope is that students do know everything that we want them to know about the summer strength program," O'Brien says.
Whether you're a Stoughton athlete or someone who wants a social, fun, and demanding environment to add to your summer days, summer strength is an opportunity to better and challenge yourself during the summer while also staying connected with friends or even making new ones.
About the Contributor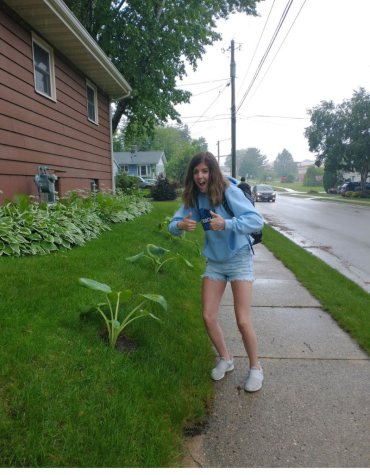 Kaitlyn Broderick, Staff Writer
Kaitlyn is a junior and this is her first year on staff. She is also involved with track and field. In her free time, she enjoys hanging out with friends,...