'Moo've Over for Dairyland
Yet another new face has joined the many businesses that line Stoughton's Main Street. This one specializes not in home goods or sandwiches, but in desserts. Dairyland Dessert Cafe, located at 176 East Main St., offers a sweet selection of homemade desserts and beverages that will surely have guests over the 'moo'n. Don't worry if it is pasture bedtime because Stoughton's newest addition is open late for all the midnight grazers out there.
Dairyland Dessert Cafe has been operated out of owner and cheesecake lover Lara Romine's home for the past 12 years. She has not been able to sell cheesecakes commercially due to the laws concerning refrigeration and humidity put in place for those selling out of their homes. However, this is no longer a concern thanks to her new business space.
Romine, originally from just south of Buffalo, New York, moved to the area in 2007. While looking for a permanent home for her business, Romine was searching for a location that would mimic the small-town atmosphere she grew up in.
"We were looking for something with a really great downtown with lots of businesses and lots of things to do. […] When this building came up for sale, we were like, 'Oh, it's perfect. It's not going to get more perfect than this,'" Romine says.
Opening Dairyland Dessert Cafe has been a long-time dream for Romine.
"I've been baking since I was in high school. I was trying to convince my high school friends that we all needed to move to Vancouver. We were going to have a store, and we were going to call it 'Bake it, Bike it, Book it,' and I was gonna be in charge of the 'bake it' part. They all went off and did other things instead. So it's been 20 years in the dreaming," Romine says. "I love cheesecake because, to me, it's so decadent, but it doesn't need to be that sweet."
After much renovation and conquering a few bumps in the road, Romine was able to open Dairyland Dessert Cafe to the public on April 15, 2023. She worked to prepare the multitude of desserts offered on her menu beforehand, which includes various types of cookies, a Monona Mudslide tiramisu, and, of course, cheesecake in several different flavors.
"You need to get a cheesecake bomb," Romine says. "Imagine you bake a cheesecake, and then you break it apart, and then put it in a mold with a filling inside of it. Then you let it freeze, and then […] you let it thaw so it is a cheesecake, but it's a shaped cheesecake, and it has a filling. […] It's not something that I've ever seen for sale anywhere else."
Romine also offers a selection of local beverages at the cafe, including Badger Brothers Coffee out of Platteville. For tea lovers, Romine serves teas from The Republic of Tea. The full selection of food and drink can be found on their website, dairylanddesserts.com, along with notes on which desserts are gluten-free. Romine cannot guarantee that Dairyland Dessert Cafe is allergen friendly.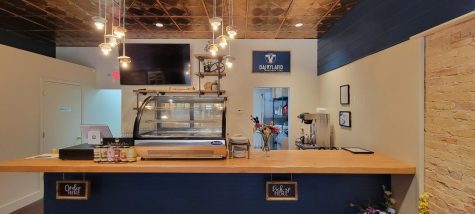 Something that sets Dairyland Dessert Cafe apart from other Main Street businesses is the fact that Dairyland Dessert Cafe serves delicious desserts from 5 p.m. until midnight on Thursdays and Fridays, and from 2 p.m. to midnight on Saturdays. Romine hopes that with those hours, she is able to catch Stoughton's late-night crowd, including those leaving shows at the Opera House. She hopes to provide an evening hangout spot with a welcoming atmosphere and a relaxing vibe, unlike your typical rowdy bar or loud restaurant.
"I don't like to go to bars because they can be loud and raucous, and I don't really drink. It's nice to go somewhere where the focus isn't alcohol," Romine says. "There's not a lot of places to go at night. If I want to go out with [my daughters] and have a special mommy-daughter date, [the options get] pretty limited pretty quickly. I imagine people being able to come here with their kid or with their partner and just having a place to relax and feel comfortable and feel at home and eat delicious food."
Puzzles and board games are provided in the cafe for those who would like to jog their minds whilst enjoying a cheesecake bomb or sipping on a cup of coffee. The comfort food, late hours, and relaxing atmosphere all come together to create a third space."Your first space is your home, your second space is your work, and people need a third space. The idea of a third space, whether it's a church or a community center—everybody needs a third space in order to reach out […] to the community and be a part of the community. I really wanted to be able to create something like that, [a place] where people could just come in and [feel] welcome. [It's a] safe space," Romine says.
In addition to providing the community with unique desserts, creating an ideal third space, and a laid-back late-night atmosphere, Romine plans on giving 50% of the tips she earns to the Stoughton Personal Essentials Pantry to continue to give back to a community that she feels has helped extensively in the process of opening up her dream.
"It's been really nice to meet other business owners. […] Everybody's been really supportive to make sure that I have what I need in order to open and [they have] answered all my questions," Romine says.
Through it all, Romine wants to share her love for baking with an a'moo'zing community.
"I don't believe there's bad food. There's food. Some of it is good for you, and some of it is maybe not so good for you. But I believe that dessert is a way to celebrate and a way to connect, and I think dessert should be really, really good," Romine says. "I'm excited to bake for people. I think food is love, and I want to share it with everyone else."
About the Contributor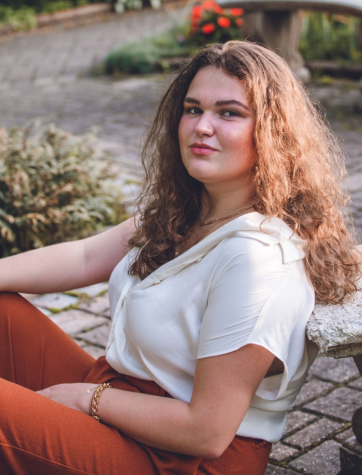 Madison Luick, Cover Story & Opinions Editor
Madison is a senior and this is her second year on staff. Madison is also in symphony and chamber orchestra, as well as symphonic band, jazz band, and...