Springing into Sports
After an exciting winter sports season filled with highs and lows, SHS athletes are springing back into sports. Get to know the spring sports teams' goals and expectations for the season and how they are preparing!
Track and Field
Boys and girls track and field, coached by Jason Becker and Nathan Nelson, began practicing for their season in March. Their first meet occurred March 22 in Whitewater, where the varsity boys team placed eighth out of the 20 teams, and the varsity girls team placed 3rd out of the 22 teams. The girls team also had eight athletes qualify for indoor state in the 4×200 relay, 4×400 relay, 400m, 1600m, long jump, and pole vault. The boys and girls teams have already had numerous accomplishments, and co-captain and senior Ciré Smith has high expectations for the rest of the season.
"As a team [we hope] to win our conference, send as many girls as we can to state, and have a fun time doing it," Smith says.
Boys Golf
The boys golf team, coached by Stephen Ketelsen, also has high hopes for their season, as the group aims to make it to state this year. The team practices five days a week, except on days they have a competition . They practice at three locations: Stoughton Country Club, Coachman's Golf Resort, and Klonglands Driving Range, where they work on various skills, including mental toughness. Although golf is played individually, junior Sam Hjortland believes the team plays a vital role in supporting each other.
"As a team, we help each other by always having positivity around each other and always motivating each other to be the best we can be, which helps a lot in our performance," Hjortland says.
Boys Baseball
Boys baseball, coached by Jeremy Dunnihoo, has already had numerous games. They recently earned their first win of the season on April 11 against Monroe with a score of 8-2, scoring one run in the second inning, another in the fourth inning, and six runs in the sixth inning. Junior Charlie McClure believes the team is already beginning to work together but needs to work on the mental mistakes the team is making.
"I think we're a talented team that's going to make a breakthrough once we fix the little things," McClure says.
Girls Softball
The varsity girls softball team spent the beginning of the season in Florida, where they played three games and spent time together as a team. They earned their first win of the season April 8 against Madison West with a score of 7-5. The team practices every day after school for an hour and a half, working on offensive and defensive drills. Senior Emma Chase anticipates more to come for the remainder of the season.
"I hope that we can have a good regular season and then play our hardest in the playoffs to make a good run," Chase says.
Boys Tennis
The boys tennis team has been practicing every weekday from 3:45 p.m.-5:45 p.m. to prepare for the season. During that time, the team works on various skills, including practice matches and different drills on tennis shots. The team has many upcoming matches. The team is coming together to support each other both during games, but also during practice. Senior Finnigan Novak says the team helps cheer him on during matches.
"During a tennis meet, only half the team can play at a time, so the other half watches their teammates play while they prepare for their match. Even though you are not supposed to be too loud, players usually offer […] encouragement to their teammates at a break in the game, supporting them whenever possible," Novak says.
Girls Soccer
Stoughton girls soccer is starting the season by working on formations and figuring out which positions the girls on the team should play. The team has already begun to tackle challenging games, including playing last year's state champions, the Oregon Panthers, but the team has yet to let it get to them and they have continued to train. Sophomore Kennedy Christensen wants to have fun and come together as a team this season.
"[We hope] everybody will want to come back and [that] everybody enjoys the sport and has a love for the game. That's probably the biggest thing," Christensen says.
Leave a Comment
About the Contributor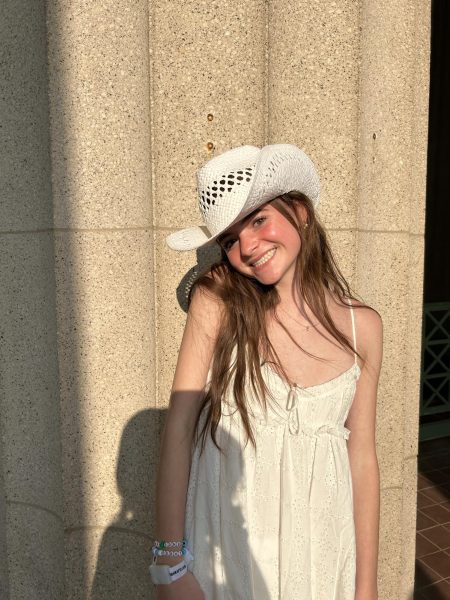 Mary Estelle Bubon, Sports Editor
Mary is a junior, and this is her second year on staff! She's the sports editor. She wanted to join the Norse Star to inform the students about events...