Fall Sports Stay Connected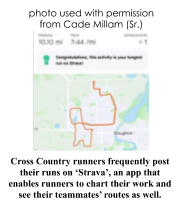 Greta Nashold, Editor-in-Chief and Opinions Editor
September 25, 2020
There's no hiding it: sports are different right now. As the pandemic continues to worsen, everyone is faced with a challenge of re-adjusting their lives. We have watched the NBA (National Basketball Association) extend their season into the fall, baseball teams occasionally play two games a day, and football is just now beginning. On the local level, changes are being made as well; contact is currently restricted, so fall sports' seasons have been rescheduled for February, overlapping with the end of the winter season and the beginning of the spring season. 
   That being said, the majority of our fall sports teams are still in contact. The ongoing pandemic has led the WIAA (Wisconsin Interscholastic Athletic Association) and Dane County to limit the amount of contact that each team can have.  However, sports are still in contact. Whether that's with yard signs for senior athletes or weekly zoom calls, the head coaches are doing their best to sustain communication program-wide. 
   Susan Zaemisch, head coach of the varsity girl's Cross Country team, checks in with her athletes frequently to make sure that they're staying in shape and still feel a connection to the team. 
  "I make sure to email [athletes] biweekly, whether it is to wish them good luck at school or just a general check in. We did an apparel form so they could get some cross country swag so they [could] feel connected, and we did a September Cross Country running calendar so they could stay in shape." 
  Pat Schneider, head boy's varsity Cross Country coach, reported that some of the captains are holding captain's practices on their own. 
  "I can't require or encourage any in person activities that are not school approved." Nevertheless, Schneider reports that athletes frequently post their runs on an app called 'Strava'. "This is sort of a Facebook for running [where] you can download running data and people can see a GPS map of your workouts," Schneider says. He also sends out a monthly calendar for workouts and noted that captains have arranged apparel orders.
Other sports meet via Zoom, where the athletes participate in different activities as a group. Rachael Gierhart, head coach of varsity girl's volleyball, hosts weekly meetings on Wednesdays. The program comes together at 4:30pm and the coaches lead the athletes through various activities such as yoga and workouts with drumsticks.
    The football team created yard signs for the junior and senior athletes, and the coaches encourage the players to attend local university training camps if they're comfortable to do so. 
 Cheerleading plans to start scheduling Zoom meetings once the season gets closer. Right now, the coaches are making sure that the girls continue to fine-tune their skills and update their progress via varying apps. 
    Girl's swim is also starting to schedule weekly Zoom meetings program-wide. In the meantime, some of the athletes have been able to swim with their clubs or on their own time. 
  As all of the coaches and athletes continue to persevere through constant challenges (and changes), it has given everyone a time to reflect on their time apart. 
    "I have been involved in cross country nearly every fall since 1990. It is very hard to not be directly involved in running activities with others. I understand why we can't do activities, but our situation still makes me sad. I think it will make us appreciate running together so much more when we have the opportunity," Schneider remarks.