Row Away
Former SHS graduates take to the lake as rowers


Within the cluster of dorms of the University of Wisconsin-Madison sits a boathouse on Lake Mendota. While the boathouse may currently be used for COVID testing, it's normally a hub for student athletes this time of year – teams of between 20 and 50 women and men walk through these doors throughout the day. SHS graduates, Ashley Nelson and Margaret Ross, are two of many who utilize this facility constantly. They are, of course, members of the UW Rowing Team. 
   Both Nelson and Ross were strong athletes throughout their high school careers. Nelson heard about rowing from one of her basketball coaches, and she knew right away that she was interested. 
   "I did a camp a year or two ago and I met a ton of girls, so I thought I'd at least try the walkon," Nelson says. "I told myself I'd go and try it and I made awesome connections.  I can't imagine not being with [my teammates] everyday." 
  Just like Nelson, Ross also attended summer camps, which caught their interest. 
"I went back and forth before that fall, but I ended up going to tryouts. I missed the first day because I was too nervous, but the coach texted me on the second day and asked where I was. I went and tried out, and I made the team," Ross says. 
  Rowing requires the entire team to be dedicated and ready to compete. Nelson and Ross, although on separate teams, are divided into positions that enable their teams to be the most equipped for success. 
   Inside of the boat, there is a coxswain at the end, and port rowers and starBoards on either side. The coxswain leads the rest of the rowers by reading a GPS that informs them of who is nearby and of the upcoming path. They are often seen yelling and motivating the rest of the team. Port rowers sit on the left side of the boat, and starBoards sit on the right, each with corresponding paddles.
  Ross leads their team as a coxswain, a role that came to them unexpectedly.  
"I've served a lot of roles on the water – [coxswain] was something I didn't want to do initially because it's a difficult role […]. It's a lot more of a mental and leadership role than I'm used to," Ross says.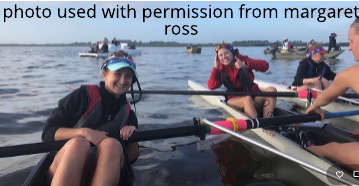 However, Ross took the challenge head-on, and continues to lead as coxswain for their team. Nelson currently rows as a starBoard, but switches between star and port to ensure that her body can keep up on both sides.
 Teams compete in the spring at regattas, where there can be anywhere from four to ten different teams. Although both Nelson and Ross haven't had much experience in competition due to COVID, their teams attended training in Cocoa Beach, Florida. 
   "There were dolphins jumping and other animals that we could see while we were rowing," Nelson says. "It was really cool." Nelson and Ross note that this was their favorite place to row. 
   With such a light boat and a water-reliant sport, weather also plays a key role in practice and competition days. 
 "The water is really temperamental and our boats are very tiny. First off, you can't go out when it's raining or storming. If it's too windy, the white caps will make it really hard to row because the boat is so subject to wind change. If I were to lift my oar handle up to my face and tilt to the right, the whole boat would tip," Nelson says. Regardless, the teams still row into late fall. 
   Nelson knew about rowing in high school, but it was never available to her. Now that she's part of the team in college, she recommends anyone who is dedicated and willing to put in hard work to join. 
   "Living in Stoughton, we don't have opportunities to do stuff like this. It's a really cool sport, and it's different from anything you do in high school," she says.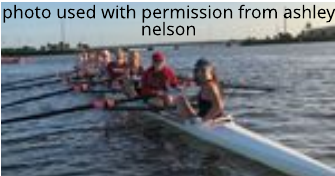 Ross currently lives with some of their teammates, and encourages everyone to try out as well. "My biggest advice is to try it out. Be open to learning new skills and see what you like. I'm grateful that I did because I had only done running [in high school], but now I found a team and it's where I want to be."
About the Contributor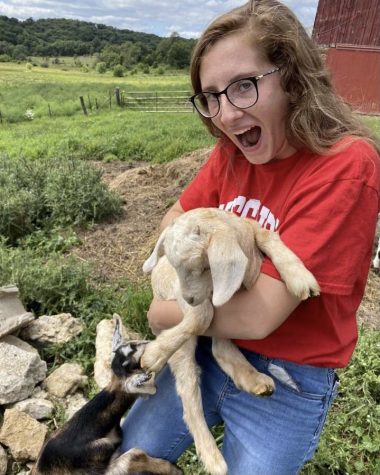 Greta Nashold, Editor-in-Chief and Opinions Editor
As a senior, Greta is the Editor-in-Chief and Opinions Editor on staff. Outside of Norse Star, you can find Greta spiking volleyballs on the varsity volleyball...