Missed Opportunities
How three Stoughton athletes juggle the recruitment process, school, jobs, and growing up.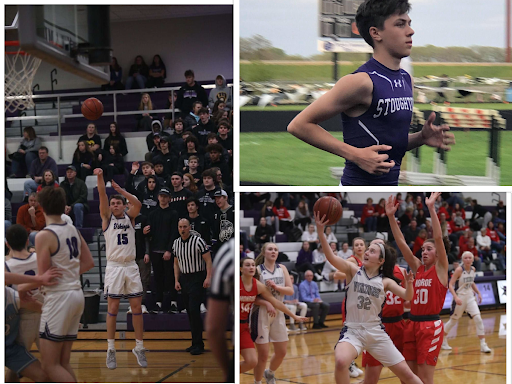 For high school athletes, junior year is the most important  when it comes to being evaluated for the collegiate level. It's the year where colleges can officially reach out and contact highschool athletes and express interest. 
The Badger Conference has now canceled both the spring and fall seasons of 2020 and there is currently no indication of what is to come this winter. For three Stoughton juniors, Ava Loftus, Luke Fernholz, and Jayden Zywicki, managing school, training, and the recruitment process has been a challenge that they have taken head-on. 
Both Fernholz and Loftus have aspirations to play basketball at the collegiate level, and Zywicki aspires to run track or cross country. 
Since COVID-19 arose in the US, many athletic events have been canceled or postponed in Wisconsin, which has had a big effect on the athletes' recruitments. 
Zywicki noted that multiple college coaches were waiting to see his times from this season. He believes he would have accumulated interest had the season gone through like normal. "It's hard that I can't compete because I worked so hard throughout the summer to achieve the goals I had set for myself  this season," he says. 
Loftus talks about how the cancellation of tournaments, camps, and other events have affected her recruitment. One thing Loftus noted was the loss of live periods. A live period is the month where coaches can watch athletes compete and evaluate in person.
"The four weeks I worked for every day of the w year were canceled, making it hard for my recruitment, especially at such an important year in my recruitment journey. It's disappointing knowing I lost out,¨ Loftus said.
Fernholz talks about his recruitment process and all of the missed opportunities. Due to the cancellation of events, coaches were not able to evaluate Fernholz this summer.
¨The hardest part has been not being able to compete with my teammates. High school is a short period of time and it is unfortunate that we don't get to play the sports we love through all four years," Fernholz says.
The athletes all noted how they have worked harder than ever before through these tough times. While all three athletes have had obstacles in their way over the last six months, they have continued to work and are all looking forward to their next opportunity to compete. 
"Just know that eventually sports will return and if you take advantage of the extended offseason, you could come out of this better than you were going into it," Zywicki says. "Also, you will be a step ahead of the kids who didn't stay focused and didn't train throughout this whole thing."