Florida's Friday Night Lights
With Stoughton High School's fall sports being pushed back into the spring, a majority of the disappointed students are counting down the days until they can play on the field once more.
However, with college recruitment on the line, some have taken their athletic career into their own hands. Former SHS senior, Jack Rilling, decided to seize this opportunity and move to St. Cloud, Florida, where he can continue to play football with a team during the regularly scheduled season.
Hoping to play college football in Florida, Rilling decided that this was the perfect time to get a head start. Already, he has received interest from West Florida University.
"They were the Division II champions last year," Rilling says. "Hopefully it's a minor step to even bigger steps."
For most, a move across the country would be a difficult transition, especially during senior year. Fortunately, Rilling was able to fit right in.
"At first, it was slow and hard, but as school went on and the days went on, I found friends," Rilling says. "I made friends pretty easily […] It's been a good, smooth transition."
In Florida, the weather is not the only thing that sets it apart from Wisconsin. Athletically, Rilling described the competition in Florida.
"The talent down here in Florida is off the charts," Rilling says. "[There's] definitely more competition down here and it's a great team."
Rilling explained the excitement and almost normalcy that he feels during games with his new school and team.
"Once you start playing and you see the stands, you see everyone there, it's really normal," Rilling says. "It's like we're playing in 2019, just with a bigger crowd and faster competition."
To accommodate the fans, the school brought in more stands in order to make social distancing possible. Along with that, those who attend the games also have to wear a mask.
Rilling says that as of right now, there has been one confirmed case on the football team and two kids have been forced to quarantine after sitting next to someone that tested positive.
While moving 1,300 miles away can be a difficult transition, being able to play under those electrifying stadium lights with the screaming crowd can make it a lot easier.
Nevertheless, Rilling wanted to say a few things to his former teammates and school.
"I miss you guys. I hope you guys are doing well. I hope you guys are staying safe and staying healthy and hopefully you guys have a football season in the spring," Rilling says. "If you guys do, I'll definitely be in attendance."

Leave a Comment
About the Contributor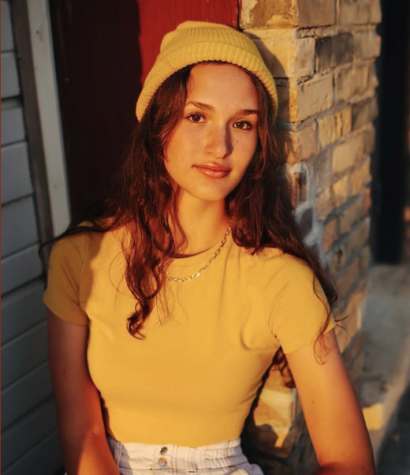 Anja Royko, Editor-in-Chief & Cover Story Editor
Senior Anja Royko is the Norse Stars Editor-in-Chief and Cover Story Editor. Anja enjoys how Norse Star allows her to shine a light on underrepresented...