Dalgona Coffee
reviewing a quarantine craze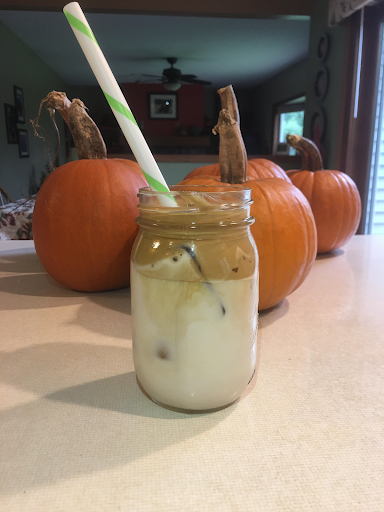 Having been sheltered inside for seven months, people run out of interesting things to do and eat.
So let's look back at what cooking trends have happened in quarantine like sour dough, Focaccia bread, and some corporate recipes that companies released.
One of those trends was Dalgona coffee (a whipped coffee named after a Korean sweet because of the similar taste and look).
When learning from home, it can be harder to get up and get moving, so what better way to get energized than going back in "quaran-time" and making some Dalgona coffee.
 Recipe courtesy of "Delish" at www.delish.com.
Ingredients: 
2 tbsp. granulated sugar 
2 tbsp. instant coffee 
2 tbsp. cold water 
Ice, for serving 
Milk, for serving
Directions: 
In a medium bowl, combine sugar, coffee, and water.
Using a hand mixer or a whisk, vigorously whisk until mixture turns silky smooth and shiny, then continue whisking until it thickens and holds its lofty, foamy shape.
Fill a glass most of the way full with ice and milk, then dollop and swirl the whipped coffee mixture on top, mixing before drinking, if desired
 
Review
 
The mixing process was very simple but time consuming, so I suggest using an electric mixer of some kind.
 I chose to mix the milk with the coffee foam. I felt this made the drink more enjoyable.
 It's a sweet drink, but the coffee is the main flavor present. so it almost tastes like there's espresso in it.