A New Year, Same Problems, & New Solutions
Let's take a trip back in time to the beginning of 2020. Before the virtual classes and meetings, runs on toilet paper, and mask-wearing, it was just another year, 365 days that–emotionally speaking–lasted about 489 years. 
From the melting tundras and the fires that scorched Australia to killer wasps and a virus that ran rampant around the globe, when Dec 31, 2020, finally arrived, it's safe to say we were all ready to turn the calendar page to 2021, a fresh new start. 
Last year hurt, but so does the truth. We met our breaking point in 2020. Now, in this new year, we are no longer granted the comfort of ignoring the detrimental effects of climate change, the truthful voices of science, and a deeply rooted division that weeds its way through our democracy. It might be a new year, but we still have to face old problems. 
However discouraging these problems may be, no one has to face them alone. With small businesses struggling to survive in such a harsh economic climate, nonprofit organizations like Barstool Sports raised funds to help small businesses affected by COVID-19. The Barstool Fund has already raised over $21 million, including a most recent $500,000 donation from the Green Bay Packers' beloved quarterback Aaron Rodgers.  
  The arrival and approval of Pfizer-BioNTech's and Moderna's vaccines from the FDA means more than a hopeful return to normalcy. The vaccines are the world's first effective mRNA vaccines made in less than a year. 
The groundbreaking work from medical and pharma scientists around the world opened doors for the use of this new technology against existing diseases and future pandemics and also guided us back to a new normal, starting with a return to in-person school. 
With the vaccines' arrival and promising results, this could help students across the country return to school, normally.
While COVID-19 caused a spike in PPE and plastic waste production, international travel restrictions and working from home significantly reduced carbon emissions. This reduction in international travel could help assist the plant's green recovery. The Earth Institution from Columbia University stated: 
"
"Transportation is responsible for 23 percent of global carbon emissions, with 11 percent of the sector's greenhouse gas emissions attributable to aviation.""
— Columbia University Earth Institution
Having experienced slightly empty grocery shelves at the beginning of quarantine, there is a new tendency to reduce food waste and become self-sufficient by growing food in personal gardens and pick up the new hobby of home cooking, all of which save money and the planet. 
The Biden-Harris administration is the beginning of a new American attitude that treats everyone with kindness, truth, and respect; three ideals are found within every American across the country regardless of political affiliation. 
On day 1 of this new administration, Biden's flurry of executive orders has already reversed several of Trump's policies. Including rejoining the Paris Climate accords and the World Health Organization, reversing the Muslim ban, launching a "100 Days of Masking Challenge", extending eviction and foreclosure moratoriums, and student loan pauses. 
Biden's actions aim to rebuild the U.S.'s international relationships while attacking problems here on American shores: the pandemic, racial justice, and political polarity.
2020 was like using an umbrella with holes in a rainstorm. We shivered from the cold, unrelenting truth of society's faults. Now, in 2021, the sun is out, and we are restoring what broke in the storm. While we might be facing the same problems in a new year, we are not alone. We're in it together. 
Editorial Policy: The Norse Star strives to present the news in a fair and unbiased manner. Any column, editorial, or letter to the editor expresses the opinion of the author and not necessarily the entire staff. The staff editorial does not necessarily reflect the views of the entire staff. The Norse Star is a public forum written and produced by the students at Stoughton High School, and they are solely responsible for its content. Students, staff, faculty, and members of the community are welcome to submit letters to the editor of 300 words or less. Letters may be edited due to space limitations, obscenities, or libel concerns. Norse Star will verify the authenticity of any letters sent on the behalf of school organizations or groups. All letters must be signed and emailed to 

[email protected]
About the Contributor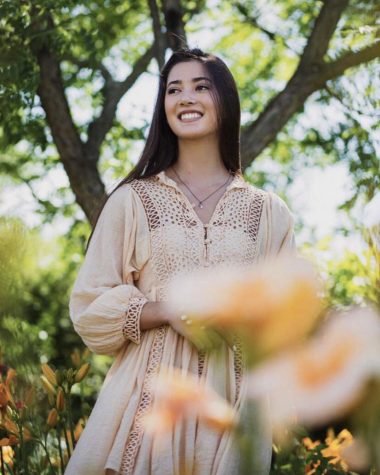 Gabrielle Trieloff, Distribution Manager and Staff Writer
As a senior, Ellie is the Distribution Manager and a Staff Writer on The Norse Star. If you see her outside of school, she's probably racing around the...