For the Love of All Things Local
If you take a stroll through downtown Stoughton, there is no doubt you've noticed the small parking lot on the corner of Forrest and Main Street. If anything, you'll just see some faded blacktop and some sporadically parked cars. Maybe you'll see a mail truck pulling into the post office, or somebody walking out of Wildwood Café across the street with a drink in hand.
You probably won't think too much of it, but are you aware that the seemingly insignificant slab of blacktop is the setting for a weekly event with a significant impact?
In 2015, a dedicated group of volunteers planted the seeds of this idea here in Stoughton. From those seeds grew the Stoughton Community Farmers Market, a Saturday tradition that highlights local farmers, bakers, artisans, musicians and more, allowing them to show the Stoughton community what they do best.
Terry Parisi, owner of Parisi Family Farm, is a regular at the Stoughton Farmers market and has been selling there since it started. Through email, she explained that she sells a variety of fresh produce, as well as goat milk soap, beef, eggs, and sometimes flowers.
"I love talking to the people, the customers, the vendors and the helpers. Everyone is always so nice and helpful and when we have music it really helps the time go by fast," Parisi says.
Many things draw Parisi to Stoughton, such as, "A downtown that seems to have survived the supercenter, the Opera House renovation and success at bringing amazing music to Stoughton, the school district and all they have to offer students," Parisi says.
In return, she hopes that by providing tasty, local, organic food to the community that she will be able to help improve the physical and emotional well being of the Stoughton community.
"I love to grow good food for people who love eating good food," Parisi says.
Parisi is also a climate activist, who hopes to be an example and show others how important protecting our planet is. "I am proud to be able to spend my days touching the Earth gently and doing my part to fight climate change," Parisi says.
Another vendor at the farmers market, Keri Murphy, sells sourdough bread, focaccia, decorated sugar cookies, and other homemade baked goods. She began Rinde House Baking after being laid off from her interior design job at the beginning of the COVID-19 pandemic.
"Starting Rinde House Baking was how I coped with not having a job," Murphy explains through an email interview. It was a dream for Murphy to sell her baked goods at markets, so when the Stoughton Community Farmers market coordinator expressed the need for artisan bread, Murphy "felt like it was a sign." With the help of her 7th grade daughter Addie, the Farmers Market became a dream come true.
At first, she wasn't sure if she wanted to accept the offer.
"I went back and forth for a long time deciding if I was going to do it. I wasn't sure I could handle it. However, I felt that if I turned it down, I'd never know," Murphy says.
The Stoughton community took a liking to her products, as Murphy has received many compliments at the market.
"People love my sourdough bread and my different varieties of focaccia," she says. "I've been told my brownies are the best ever by multiple people."
Those very comments paired with the social aspects of selling at the market are her favorite part of the Stoughton Farmers Market.
"I don't think my business would have taken off the way it did if it weren't for Stoughton," Murphy says. "The small town feels like everyone knows everyone. You always feel like you have a common thread wherever you go."
Grace Link is a 2018 Stoughton High School graduate who sells Angus beef at the farmers market directly from her family's farm in Deerfield, Wisc. She carries a large variety of items, including the summer classics, steaks, burger patties, brats, roasts, and jerky. Link began her business in May when she moved back home after graduating from Iowa State University, she explains over an email interview. She believes in staying local so her beef is never shipped.
"I believe there are so many great people who have great food products to offer that are right here in our local community," Link says.
Link not only loves the fact that the farmers market is local, but she also loves the atmosphere.
"The people are so great to be around and the downtown atmosphere on a Saturday morning is so quaint, you'd never guess you were only 30 minutes from Madison," she says. "It brings me so much joy when I have returning customers walk up to my stand and want more beef, or discuss something they saw on our social media, or ask questions about the industry," Link says.
Link's mission is to not only provide local, healthy food, but to also "show people the importance of supporting local businesses and entrepreneurs along with the agriculture industry as a whole, because without it we wouldn't have much," Link says.
The farmers market is open from 8:30 a.m. to noon every Saturday from May to late September, rain or shine. So take a walk downtown, Stoughton!
You might just catch Link, Parisi, or Murphy showing off their hard work alongside many other hardworking and dedicated vendors who are sure to have something fresh that you didn't realize you needed.
About the Contributor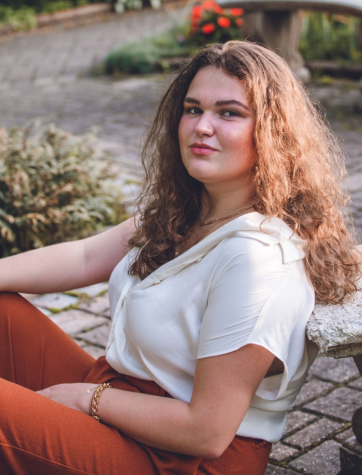 Madison Luick, Cover Story & Opinions Editor
Madison is a senior and this is her second year on staff. Madison is also in symphony and chamber orchestra, as well as symphonic band, jazz band, and...