Who is … Senorita Nagel?
Señorita Nagel opens the door to her new classroom and maneuvers her way to the desk in the corner of her brand new room. Setting down her things, she walks to the whiteboard and starts writing. As she moves away, the board reads, "Hola Classe!"
Stoughton Area School District has welcomed a new Spanish teacher this year. You can find Señorita Taylor Nagel in room 302 here at the high school during the morning. Come afternoon, Nagel makes her way over to River Bluff to teach Spanish One to the middle schoolers.
Nagel is excited to be the new foreign language teacher this year. She recalls the first time meeting her coworkers as the reason behind her acceptance of the position.
"I met the colleagues in the world language department and Mrs. Schoemer, our assistant principal, and I knew. I called my family right away after that interview, [and] I said 'I want to work here. These people are amazing.' […] I felt like it would have been a really good fit and I feel like it is."
Feeling at home in the SHS World Language department is only one piece of the puzzle, though. Nagel has also been enjoying teaching her classes. According to Nagel, her favorite part of the year so far has been her students.
"I have a lot of really talkative kids, but they're really funny. [I enjoy] hanging out, just talking to my students, seeing their thoughts. Everybody is so different, so it's kind of cool to see how one mind works versus the other. I get to see all of that as a teacher, which is nice," Nagel adds.
This is Nagel's first year teaching, and it is different from what she had expected.
"I didn't expect to reteach students how to […] follow directions [and] stuff like that. I don't mind reminding them. I just think it's a weird routine that we were in [during] the pandemic, and now we're trying to flip flop it back to normal," Nagel says.
This year has also caused Nagel to change some of the goals she had in mind for her students.
"I think before being an actual teacher, my goals were to help students find the love for the language and be encouraged to pursue it outside the classroom," Nagel says. "That's still my goal, and I feel like it's happening, but another goal I think I would have to say right now is just, classroom management-wise, getting kids to kind of realize why we're in school. You know, why do we do these things? It might seem pointless right now, after the pandemic. I think that a lot of kids are having a hard time coming back and fully sitting for eight hours."
All in all, teaching was a good choice for Nagel. Teaching has been a dream job for her since she was little.
"I've always wanted to be a teacher ever since I was probably four years old. My mom was a teacher. I also just really like people. I'm pretty social. I just really liked the organization of it. I'm a very organized person. […]I kind of get the best of both worlds. I get to socialize, but I also get the planning side of it, which is nice," Nagel says.
However, teaching wasn't the only option that Señorita Nagel had in mind. During her time at UW Stevens Point, she minored in Business Administration so she would have more options.
"I think that I would either travel internationally [or] maybe explore the business world a little bit. My dad owns his own company, and it's very interesting to me. [I've also considered] social work. I want to work with people. I want to do something positive with my life, and I think that social work could be a place that really needs people right now," Nagel says.
Nagel has her degree in Spanish Education, and she believes that learning a language, especially Spanish, has countless real-world benefits.
"I would say Spanish in the United States is more commonly used. I think that learning any language is great and very beneficial, but I think that Spanish has a wider population of Spanish speaking people in the United States," Nagel states.
To those who know Nagel, and to those who have yet to have her as their Spanish teacher, she had this to say.
"I have a lot of energy, and I'm loud. I had a student who came in; he said, I can hear you all the way down the hallway. Well, when you teach freshmen, you [have] got to be energetic. You [have]got to keep them engaged," Nagel concludes.
It's clear that Stoughton has gained a valuable team member for our world language department. With her goal of teaching the next generation of Spanish speakers to find the love of the language and her own love of Spanish, Señorita Nagel hopes her students will go far!
About the Contributor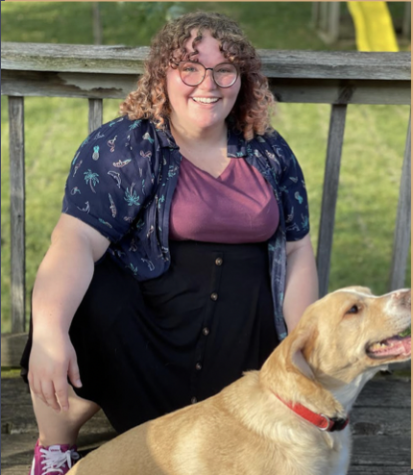 Autumn Evenson, Staff Writer and Distribution Manager
Senior Autumn Evenson is the Norse Stars distribution manager as well as a staff writer. Autumn's favorite part of Norse Star is the atmosphere.

Outside...